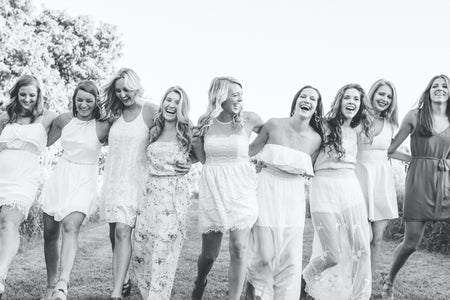 Cassie Howard / Her Campus
My Experience with BU Sorority Recruitment As a Sister
As you might know, the past two weekends at Boston University held formal recruitment for the ten on-campus sororities. Around 500 girls signed up to go through the four-day process, giving up their weekend, homework time, voices, and possibly even their sense of self-esteem.
I went through the recruitment process last year as a freshman, and it was honestly a pretty weird experience. As a Potential New Member (PNM), you are shoved into a room with a bunch of chanting girls, paired up with a sister, and are expected to get to know one another in a short time span of about 15 minutes or less. And then you repeat the process ten times! As the days get shorter, the parties get longer and fancier, and you narrow down your choices from ten sororities to eventually one or two to decide between on the final day.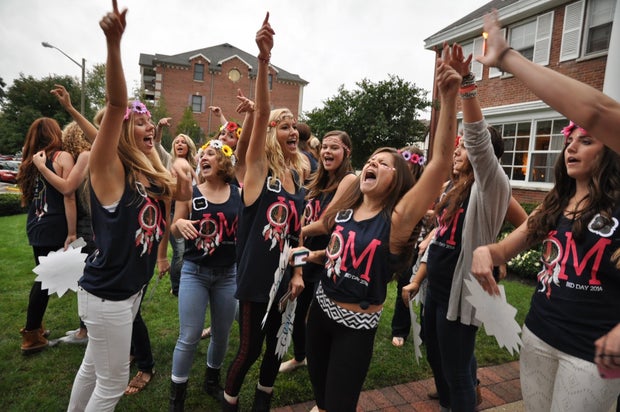 Anna Thetard / Her Campus The recruitment process can seem very staged and can be awkward as hell. As a freshman, I was reluctant to go through recruitment. On paper, it embodied everything I stood against. Here you are, having your looks, character, and personality judged based on a fifteen-minute conversation that often doesn't get past one's major or hometown. It seemed so superficial to me, yet I found myself caring a lot about how I appeared to the sorority girls. Did they think I seemed too relaxed? Too eager? The atmosphere among the other PNMs was competitive and tense and made me pretty self-conscious, despite typically being a pretty confident individual. It felt very life or death, even though I knew it wasn't.
Despite my hesitance and initial disgust, I forced myself through recruitment and ended up in a sorority. Since then I have met so many girls that I get along really well with. It paid off! The one weekend of hell has definitely been worth it. 
This year I went through recruitment on the other side. I was the one talking to the nervous PNMs, asking about majors and hometowns, and singing the awfully catchy chants. Even though I was on the other side, I was still insanely nervous about the conversations I would have. I remembered my recruitment experience and how weird it made me feel about my self-image. I wanted to make the PNMs I talked to feel comfortable and less stressed than I was a year ago. I also really wanted to help recruit a dope new pledge class for my sorority and find girls who would vibe well with our chapter.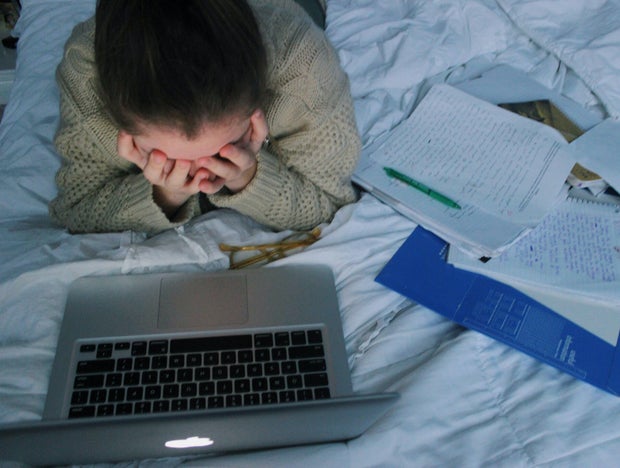 Anna Schultz / Her Campus After getting over my initial nervousness, I found myself enjoying recruitment much more as a sister. I did my best to mix up my conversations and stray away from the boring major and hometown questions. One of my favorite questions to ask was "Do you think a Poptart is considered a ravioli?" I was happily surprised to meet a lot of really cool girls that I wanted to be friends with. With the pressure of having to join a sorority off my shoulders, I had a much more enjoyable time at recruitment.
However, something I didn't expect was to be so torn up when girls I really liked didn't end up joining our chapter. My friends and I had our "rush crushes," the term we used for the PNMs who we really liked. One of my rush crushes ended up choosing a different sorority and I was, well, crushed. Luckily, we were able to connect on social media and have since made plans to hang out. It's pretty neat that I've been able to make friends through the recruitment process, even if the girls didn't end up as my ~sisters~.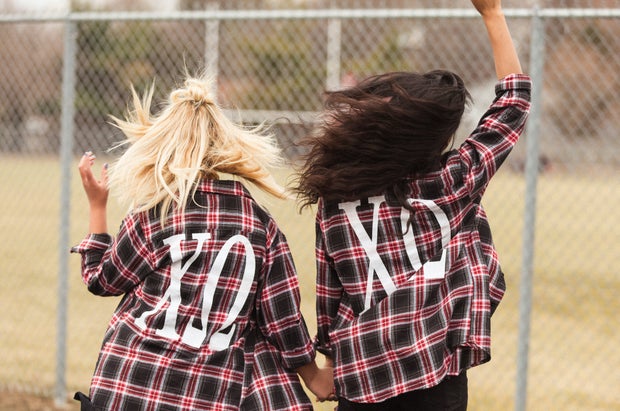 Cassie Howard / Her Campus The recruitment process also brought me a lot closer to girls in my sorority that I didn't spend a lot of time with before. Since we were locked in a room together for about ten hours a day, it was really easy to get to know one another. When recruitment ended I realized I was a little emo because it meant I didn't get to hang out with these girls all day every day.
Don't get me wrong though. Recruitment was not all sunshine and rainbows. The recruitment process as a sister was probably more grueling than it was as a PNM. We had back-to-back-to-back parties, a nineteen-minute lunch break (!!!), and had to come early and stay late for setup and clean up. I lost my voice, my feet hurt, and I failed a quiz because I was too tired to study. Overall though, the pros of recruitment outweighed the cons. 
While the recruitment process is indubitably foreign and staged, it definitely has its upsides. It's also much better on the other side.
I loved getting to make new friends and get closer to the friends I already had. If you go in with an open mind, both as a PNM or as a sister, you are bound to have a good experience. 
Want to keep up with HCBU? Make sure to like us on Facebook, follow us on Instagram, check out our Pinterest board, and read our latest Tweets!