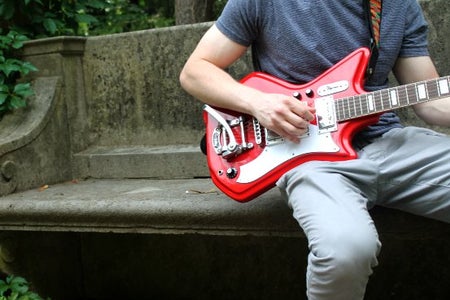 Charlotte Reader / Her Campus
My 10 Favorite Song Covers of All Time
Growing up, my first introductions to many classic songs occurred while watching shows like The Voice. Then, hearing the originals later on (even years later), it felt like I already knew them. Song covers can be anywhere from very casual to extremely powerful. The following 10 are some of my favorite ones of all time.  
1.

"When We Were Young" - Dave and Violet Grohl

Dave Grohl, Foo Fighters frontman and ex-Nirvana drummer, performed this emotional Adele song with his daughter Violet at a benefit concert in Oakland, CA, in 2018. He plays guitar as Violet sings, calmly, rawly and fluidly—all while sitting casually at the mic as if she's just a normal kid at a talent show and not the daughter of a rock star. At only twelve years old, it is clear that Violet's voice is not as polished and rounded as the original song (but then again who can really compare to Adele?), but there is no doubt that she is a vocal powerhouse. Additionally, I think the imperfections add to what is already an incredibly vulnerable song, making it an impactful cover.

2.

"All Along the Watchtower" - Jimi Hendrix

The release of this song wasn't the first time that Hendrix had covered a Bob Dylan song. Just a year before the release of Electric Ladyland in 1968, he performed "Like a Rolling Stone" at a concert in Monterey, CA. 

In my opinion, there is something about the sheer power in his voice and his electric guitar mastery that makes this version a more exciting listen than Dylan's original. However, the cover and the original are distinct enough to enjoy them both as separate entities, which I think is a result of Hendrix's incredible ability to adapt the song as his own and make it sound as though he had been playing it for years. Instead of trying to duplicate Dylan's work, he completely transformed the essence of the song.

Dylan himself responded to the cover, saying, "[Hendrix] had such talent, he could find things inside a song and vigorously develop them." He even went as far as to say that now whenever he sings it, the song actually feels like a tribute to Hendrix!

3.

"Billie Jean" - Chris Cornell

Although this list is in no particular order, this one might just be my all-time favorite (or at least pretty close). This Michael Jackson cover will make you feel emotions you didn't even know you had. If Jimi Hendrix's covers were a departure from the originals, then this one is a complete 180. Featured on Cornell's 2007 album, Carry On, Rolling Stone refers to it as turning the pop song into a "downbeat folk ballad" with "mournful overtones." While accurate, I would go further as to say that Cornell's raspy vocals and guitar solo are completely transformative, making his grunge rock style apparent while simultaneously making this song extremely emotional.

This song has been made famous multiple times—the original by The Cure in 2001, this 311 cover in 2004, and most recently, Adele's cover in 2011. While out of the three I would still have to say the original is my favorite, I love this 311 version because the band brings a completely unique take with their reggae and funk background. In fact, this cover helped the band make it to the mainstream after it was used in the soundtrack for the movie, 50 First Dates. 

The unique guitar riff in the chorus is one of the most memorable parts of the song, and it makes me feel like I'm driving down the coast on a warm summer evening with the windows down. That's all.

5.

"Can't Nobody Love You" - The Zombies

Released in 1965, this is one of those songs that I had no idea was a cover until I did further research. It was originally recorded just two years prior by soul artist Solomon Burke. The Zombies' cover is definitely an interesting take. While Burke's original is fluid and emotive, the cover seems more structured and strikes me as having an almost detached tone. That's not to say their vocals aren't strong (they really are), but the instruments seem to take precedence in the cover while in the original, Burke's voice is clearly the focal point.

This cover is what I feel like would be playing faintly on an old record player while I walk through an abandoned ghost house in the middle of the day—just a hunch though.

6.

"The Man Who Sold the World" - Nirvana

Nirvana performed this 1970 David Bowie song on MTV Unplugged in 1993. I love this rendition because in place of the electronic, experimental sounds, we as listeners are able to focus more on Kurt Cobain's gritty voice. Overall, the instrumentals do not sound drastically different from the original, but the band members sound natural and comfortable as they play (despite Cobain prefacing their performance with the statement, "I guarantee you I will screw this song up").

7.

"She Came In Through the Bathroom Window" - Joe Cocker

I am a huge sucker for raspy vocals (if you couldn't tell by my list so far). This 1969 Beatles cover was released soon after the original came out that same year, and it wasn't the first time Cocker had covered the band either, as his career actually took off after his performance of "A Little Help From My Friends" at Woodstock.

Cocker's covers are distinct because rather than having his gritty, raspy moments dispersed throughout the song, that is just the baseline state of his voice (The Guardian even describes it as "raucous."). Yet, what's so great about this cover is that it somehow still remains a fun and easy listen.

8.

"Black Hole Sun" - Norah Jones

Jones performed her cover of the rock band Soundgarden's 1994 song, "Black Hole Sun," in Detroit in 2017. This was the band's most famous song, and Chris Cornell was their frontman.

I love listening to Norah Jones' soft, breathy voice. She takes this hard-hitting song and turns it into a gentle, slow piano cover (a full two minutes longer than the original). Her singing sounds effortless. While I love Chris Cornell's voice and the original song, this cover works magic because it conveys much of the same emotion while at the same time being a completely different sort of song. I think these kinds of covers are the best.

9.

"If Not For You" - George Harrison

There must be something about Bob Dylan's music that makes it particularly appealing for other artists to put their own spin on it because it feels like many of my favorite songs turn out to be covers of his. I didn't even know that this George Harrison version (released the same year as the original, 1970) was a cover at first because he molded it into his own style so well. It fits right in with Harrison's other big hits such as "My Sweet Lord" and "What is Life." The cover is more relaxed and in my opinion, an easier listen than the original.

10.

"Young Americans" - Hozier

I genuinely believe Hozier has one of the best voices in the history of music—at least in terms of versatility. His 2016 David Bowie tribute, performed in Birmingham, is a beautiful rendition of the original 1975 song. While the original is light and upbeat, even featuring a saxophone solo, Hozier's version is profound and soulful. His deep voice also has soft, wavering moments that can give you chills, and there is something added to that effect when you can recognize how different this song is from the original. It's like you never know exactly what he's going to do next, but whatever it is always ends up exceeding your expectations. I hesitate to even call this acoustic guitar cover a "stripped down" version of Bowie's song because it has so many exciting elements of its own.
While song covers can very well just be a one-time performance, like an audition, I hope this list has proven that they can also go much further than that. It is interesting to note the stylistic differences between covers that were created by the original artists' contemporaries and those recorded decades later. It's also fascinating to note the differences between covers that cross over genres and those that remain mostly the same.  
All in all, I think listening to covers is one of the most interesting ways you can discover "new" music.
Want to keep up with HCBU? Make sure to like us on Facebook, follow us on Instagram, check out our Pinterest board, and read our latest Tweets!