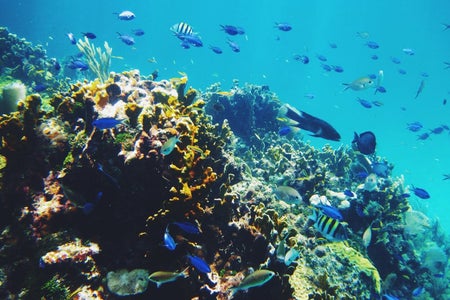 Meet Celia Murry: The Penguin Whisperer at the New England Aquarium
One of my favorite subjects is marine biology, and when I met my friend, Celia Murry, and found out she was a marine biology major, I was thrilled to share my passion for the ocean with someone else. During our spring semester, Celia decided to work at the New England Aquarium, one of the highest-rated Aquariums in the country, as an intern with the penguins. I got a chance to sit down with her for an interview about her experience at the aquarium thus far.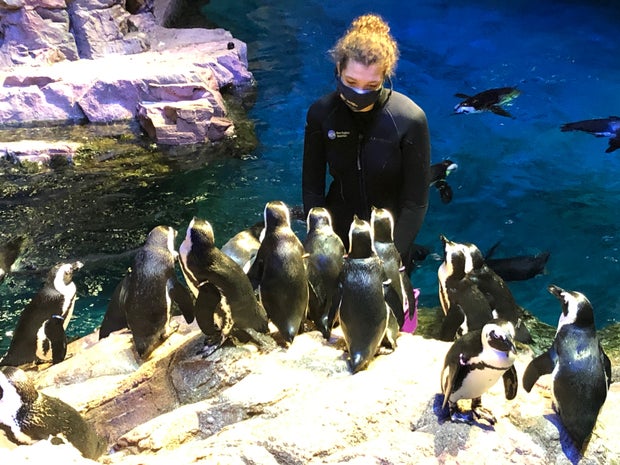 Original photo by Allie Longworth and Celia Murry Q: What does your typical day at work look like?
A: My day starts at 8 am. All the interns and I get in the water two times throughout the day. All of our duties laid out for us are based around the water. Before we go into the penguin tank, we prepare our wetsuits, cleaning supplies, fish, and vitamins and medicine if they need them. The first time we get into the water, we clean the islands and feed the penguins. We then get out of the water, record how much the penguins ate, wash the fish buckets, and go to lunch. After lunch, we prepare fish for the next feeding. Next, we go into the water a second time to conduct the afternoon feed, vacuum the tank, and do any additional tasks that are needed. When we get out of the water for the second time, we follow the same routine—recording how much the penguins ate and cleaning the fish buckets. At the end of the day, we also treat the water to ensure that it is clean and safe for the penguins.
Q: What's your favorite thing about your job?
A: My favorite thing about my job is being able to work with the penguins and get to know all of them. There are 49 African penguins and 15 rockhopper penguins and I've had so much fun getting to know all of their unique personalities because they all have their own specific traits. I also just love walking around the aquarium during my breaks and before I leave for the day.
Q: What's your least favorite thing about your job?
A: I took some time getting used to the smells, but I've gotten used to it by now. It can also sometimes be challenging balancing school and work life since most of my work is on the weekends. Besides that, I've been really enjoying my time here!
Q: Which penguin is your favorite?
A: That's difficult, I have a few favorites in different categories. Recently, I like Namibia because we share the same birthday. She seemed shy at first but once she warmed up to me she was really cute and loving. I also really like Chrisanti because she's very playful and cute, but recently has been a pest by biting everyone. My other favorite penguin is Coin because he is the best-dressed penguin (he has a heart on his chest and it's really cute).
Q: Which penguin is your least favorite?
A: I don't think I have a least favorite, but there are a few penguins that I have some annoying interactions with. Sometimes some of the penguins stay on the islands when we are cleaning, even though they know they're supposed to stay off which can get annoying, but I don't have a specific least favorite penguin.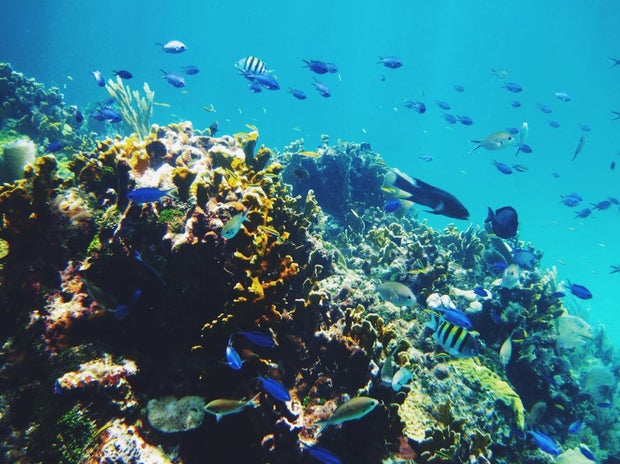 Q: What's one thing you'd change about your job?
A: That's kind of a hard question, I don't think I have an actual answer! It's really fun and keeps me busy and I wouldn't change a thing.
If you're interested in learning about internships available at the New England Aquarium, click here. Thank you again to Celia Murry for her time and for sharing her experience with all of us!
Want to keep up with HCBU? Make sure to like us on Facebook, follow us on Instagram, check out our Pinterest board, and read our latest Tweets!