As a fully remote student, I spend a lot of time indoors. I've written about trying my best to get out of the apartment sometimes, but when push comes to shove, I'm usually slammed with work and I have to sacrifice "nature time" for "essay writing time." It's sad, but true.
I try to meticulously plan my schedule every year to the best of my abilities and it just so happened this semester I managed to give myself four day weekends. It's been very helpful not only for my homework schedule, but also for my mental health. It gives me plenty of time to get through my absorbent amounts of reading (humanities students, I know you feel me), get some errands done, and squeeze in a little bit of me time which usually involves baking or doing some kind of craft.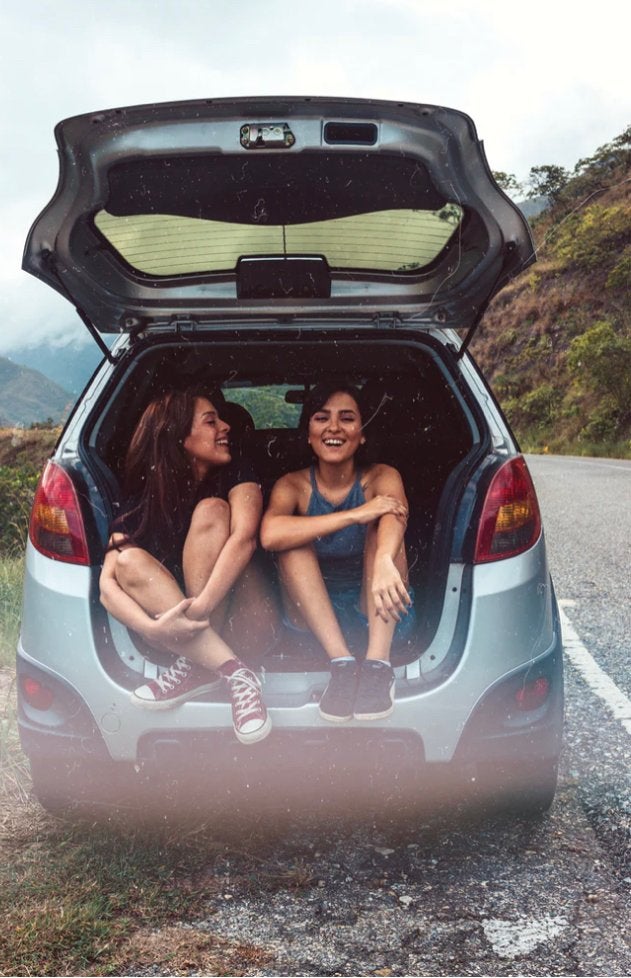 Some weekends are jam packed with work, but if I grind accordingly, then I can have a whole four days of free time to do pretty much whatever I want. Last week, I went on a little road trip to the Adirondacks with my boyfriend to soak in the last bits of fall we have left this year. We both quarantined for two weeks to make sure we were safe to see each other, and then we headed out to a cabin a short distance away from Saranac Lake, a quaint village in Upstate New York. Our place was a short walk away from a private dock where we had a gorgeous view of a small lake. It was the perfect spot to unplug for a bit (as best as we could at least), spend some quality time with each other, and take in some fresh air.
The drive up there was spectacular with all of the rolling hills and dense forests we passed on the way. I warned my boyfriend that I had curated a very specific vibe for our ride that encapsulated my high school alt-indie phase (which isn't over yet, to be frank). We usually listen to a mix of rap, indie, and a bit of classic rock when we go on long road trips, but this time I was in the mood for some dreamy, magical tunes, perfect for frolicking around in a forest. That translates to lots of Hippo Campus, Houndmouth, Tennis, and Passion Pit. I also threw in some oldies from an assortment of decades just to shake things up, and yes that does include Marvin Gaye and Tammi Terrell's iconic duet, "Ain't No Mountain High Enough." Also, in case you're wondering about the playlist name, my boyfriend and I have made it our mission to see a moose together at some point in our lives since we are both big fans of the elusive creatures. 
On our first full day, we decided to climb a mountain. Yup, you read that right, a whole mountain! We packed plenty of water (and lots of snacks) to keep us hydrated and energized for all 4,050 feet of the journey. It was a pretty intense trail with lots of mud, large rocks, and a fair amount of steep inclines to traverse. We definitely needed to take more than a few water breaks just because our hearts were beating so fast and the high altitudes were making us lose our breath even quicker. The temperatures were also climbing too, so we had to keep shedding the layers we brought as we kept climbing. Once we made it to the top, we forgot all about our wobbly legs as we took in the spectacular scenery. We quickly packed on all the layers that we had taken off earlier as the winds picked up around us. We saw giant mountain peaks covered in lush alpine forests, lakes that looked like big puddles from up above, roads snaking through the towns, and even a little bit of leftover snow from the week before. It was almost too overwhelming to take in everything, but we spent a good amount of time on each side of the mountain surveying the land from a bird's eye view. 
Before we went home for the evening, we stopped by the edge of a lake where we got another fantastic view. The lake itself was surrounded by tall, rocky cliffs and nestled in one of them was a tiny waterfall. It was quite a majestic sight and definitely rounded off the long day of hiking with another high note.
The next day, we went on a short walk through a less difficult trail that wound through some dense alpine groves and surrounded a small lake. I loved this trail in particular because it was packed with pine needles and crunchy leaves, which felt like walking on an autumnal pillow. After exploring the trails a bit, we headed back to our cabin so that we could take a little canoe ride at the lake near the property. We couldn't find any paddles and all of the rental places we called were closed for the season, so we used the best substitute we could find: a shovel. In retrospect, it probably wasn't the wisest thing to do, but we carefully edged our way out onto the water to see the surrounding area from a fresh perspective. 
Overall, this little weekend getaway was just what I needed to clear my mind from what had been a very stressful week before. Leaving our lovely cabin was a bittersweet goodbye, but it just made me realize how much I appreciate the opportunity to have experienced this part of the country at its peak. 
I can't wait to come back someday soon, and hopefully next time I'll remember to bring my own paddle!
xoxo,
Emma
Want to keep up with HCBU? Make sure to like us on Facebook, follow us on Instagram, check out our Pinterest board, and read our latest Tweets!