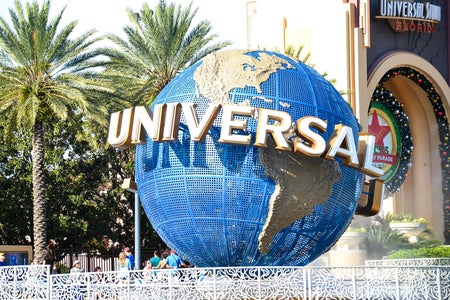 A Definitive List of Universal Orlando Resort's 6 Best Rides
One year ago, I was in sunny Florida, having the time of my life during my first theme park experience at the Universal Orlando Resort. My boyfriend and I made a trip to his home state for spring break—little did we know it would be the last trip we would take for over a year, as the world officially declared itself in the midst of a pandemic only two days after we left the parks. 
With a medley of Snapchat memories popping up in the last week and the burnout of another semester of Zoom University setting in, I've been missing the fun of a year ago a little bit more lately. Prior to last spring break, I'd never been to a theme park or even been on a roller coaster, which made it extra special. For me, Universal Orlando was the perfect first theme park experience since I'm a huge Harry Potter nerd and love all things Wizarding World. 
One year ago, I spent three days hopping back and forth between the Universal Studios park and Islands of Adventure park, and these are what turned out to be my favorite rides (ranked in no particular order):
1.

The Amazing Adventures of Spider-Man

Anyone who knows me is aware that I'm not that into superheroes. I'll watch Marvel movies if other people want to, and I really love the Toby Maguire Spider-Man movies, but I don't think anyone expected me to love the Spider-Man ride as much as I do. This ride is a great experience for anyone who wants the thrill of a ride without the scariness of a coaster, as it's an inside ride utilizing screens to project amazing images of Spider-Man flipping around New York City. Funny enough, one of the best parts of this ride isn't even the ride! It's the waiting in line—there's a special immersive set for those who use the Express Pass line where you can see the "newsroom" that Peter Parker worked in with lots of hidden clues for true Spider-Man fans. It's a must-see for anyone who loves this iconic comic book character. 

2.

Harry Potter and the Forbidden Journey

I'm the first to admit that the storyline of this ride makes almost zero sense. It's like the writers of this ride just took a bunch of random elements from different Harry Potter books and mashed them together to make an adventure. Riders are muggles who are granted the privilege of viewing aspects of the Wizarding World through Harry, Hermione, and Ron's help. A fellow Harry Potter fan knows that this would never happen in the Wizarding World, as revealing the magical community to muggles is strictly forbidden. But you know what? This ride is so awesome that nobody cares how inaccurate it is: it's just that fun. The wait line itself is worth the strange storyline, as it carries riders through the Hogwarts castle, complete with immersive paintings and architecture. This ride actually makes you feel like magic is real, and that's what makes it so special. ​

3.

Men in Black Alien Attack

One of the older rides from this list, Men in Black Alien Attack is, to put it simply, super fun. Riders are carried through a futuristic Men in Black office before getting into their vehicle and heading out to fight aliens. The animatronics are amazing, even after all of these years, and the ride spins just enough to make you laugh, but not to make you feel sick. Definitely go on this ride with your friends because it's all about competition! Riders are tasked with shooting as many aliens as possible throughout the duration of the ride, and who doesn't want to prove to their friends that they can fight aliens just as well as Will Smith?

4.

Harry Potter and the Escape from Gringotts

This is the first ride I went on while at the Universal Orlando Resort, and I'm not kidding when I say that I cried tears of joy when I walked into "Gringotts." The Harry Potter franchise was an essential part of my childhood, and to see it brought to life before my own eyes was simply spectacular (which may be why half of this list is composed of rides from the Wizarding World). This ride combines 3D glasses with 4D techniques and an exquisitely built set and a car moving along a track to make an unforgettable experience. Fans of the series get to experience the intimidating quality of Gringotts Bank, the heat of a dragon's breath, and Bill Weasley uttering the iconic spell, "Wingardium Leviosa!" 

Pro tip: if you stay at one of the Universal Orlando Resort hotels, you can get one hour of early park access a day, beating the heat and the crowds to this ride.

The Revenge of the Mummy ride is, without a doubt, a perfect first roller coaster experience. Built as an indoor coaster that takes place in near-complete darkness, this ride is a much less intimidating coaster for those who have a fear of heights. There are dramatic rises, falls, twists, and turns, but without the fear of looking over the side of the rails to a crazy large drop. The theme of the ride is iconic, even if you've never seen the Mummy movies. Who doesn't love the classic quality of an escape from a cursed Egyptian tomb? Get ready for a dizzying (in a good way) experience on this ride, and enjoy the relatively short wait times compared to other rides at the parks.

6.

Hagrid's Magical Creatures Motorbike Adventure

I know that I said this list was placed in no particular order, but Hagrid's Magical Creatures Motorbike Adventure is my favorite ride at the resort. I wouldn't have said that on my first day, but it quickly skyrocketed to the top of my list. As the newest installation to the list of Harry Potter rides, Hagrid's Motorbike Adventure had staggeringly long wait times while we were there. I was really scared on my first ride through, as I had never been on an outdoor coaster before. That being said, after that first terrifying experience, I was craving more. This ride is the best combination of thrilling and fun, as it combines an adrenaline-fueled experience with perfectly placed pieces from the Harry Potter franchise. For those who are scared of heights (like me), this ride is the perfect pick for you, because it provides fun without the fear.
True adrenaline junkies would scoff at the fact that I left three of Universal Orlando Resort's most famous rides off of this list: Doctor Doom's Fearfall, Hollywood Rip Ride Rockit, and the Incredible Hulk Coaster. But, as a person who is scared of heights, I didn't ride those when I was at the parks, so I couldn't accurately assess them for this list.
Stay tuned to see if I decide to ride them in the future (when we can safely travel again!). For now, stay safe, wear a mask, and plan your next trip in advance!
Want to keep up with HCBU? Make sure to like us on Facebook, follow us on Instagram, check out our Pinterest board, and read our latest Tweets!