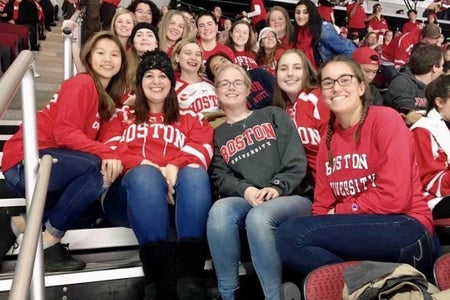 BU Hockey Highlights from the 2019-2020 Season
Hey Terrier hockey fans! Hopefully, you had a chance to make it to the last game of the season against Northeastern, but if you didn't, don't worry–you can always watch our boys destroy the Huskies next year. This was a great season for the BU men's hockey team, so here are some highlights that have made this one a season to remember.
From flooding the B line ("the destination of this train is: Boston College…" "…SUCKS!") to the march to their arena, to the game itself, this was such a hype night. Our Terriers put up a good fight against the Eagles, and even though we lost in overtime, it was still a satisfying game. It's always fun to play a team that's relevant enough for us to consider our rival (sorry Northeastern!), and this game was no exception.  

2.

 The Northeastern Away Game

One of the last games of the semester, this one was a great ending to a great season. Even though a lot of Terriers were already home for spring break, we still had a large enough turnout to take over the Dog House. Watching our men's team secure a 3-0 shutout against the Huskies from their own student section was a whole new level of hype. Northeastern may have gotten another Beanpot win this year, but we reminded them with this game not to get too comfortable with their 7 total wins–there's always next year, and the Terriers are clearly ready to bring home number 31.

3.

The Hockey Halloween Game Against New Hampshire

While this game was comparatively low stakes, it was one of my favorites of the season. We beat New Hampshire in a 3-0 shoutout, and the student section cheered on our Terriers in some pretty creative Halloween costumes.  The pictures I have from this night are so great, and the memories are even better.  

4.

Beating BC in the Beanpot Semifinals 

If you thought the BC away game was hype, the Beanpot was on a whole other level. Our third-period comeback and double-overtime win (thanks to an impressive goal by freshman Wilmer Skoog) made this both the most stressful and most entertaining game I've ever watched. It was so satisfying to beat BC (and prove once and for all that birds aren't real), and this game also ensured us a spot in the Beanpot final.

5.

That last-second goal in the Beanpot Final

We may have lost the Beanpot to Northeastern (thanks in part to a questionable call by the refs), but no one in that record-breaking crowd of nearly 18,000 fans will ever forget the buzzer-beating goal that carried us into overtime. With one second to spare, Trevor Zegras tied the game and reminded us all that it's never truly over until that final buzzer. As the Dog Pound chanted "we're not done yet" through a chorus of tears and celebration, we all knew that this was one of the coolest hockey moments we'd ever experience together.