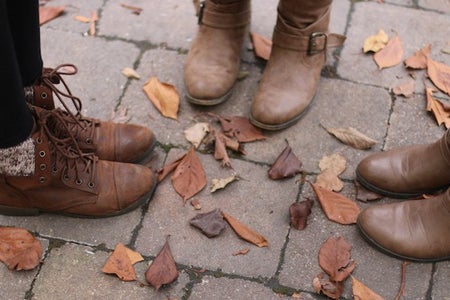 5 Reasons You Need to Go to Salem This Fall
If you're obsessed with all things Halloween like I am, Salem is the place for you. Nothing compares to walking the streets of Salem and seeing tons of people dressed as witches, ghouls, cats, or scary characters from horror films (there's always a Pennywise from It or a Jason from Friday the 13th). There is simply no place like Salem, with its vibrant characters and its famous history. However, if you're not convinced yet, here are five reasons why you absolutely need to go to Salem this fall.
1.

It's the perfect outdoor trip where you can stay safe and socially distanced.

Let's face it: we're all getting a little bored of sitting in our apartments/dorms every weekend. So, why not take a safe and socially-distanced trip to Salem? You can rent a Zipcar or take the train for a day trip full of spookiness and fun. There are so many outdoor activities to do in Salem, whether that's just walking down Washington St., wandering through the Burying Point, or seeing the Salem Witch Trial memorials.

2.

It's a great opportunity to wear a Halloween costume.

Since this Halloween will be very different from those of the past, we may not get the chance to get in a costume and have fun with friends like we usually do – but that doesn't mean you can't still dress up! Salem is basically the real-life version of Halloweentown, so you actually stand out if you don't have a costume on. So, get out your best witch or warlock get-up and get on over to Salem. You'll fit right in, I promise.

3.

It's the best place to get in touch with your inner witch.

There are many spine-chilling shops in Salem where you can channel your inner witch– the most popular shops being Crow Haven Corner, Hex Old World Witchery, and The Cauldron Black. Many of these shops offer tarot card readings and allow you to make your own potions or bag of herbs. Trust me, you will never feel more like a witch than when you create your own herb essence or potion. I can guarantee that going to Salem will convince you that you're actually a witch; I personally binged the entire "Coven" season of American Horror Story after the first time I went to Salem.

4.

It's full of rich history that comes alive.

Obviously, Salem is home to the infamous Salem Witch Trials of 1693, where nineteen people were hanged on accusations of witchcraft. Salem has fully embraced that it is a tourist attraction, and there are tons of sites where you can go to learn more about the trials. For example, you can visit The Witch House, Proctor's Ledge & Memorial, or even Rebecca Nurse's Homestead. You can even start out by going to The Salem Museum and meeting guides dressed up in 1690s attire.

5.

Finally, it's where Hocus Pocus (AKA the best Halloween movie ever) was filmed.

To me, this is the winning reason to go to Salem. Hocus Pocus is absolutely iconic, and so are the Sanderson Sisters. I will never forget watching Hocus Pocus for the first time and listening to the "Come Little Children" song; it's extremely creepy, but again, so iconic. If you're as big of a fan of this movie as I am, I highly recommend checking out the sites in Salem where they filmed, like Dani and Max's house, the cemetery, and the town hall. For a full list of the Hocus Pocus filming locations, click here.