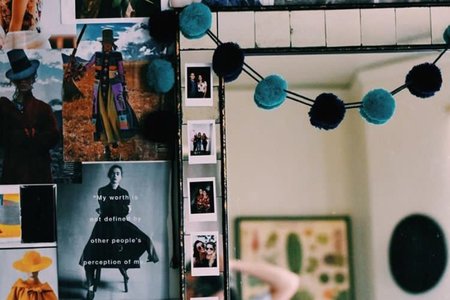 Anna Thetard / Her Campus
5 Pros and Cons of Living in Warren Towers
Freshman housing can be less than impressive at most universities. At Boston University, Warren Towers is one of the most common options for freshmen. While Warren is not the prettiest, there are some great things about living there.  Here are the pros and cons of living in Warren Towers.
1.

Pro: Roommate/Floormates 

When people think of the classic college experience, they tend to envision a freshman dorm scenario complete with a tiny room and a stranger for a roommate. Roommates seem to be a hit-or-miss situation. Some people love their roommate, but others have very serious roommate horror stories.

Regardless of whether your roommate is amazing or awful, the other people on your floor can become a great support system, especially as a freshman. My roommate and floormates have greatly impacted my freshman year experience and my experience in Warren by giving me a friendly and caring support system.

2.

Pro:The Convenience Factor–Everything in One Space

Logistically speaking, Warren is very convenient. Just in the building, there is a dining hall, a printing station, laundry rooms, a gaming room, study rooms, and a mailroom. Additionally, City Co, BU's convenience store, is right outside of Warren. There are also many eateries directly outside of Warren. Your food, friends, and facilities are all located in one area, making Warren an extremely convenient place to live.

3.

Pro: The Convenience Factor Pt. II–Proximity to Classes

One of the most amazing parts of living in Warren is that I can get to the majority of my classes in under 10 minutes (and sometimes under five!). Most class buildings are located on East Campus, which is also where Warren is located. This is very important because this means more time to sleep!

4.

Pro: A New Space to Decorate 

This pro is dependent on your interest in making your space functional and cute. Personally, I loved the process of decorating my dorm, and I am very happy with how it turned out. Despite the size and outdated furniture, my dorm has become my safe space.

This pro is very Warren specific. Unlike other freshman dorms, such as the freshman dorms on West Campus, Warren has common rooms on every floor. The common rooms are a great place to meet people, make new connections, and have fun with your floormates. 

6.

Con: Common Rooms (A Pro, But Also A Messy Communal Space)

Yes, common rooms are great spaces to hang out, but they can get messy! People leave their dishes in the sink, random objects are always sprawled over the table, and things are usually on the floor. The common rooms are far from spotless.

Similarly to the messy common rooms, the bathrooms can become objectively gross. People do not flush after themselves, scraps of toilet paper are left all over the floor, and there's always a decent amount of water on the floor. The Warren bathrooms are far from a nice bathroom experience.

Maybe an unexpected con about living in the dorms is the smells. The walls are very thin, so if someone heats up food in their microwave, you can smell it in your room and in the hallways. So, hopefully your floormates do not make very smelly foods! 

Not only do smells carry through the walls, noise does too. Sometimes you can even hear everything your floormates are saying through the walls. So, if you are singing in your room, know that you are basically giving a free concert to everyone on your hall. 

When many different people live in such a small space, there is bound to be some sort of drama. Regardless of what transpires, just remember to always be a respectful floormate and roommate.