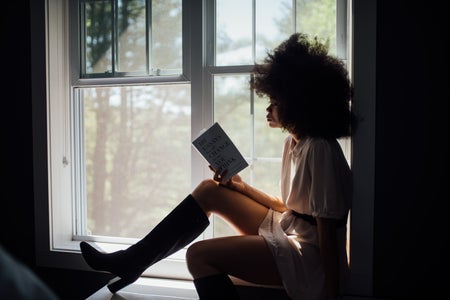 3 Books To Read While Social Distancing
This is a hard time for all of us, especially those in college. Many of us have the same workload as we did with classical learning, but with none of the normal outlets that we usually take advantage of. This almost goes without saying, but social distancing is hard. It's hard to stay cooped up in a crowded apartment and stay motivated to do much of anything. Something that I've started doing to occupy my time in a proactive way is reading again.
I've always loved reading, but it's difficult to find time to do it during the school year. Now that I have more time on my hands, I decided it was the perfect time to get back to doing something I love. Reading is a great way to avoid going stir crazy amidst all this madness. So without further ado, here are the books that have been keeping me company during social distancing.
1.

Homegoing by Yaa Gyasi

This book follows an ambitious path that ultimately, pays off. Gyasi's book follows the lives of 14 characters over 300 years through trials and tribulations in both Ghana and America. This family saga held me completely enthralled, and I finished it in less than two days. Gyasi somehow creates characters that you can connect to and feel for in a single chapter. This book covers so much history in such an empathetic way that it's hard not to love it. Homegoing is one of the best novels that I've read this year because of how much it made me think and how Gyasi highlights the highs and lows of humanity through storytelling.

2.

Pachinko by Min Jin Lee

Pachinko is another family saga reminiscent of Homegoing. This book follows a Korean family over the course of four generations and political turmoil. Pachinko is as much about familial relationships as it is a social commentary on political issues of its time period. It's set in the 20th century in both Korea and Japan. The book follows the lives of Sunja and her descendants during a time of intense discrimination and hardship for Koreans in Japan. What made this book so fascinating to me was the detailed accounting of Korean history that I knew almost nothing about it. Give this book a read if you want to learn a piece of history that's rarely taught in school.

3.

Letters to a Young Poet by Rainer Maria Rilke

This short read had been on my to-read list for a while before I finally picked it up. Letters to a Young Poet is a compilation of letters exchanged between the established Austrian poet, Rilke, and an aspiring poet. This is a reading best done in stages, rather than all at once. It offers captivating insight into the mind of a poet. Rilke writes about a range of human trappings including loneliness, inspiration, creativity, and art itself. Letters to a Young Poet is a great read if you're feeling contemplative or just need some general inspiration. Rilke has a beautiful way with words, and I think everybody should read this work at least once.
These are just some of the books I've read recently, but there are so many great reads out there that are perfect for this alone time we've been handed. Reading is an incredible way to learn and expand your way of thinking, and I think these books do just that.
Want to keep up with HCBU? Make sure to like us on Facebook, follow us on Instagram, check out our Pinterest board, and read our latest Tweets!