With the beginning of the new semester, Her Campus wanted to give the readers a peek into Greek Life's new presidents of 2021. 
We have interviewed the eight presidents of Greek Life so that you can get to know a little more about them and their organizations. They discuss their chapter and experiences, along with their goals during the Covid-19 pandemic. 
This is the interview of Tim O'Brien, the President of the Sigma Chi fraternity.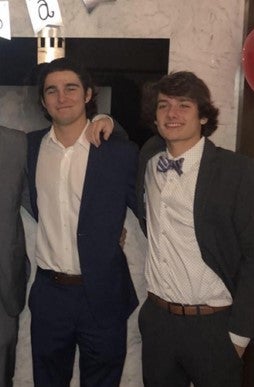 A Little Bit About Tim:
Hometown: Hingham, Massachusetts 
Grade: Junior
Major: Team and Project Management 
Fun Fact: He has three siblings and a large family that all live close to him.
The Interview:
HC: Why did you run/want to be President of Sigma Chi? 
TO: I ran for President of Sigma Chi because I loved the culture and brotherhood we had created, and I wanted to be able to lead and inspire my brothers to be the best people they can. 
HC: What do you want to accomplish in your term(goals)?  
TO: In my term, I want to make sure everyone knows their importance to the chapter and keep the family aspect we have worked so hard to create. I want everyone to see the best in themselves and portray that image to everyone they encounter.
HC: What are some events that you have planned/what are you looking forward to?
TO: The biggest event for us is always Derby Days. We have a full week of fundraising as much money as we can to donate it all back to the Huntsman Cancer Institute. The last two years we have exceeded our goals (including the $50k) and look to keep that trend rolling into 2021.
HC: What is your favorite thing about Sigma Chi?
TO: My favorite thing about Sigma Chi is that it taught me that I am a part of something bigger than myself. There is an unbreakable bond I now have with all of my brothers and I'm proud I can lead them.
Stay connected! Follow us on Instagram, Twitter, Facebook, and Pinterest!
Photo By: Jake Cooper