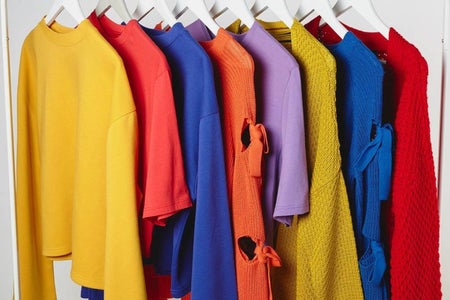 Brand Feature: Public Habit
Sustainability in the fashion industry has been on the rise. In recent years, clothing brands have been scrambling to showcase green qualifications to their shoppers. 'Green' has become the new 'it' trend, with customers now taking environmental factors into account while making their purchasing decisions. Consumers are willing to pay a significantly higher price for sustainable products, which are slowly but surely becoming synonymous with luxury. 
It's certainly about time that sustainability enters the conversation. The fashion industry is the second largest global consumer of water and is responsible for up to 10% of carbon emissions. That's more emissions than all international flights and shipping combined. The harmful chemicals necessary to manufacture clothes and the non-biodegradable packaging used to transport them only add to the environmental damage.
The biggest offenders in the industry are fast fashion companies like SHEIN, Pretty Little Thing, and Missguided. These labels prioritize fast production time and low prices, which means that environmental considerations are put on the backburner and the quality of the products are substandard. These are the types of synthetic, toxic clothes that are worn for a few nights out and then get tossed--ending up in landfills and polluting our air.
Enter Public Habit, a sustainable fashion label that started up just last year. This label embodies the antithesis of fast fashion. Public Habit believes that the key to a sustainably fashionable world is one in which everything is made on demand. They make only what customers want; not what they think customers will want. Their approach eliminates waste and builds a longer-lasting wardrobe, resulting in a healthier and happier population and planet.
Public Habit focuses on three major aspects of sustainability: Fit, Fabric, and Factory. Their designs feature timeless and high quality wardrobe staples, like solid tees and cashmere sweaters, that disregard trends. Their designers focus on creating pieces that will be worn on countless occasions for years to come. Their fabrics are sourced responsibly from the best mills in the world, and they only use materials like cashmere, wool, and recycled materials that are kind to the planet. Lastly, they are very particular about who they choose to make their clothes, partnering only with factories who share in their common vision of sustainability, transparency and innovation. Most importantly, everyone in the Public Habit supply chain is treated with dignity and respect. 
The current supply chain in the fashion industry is broken. Typically, brands guess what customers want 12-18 months in advance, which leads to inaccurate judgments and overproduction. These bad bets have shocking consequences. 1 in 3 garments that are made never even end up being sold. Even more jarring, 92 million tons of textile waste is burned or ends up in a landfill due to this overproduction. 
Public Habit is revolutionizing the industry's supply chain at a critical time, as the ongoing pandemic has exposed major pitfalls of the current system. They are reversing the traditional process by starting and ending their supply chain with the consumer, which allows them to remove inefficiencies in the chain that create waste. They start by finding out what the customer wants, and then partnering with ethical, hand-picked factories that produce in small batches and ship straight from the source. In other words, a product is only made in the factory when the customer places the order. The wait time is longer, but certainly worth it.
So, if you're looking for a holiday gift for friends and family, Public Habit is the perfect place to turn. With their stylishly simple designs, you are guaranteed to find something for everyone. Your friends and family will thank you now, and your planet will thank you later.