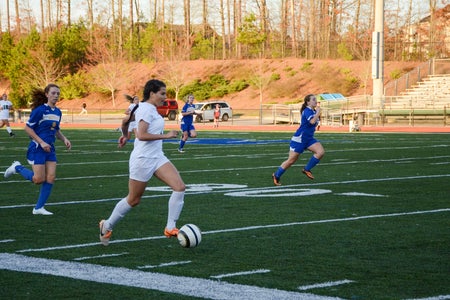 "The game of football is quite unsuitable for females and ought not to be encouraged"
- The FA (1921)
For me, growing up playing football it was normal to be the only girl in a swarm of boys. I had never been interested in playing 'ponies' or 'mums and dads', but when I first started at primary school, there wasn't a girl's football club and I was too scared to play with the boys. So, my mum took me down to the local football pitch and signed me up for lessons. When I arrived, much to my dismay, I was the only girl and so begged my mum to take me home. But, she refused. I'd been asking for lessons all week and so I would stay. Thanks to her, I never looked back.
However, I often think, what if my mum didn't force me to stay? What if my teachers didn't fight my corner when the boys didn't let me join in at school? It's struck me that many of today's best female players have had to fight to play football. Indeed, former Arsenal W.F.C and England player Alex Scott was the only girl on her estate that played and so had to 'earn the right' to join the boy's games. Similarly, England and Manchester City defender Steph Houghton, having always wanted to play football, did so with the boys in the playground. These two trailblazers have also had to fight off the field in order to keep playing football. Both of these Lionesses, at points in their lives, have held down jobs alongside their professional football careers, as until recently, the salary of a professional female player was not enough to support the cost of living.
That's why it was incredible to watch the 2019 World Cup. With over 1 billion people watching, both men and women, I'd never seen women's football advertised and televised on that scale before. To see top players like Alex Morgan plastered across the storefront of Nike Town in central London was a testament to how much the woman's game has grown over the past years. For the first time it felt like there was real inspiration for the next generation of female footballers, who now not only have greats like Ronaldo to look up to but heroes such as Fran Kirby.
But, there is still that question: Why is women's football only gaining mass support in the UK now? Interest in the game is not new. The early 1900s saw of women's football flourish. With men fighting in WW1, women had not only taken over the munitions factories, but they were also dominating on the football pitch. Of the 150 women's teams playing in the UK at the time, one of the most renowned teams was Dick, Kerr Ladies FC; a team born out of a locomotive and tramcar manufacturer in Preston. Drawing a crowd of 10,000 to their first match in 1917, they rapidly grew in popularity attracting 53,000 spectators to their 1920 game against St Helens. This is an incredible statistic when we consider that in the men's 2018/19 season, Chelsea FC drew an average crowd of 40,437 to their home games. However, in 1921 following the return of men from the war the FA banned women's football, stating that "the game of football is quite unsuitable for females and ought not to be encouraged.". We would not see an official return of the women's game for 50 years.
It's difficult not to wonder where the women's game would be today if it had not been for the 50-year ban. Women's football is definitely still playing catch up. Regardless, it's exciting to watch the growth of the game and to see the rise of initiatives such as 'She Can Play', which let young girls know that football is most certainly an option.
This article is part of a themed content week celebrating Women in Sport. Thanks to all the teams and societies who have helped make this possible!