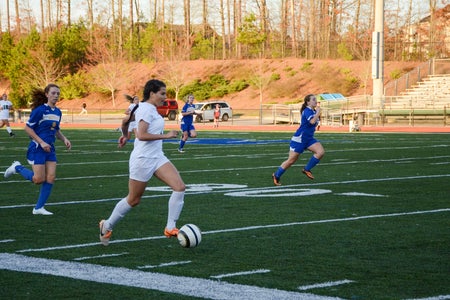 Megan Rapinoe: An Inspiring Symbol of Change
A Captain of the American Women's Football Team, an LGBTQ+ advocate, a campaigner for greater equality in football- Megan Rapinoe is all of these things. Famous nowadays for her trademark pink hair, she is a woman who refuses to bite her tongue. Evident most recently in her Twitter spat with American President Donald Trump- after she refused to visit the White House if her team won the Women's World Cup. He told her to 'WIN before she talks'… well, winning is exactly what she did, helping to both lead her team to victory, and herself in winning both the Golden Ball (for the best player of the tournament) and the Golden Boot (for the player who scored the most goals).
Off the pitch, Megan is a fierce fighter for equality. She is a leading figure in the ongoing court case against the U.S. Soccer Federation regarding equal pay for the American Women's Football team, which has been storming its way through the American legal system since 2016. Megan Rapinoe means what she says- she is not one for empty speeches and little action. It is no surprise, then, that she used her acceptance speech for the 'FIFA Best Women's Player in the World' not for her own self-gratification, but instead to further the cause for equality. Crediting a range of people, including Rayeem Sterling and Sahar Khodayari (Iran's famous 'blue girl', who set herself alight as a stand against the sexist regime of banning Iranian women from football games), for inspiring her, Megan understands that in order for there to be serious change in the sport, there needs to be a fundamental overhaul in how everyone in the industry views discrimination. 'If there's ever an instance of racism, if every single player on the field is not outraged then to me they're part of the problem' she said in her acceptance speech; well, by sparking such a conversation, Megan is certainly taking steps towards solving this problem.
So what can we learn from her? Firstly, we can take comfort in the fact that she is a sign of the positive changes happening in the world right now, not just on the football pitch. In the past, outspoken women would never have been considered for awards and being so bold may have jeopardised her career. Instead, her candid and open nature is what defines her, making her known even by people who do not watch football, like me. We can also learn from her determinedness; she knew from a child what she wanted to be when she grew up, and despite having to watch her brother (who she idolised) go in and out of prison as he battled with a drug addiction, she never let herself give up on her dream. Finally, people everywhere are inspired by her bravery. There are not many openly gay female footballers who are so outspoken in the face of great adversity. She is a symbol of the change that we should all idolise and be working to bring about.