Opinion: Why I'll Never Be a Halloween Person
It's that time of year again: the leaves are changing color, falling off the trees, and making that wonderful crunchy sound when you step on them.  This time of year is perfect because you can enjoy sweater weather and the last few lingering warm days; these few weeks are the change in seasons from the end of summer into the heart of fall.  There is so much to look forward to on the horizon: the holiday season, snow, and coming together as a family towards the end of the year.  But there is always one obstacle every autumn, which I forget how much I dislike until it gets closer and closer: Halloween.
It has to be my least favorite holiday for so many reasons: the demand to be peppy about pretending to be something you are not, visiting strangers' homes and asking them for candy, and its all-consuming aura that surrounds everyone.
For those who are on a diet, Halloween is just a distraction—a night dedicated to saturated fat packaged into tasty little bundles that can fit into a pillow case you lug around. 
The pressure to have the best costume every year gets me.  Without having any good ideas, every year I want to go as something silly that doesn't require me to change my clothes, such as my twin (if she existed), or a nudist on strike.
One thing that I find absolutely unnecessary is a haunted house, or anything that is scary-themed.  What is the need to be scared?  There is no reason to ever voluntarily put myself into cardiac arrest.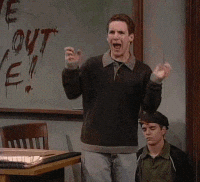 No, I didn't have traumatic childhood experience that made me feel this way; I just slowly started to realize that this day was not for me, and those feelings have since escalated. 
Instead, I like to focus on the nicer parts of this season: apple and pumpkin picking, movie nights, and rainy days to stay home and relax.  This year, I think I will be festive as Halloween approaches—but in a different respect: I am going to break out the Christmas music a day early.