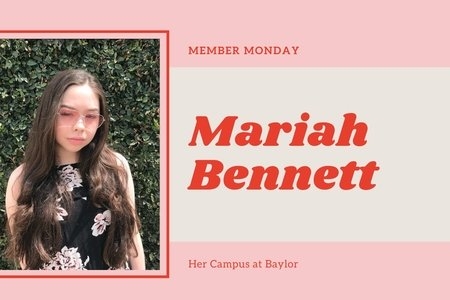 Member Monday: Mariah Bennett
Here at Her Campus at Baylor, we are blessed with a team of fantastic individuals all specializing in areas of marketing, writing, social media and event planning.  To celebrate their work for our chapter, we are going to feature one member a week to highlight their contribution to our Her Campus Girl Gang!
Q: Hi there! What's your name?
A: Hey! My name is Mariah Bennett!
Q: What's your year, major and hometown?
A: I'm a freshman journalism major from Sugarland, Texas!
Q: Why did you choose to come to Baylor? How has your Baylor experience been so far? What's your favorite part/tradition at Baylor?
A: I came to Baylor for its great programs and opportunities. My experience has been great, I've met tons of great people and written in ways I haven't before. My favorite tradition is definitely Christmas on 5th, they decorate so pretty! I also love the petting zoo.
Q: Why did you join Her Campus Baylor?
A: I wanted to write about one of my main passions, beauty, as well as expand my writing subjects.
Q: What do you enjoy most about being part of Her Campus Baylor?
A: I enjoy the sense of community we've built and the experience of writing about different subjects!
Q: What teams are you part of on HC Baylor, and why did you decide to join those teams? 
A: I'm on the editorial team and social media teams. I joined the editorial to write about subjects I'm passionate about! I joined the social media team to try something new and expand my skills!
Q: What did you wish people knew about Her Campus at Baylor?
A: That we have an expansive site covering many different topics!
Q: What does women empowerment mean to you?
A: Women empowerment to me means empowering all women though your work and more importantly actions, to include and not exclude.
Q: How would you describe Her Campus Baylor in one word?
A: Passionate. We're all passionate about the things we work on and it shows!
Q: Anything else you want to add? 
A: Thank you for reading our work! Check out my website and my Insta! https://mariahalyssandrabe.wixsite.com/ @mariahbennettphoto