6 Valentine's Day inspired Outfits
     With Valentine's Day right around the corner, many of us find ourselves in a panic, scrambling to figure out what we want to wear on that special day. Maybe you want to dress up or dress down, but either way, picking an outfit is a struggle. I constantly find myself being late to events because I spend hours trying to figure out what to wear, especially on holidays. Well today, I did all the hard work so you don't have to. I took a look in my closet and found six easy Valentine's inspired outfits that fit all different styles and all different personalities. 
1. The "Athletic Casual"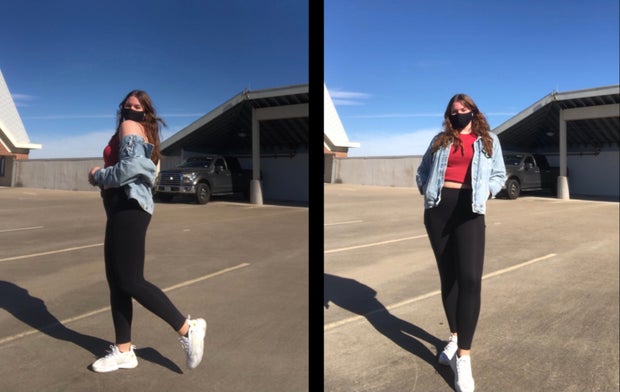 Original photo by Ali McNew
     This outfit is for the Sporty Spice of the group. I paired a red athletic tank top with some black leggings, an oversized jean jacket, and chunky white sneakers. Even if you don't plan on hitting the gym, this outfit still puts in the work. It is comfy, cute and with the pop of red, is totally great for Valentine's Day and maybe a fun game of spikeball with your s/o.
2. The "Cute Cupid"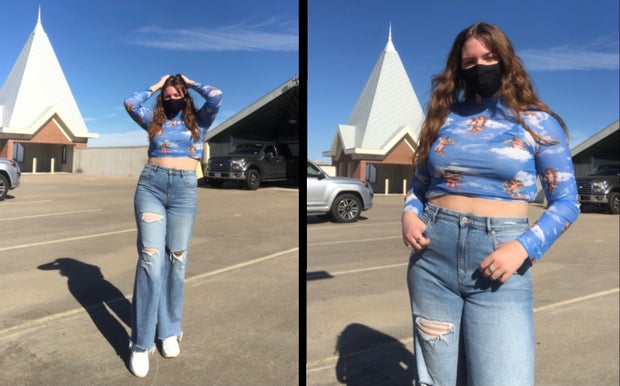 Original photo by Ali McNew
     I don't know about you guys, but when I think Valentine's Day, I think of Cupid, so what is a better way to represent than to wear a shirt with baby angels on it. This one is a bit more out there, but it is perfect for anyone who wants to wear something a little different on Valentine's Day. This sheer cropped baby angel turtleneck from Amazon paired with a pair of wide-leg jeans and chunky sneakers is sure to turn heads and will make you feel like you are in heaven. Matching this top with a pair of leather bottoms would also be another sure-fire way to give this outfit a unique spin!
3. The "Girl Next Door"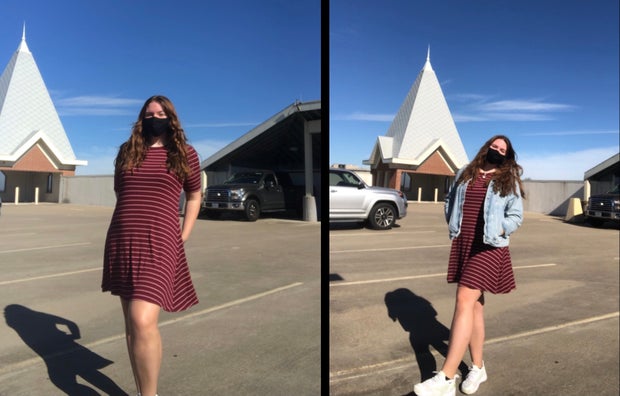 Original photo by Ali McNew
     This outfit is a little more conservative but still cute as ever! It is simple and sweet, sure to give anyone a toothache on Valentine's Day. I am wearing a striped maroon t-shirt dress with chunky sneakers, and if it gets chilly, just throw on an oversized jean jacket and you're set. This outfit is perfect for a simple date night or a hangout with friends (with masks and no more than 10, of course!!) to celebrate the day of love. 
4. The "Preppy Chic"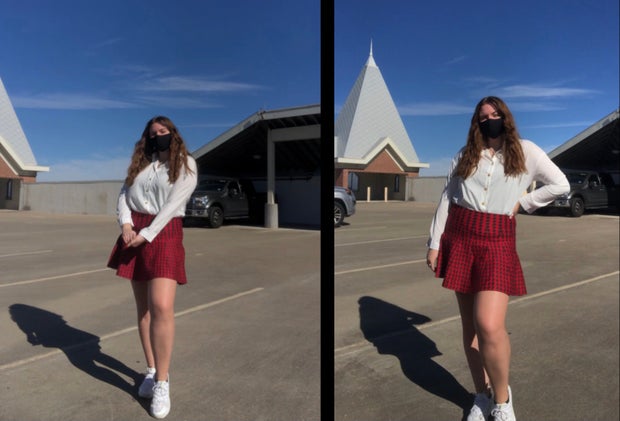 Original photo by Ali McNew
     Gossip Girl who? With this simple white button up and red mini flare skirt, you are bound to catch attention from anyone who walks past. If you really want to put a Blair Waldorff spin on it, add a cute red headband to tie the outfit together. This outfit is perfect for the aspiring "sit on the steps of the Met with Blair and Serena" type of person. By keeping everything else white except the skirt, the red accent really pops, making it perfect for Valentine's.
5. The "Laid Back Tee"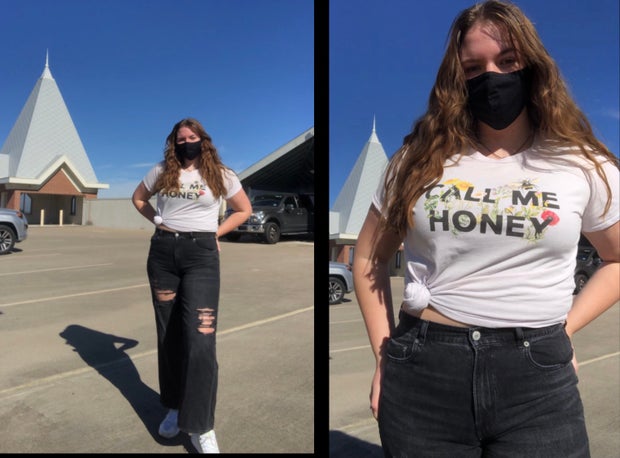 Original photo by Ali McNew
     For a more laid back vibe, go for a cute graphic tee and some wide leg black jeans. This is an outfit I would go skateboarding in and then be fine going out to dinner while wearing. With the cute phrase on the tee, it is perfect for a subtle nod to Valentine's Day, and perfect for anyone who (much like myself) wants to whisper Valentines and not scream it. 
6. The "I Hate Valentine's Day"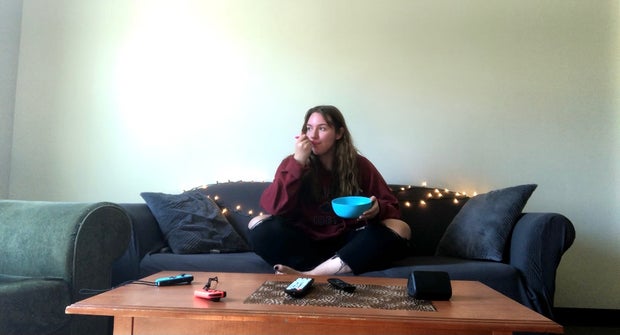 Original photo by Ali McNew
     Well, you guessed it. This is the ultimate lounging outfit, perfect for someone who can't stand the idea of Valentine's Day. I am wearing a red hoodie (because I still want to be a little festive on my own at least) and my most comfy black mom jeans, just in case someone wants to come declare their love. What? A girl has got to be ready! Now, my couch is sporting a chic grey cover and some lights while I am eating a bowl of my favorite cereal. All in all, this is definitely the comfiest and easiest Valentine's outfit ever. 
     These outfits are all super easy to replicate and put your own spin on for Valentine's Day! I had lots of fun doing this, and hopefully, it helped you get some ideas on how to spice up your Valentine's outfits. No matter what outfit or style you go with, don't forget to be confident and own it, because, girl, you look great!