9 Cutesy Costumes to DIY for Halloween
While Halloween is usually about the spooks and thrills, sometimes enough is enough for scaredy cats like me. I'm not one for fake blood, creepy masks, or anything from a horror movie. The fun part about Halloween, however, is dressing up as something besides yourself, which can be anything. Since it doesn't have to be scary, the options are limitless when it comes to picking a costume idea. Here are a few DIY ideas for when you're in the mood for something cute and easy.
Raining Men
Break out your rain gear for this idea! Who doesn't love to jam out to "It's Raining Men," so how about a costume to celebrate that glorious idea? Grab your umbrella, some print outs of your fave male celebrities, and your rain boots for this simple and clever costume.
Arthur
You can make Halloween a "wonderful kind of day" with this outfit! Most people our age and older will appreciate this blast from the past of cuteness. Grab some cheap round glasses, DIY or buy some ears, and a yellow sweater to complete this look.
Instagram Post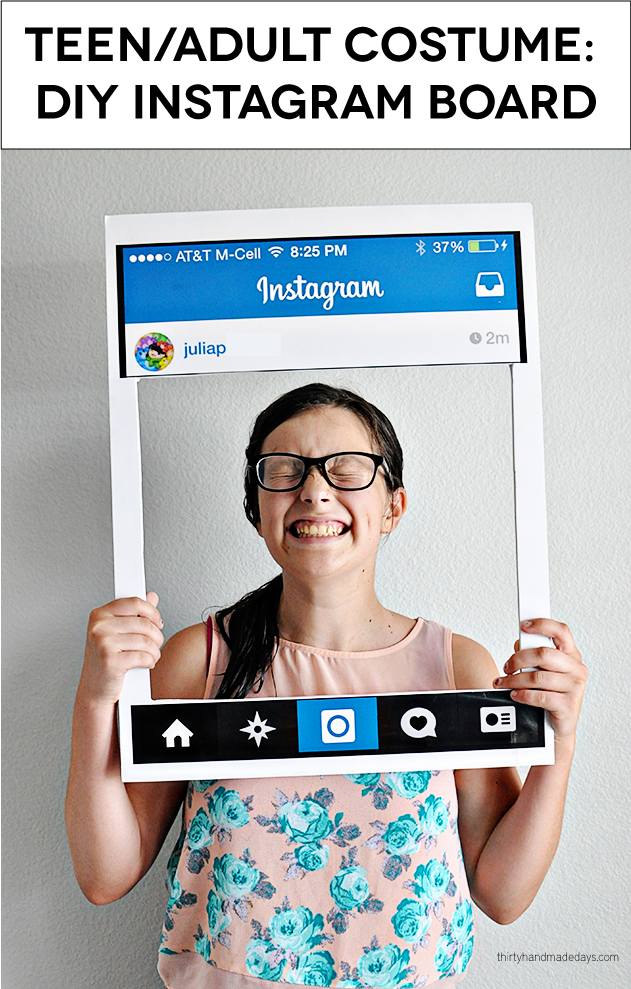 Really don't feel like dressing up? Well, how about getting all dressed up like you would for a post on Instagram? With a screen shot of your own Insta, you can have the power to wear this with anything you want, anytime you want; talk about versatile! Have it printed out at a print shop, grab a box cutter, and get snipping. Simple, fun, and totally on trend.
Bat
If you're go-to color all-year is black, Halloween is no excuse to change things up! This monochromatic bat costume is easy and can be altered if you want some bling or if you want to keep it simple. All you need is some black fabric, elastic, a headband, and a glue gun! At only 10 minutes, this DIY will keep you from going "batty" over how little time there is!
Inside Out
Have a group of friends without costumes? Inside Out is a fun way to get everyone involved and dressed up! The main pieces to these costumes are clothes you either have in your closet or can get cheap in the essentials part of most clothing stores, so there isn't even much to DIY! This also gives you an excuse to break out the makeup and face paint, and who could pass up an opportunity like that? 
Cactus
Succulents are really hipster and trendy, so why not dress up like one? This simple costume barely requires any effort, making it a great option. A chunky green sweater, strips of paper looped through the sweater, and a flower on a headband are all you need to be this cute plant for Halloween. Even better, you can wear the green sweater when it finally starts getting cold!
Beanie Baby
Ready for another blast from the past? Beanie Babies were the ultimate present as a kid, and growing your collection was an unspoken competition among friends. Take a cue from these cuddly cuties and dress up like one! Grab an animal onesie from Target or Walmart, make a tag, and be your cute self to complete the look. Who can resist giving candy to someone this adorable? No one, so rack up all the candy this year.
Belle
With the live action Beauty and the Beast still delighting fans since March, Belle is a popular princess right now. If Disney princesses are your thing (and why wouldn't they be?), Belle is certainly the one to go for. Smart, beautiful and totally fearless, she's definitely a girl I wanna be! Search your house for a blue dress, white apron and black shoes, but don't forget the low ponytail and some books for added character vibes.  
Holly Golightly
What DIY costume list is complete without this classic character? A LBD, pearls, and a chic French twist are staples for this icon, but what about that sleeping outfit look? Holly managed to look gorgeously put together in her sleeping clothes, and I aspire to be her, so this look is great if you want to avoid the too-common LBD look. A cute sleeping mask, white button down, and tassel ear plugs are essential if you want to avoid the "mean reds" this Halloween.