5 Minute Hairstyles For Busy Mornings
This is a sponsored feature. All opinions are 100% our own.
Getting up in the morning is such a drag. I enjoy my sleep, but I don't always go to bed before midnight. So when I do stay up late, getting up at 6:30 a.m. for my 8 a.m. class is basically torture. I usually throw on leggings, a T-shirt and some tennis shoes before quickly tossing my hair into a messy ponytail and bolting out the door to catch the transit. But what if I have a presentation or actually want to look like a human instead of a zombie? I need hairstyles that are cute, simple and quick so I don't need to get up any earlier than I do. Here are a few styles from Pinterest for both inspiration and direction for those days when you can't shower or be bothered to spend more than a few minutes.
What are the key things to remember before starting a quick hairstyle? Dry shampoo and hairspray! Whether you just don't have time for a hair wash or need to keep your hair perfect for a presentation, these are essentials. Bed Head by TIGI has both of these products, but they have several different kinds so you can find the one that best suits your hair and needs.
The Bed Head by TIGI Masterpiece Shine Hairspray boasts the ability to have major hold, voluminous body and humidity resistance that's good for any hair texture and length. You can get a 9.5 ounce can for $23.00 from Ulta's website.
The Bed Head by TIGI Hard Head Hairspray has a crazy hold and control that is absolutely necessary for an intricate hairstyle, plus it adds shine and conditions! You can get a 10.6 ounce can for $20.00 from Ulta's website.
The Bed Head by TIGI Dirty Secret Dry Shampoo absorbs the excess oils from your scalp and leaves a fresh scent to make their colorless formula even more appealing. You can get a 6.3 ounce can for $21.99 from Ulta's website.
The Bed Head by TIGI Oh Bee Hive! Matte Dry Shampoo has a super fine powder that is perfect for brunettes to give them the best volume and body possible. You can get a 5.0 ounce can for $19.99 from Ulta's website.
Half Up Topknot
Whether it's messy or polished, this look can be versatile for class or work. Divide the top half of your hair from the bottom and twist up into a bun shape, loosening it to make it less tight. Use bobby pins to keep everything in place, then finish off with hairspray.
Bumped Up Bangs
For those lucky girls who can pull off bangs, this look will be perfect for those mornings where they just won't lay how you want them. With a little back combing to create some volume, this look will take no time so you can bolt out the door.
Flower Braid

This one is a little more involved, but once you get the hang of it, you'll have flowery hair in no time! To create this look, divide the top half of your hair from the bottom into a ponytail. Braid this ponytail to the end, loosening it to make it bigger. Twist the braid into a bun and pin it, so the loosened braid creates a petal-like look.
Easy Curls

I have naturally curly hair, but it's more of a chaotic mess than pretty spirals. This look gives you the curls you want on the short time limit you have. Pull you hair into a high ponytail and then divide the tail into half. Heat up that curling iron and wrap on half around it for around 10 seconds, repeating it with the other half. Take your hair out of the ponytail and shake out those voluminous curls!
Knotted Ponytail

Are ponytails your go-to look? If so, spicing them up with some knots keeps the look fresh and new for those crazy mornings. To do this, separate your hair into two sections and then tie them into a low knot. Repeat the knot below it and secure with a hair tie. You can either leave the hair tie exposed or wrap a small piece of hair around it to hide it.
Topsy Ponytail

Flipping your ponytails is something lots of women know how to do, but doing three in one hairstyle creates a crazy cool effect that will turn some heads. With the help of some clear elastics, separate your hair into three ponytails, one on top of the other. Flip the ponytails between the hair tie and your head, pulling them through. For the top two ponytails, tuck the tails down through the ponytails below them.
Half-Up High Ponytail
This is one of my favorite looks and one that I do quite often when I'm lazy but want something different from a regular ponytail. It's great for a casual and cute look. For this look, divide the top of your hair from the bottom half. Comb the top half together into a ponytail, keeping it high and voluminous.
Double Buns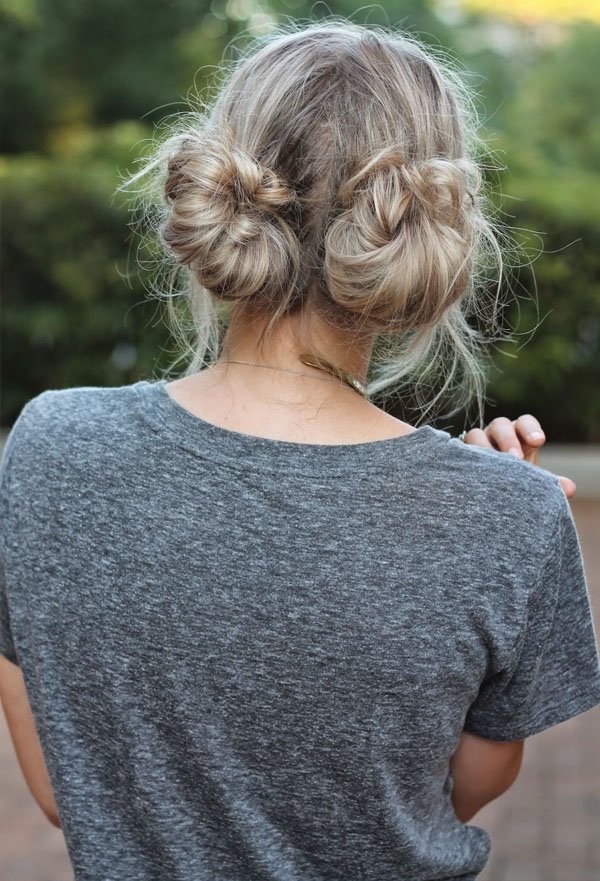 "Space buns" have been a hot trend lately, and it feels like more and more people are catching on to this easy look. Whether they're low or high, messy or polished, this look is sure to have people seeing double. Create a center part in your hair and divide your hair in half. Back comb one side to create volume before twisting it into a bun and then doing the other side. Pull them loose and messy before pinning in place.
Half-Up Heart Loop
This look make seem complicated, but with some practice it can be like second nature! This will be perfect for Valentine's Day as well, so start practicing early. To make this hairstyle, divide the top of your hair from the bottom half into a ponytail. Grabbing a one inch section from near one side of your face, loop it around and over your half ponytail. Pin it in place before starting on the other side. This creates the top part of the heart, and to finish the shape secure the one inch sections with a hair tie.