Harvard University's Sanctions Against Single-Gender Social Groups Face Nationwide Backlash
Former Harvard University president Drew G. Faust announced sanctions preventing the organization of same-se­x social groups on­­ campus in an email to undergraduate students in May 2016.
The sanctions prevent members of Greek organizations and final clubs, which are what Harvard calls single-gender social clubs, from taking on leadership positions in recognized student organizations, serving as captains on varsity teams, and being endorsed by the university for prestigious fellowships, such as the Rhodes Scholarship, according to The Harvard Crimson. The sanctions apply to Harvard's class of 2021 and all succeeding classes.
"Although the fraternities, sororities, and final clubs are not formally recognized by the College, they play an unmistakable and growing role in student life, in many cases enacting forms of privilege and exclusion at odds with our deepest values," Faust wrote in the email, which can be found on the Harvard webpage. "The College cannot ignore these organizations if it is to advance our shared commitment to broadening opportunity and making Harvard a campus for all of its students." 
Harvard faced significant backlash for the decision to implement this policy. When the sanctions were announced, more than 200 women stood in protest on Harvard's campus, according to The Harvard Crimson, which sparked an outcry from women across the country. The hashtag #HearHerHarvard began trending online shortly after with women, mainly in sororities, voicing their support for Harvard's female students. 
The Harvard Crimson filmed Megan Mers, who attended a Hear Her Harvard rally, saying "it would be a scary place if there were no social outlets for women on campus where they didn't have to at least partially prove themselves, in some way, to men. I think the value of all-women spaces is really underestimated by the administration."
The former dean of Harvard, Harry R. Lewis, also expressed his distaste for the sanctions, along with numerous other faculty members, clubs and national fraternities and sororities.
"By reaching into the private associations of Harvard students and declaring some of them to be, in essence, 'suppressive persons' because of their nonconformity, you are, I fear, passing from creating a community to molding a monoculture, in which people of whom we have every reason to be proud are afraid to do or say things that are lawful," Lewis wrote in a letter to Harvard's current dean, Rakesh Khurana. 
Lewis also joined 11 other faculty members in submitting a motion, published on The Harvard Crimson, saying that Harvard should not possess the right to discriminate against students based on their social or political affiliations, as long as said organizations are not illegal. 
Sororities and fraternities are not officially recognized on Harvard's campus, but are still available to the students who wish to join them, with housing units located on the outskirts the campus. As students will be punished for their membership in these organizations, a number of sororities and fraternities have taken action against the university.
Kappa Alpha Theta, Kappa Kappa Gamma, Sigma Chi, and Sigma Alpha Epsilon are all suing Harvard in federal court over the sanctions, according to The Washington Post. 
Alpha Phi, one of the sororities taking a stand against Harvard, stated in a press release that "while Harvard's sanctions claim to support women's right to make their own decisions, these sanctions actually force women to choose between the opportunity to have supportive, empowering women-only spaces and external leadership opportunities."
Harvard's chapter of Alpha Phi at Cambridge, Iota Tau, was the final sorority to disappear from the campus after the sanctions were announced by Harvard administration.  However, instead of disbanding, the Iota Tau chapter disaffiliated from Alpha Phi International to form a co-ed group called "The Ivy." 
The Iota Tau chapter wrote in an online statement that though they do not believe Harvard's sanctions are appropriate, by not complying and transitioning into a co-ed group, they would be "giving up on young women who came to our organization for a strong community and are instead forced to risk their future success." 
Alpha Phi announced in an email to its members that, along with other sororities, fraternities, and students, they would file a pair of lawsuits to challenge the Harvard sanctions. The lawsuits are filed on the grounds of unlawful gender discrimination and interference of Harvard students' Constitutional freedoms. Along with the lawsuits, Alpha Phi launched a campaign called "Stand Up to Harvard," which has garnered thousands of petition signatures and posts across social media platforms.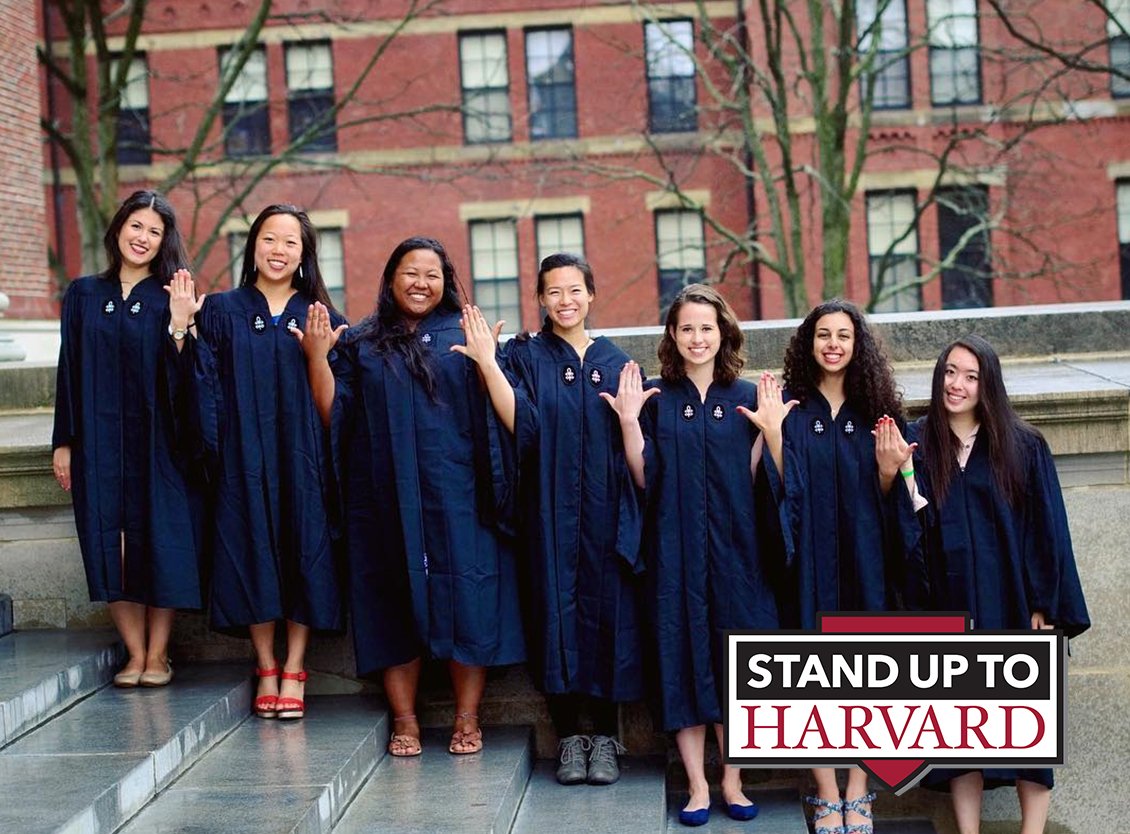 Now, fellow Alpha Phis and women across the nation are voicing support for the sisters of Alpha Phi and other women's groups affected by the Harvard sanctions. 
Sydney Smith, an Alpha Phi at Appalachian State University who participated in the campaign, said that she was taken aback and disappointed by the Harvard sanctions. 
"In my sorority, I'm constantly surrounded by women who push me to be better every day. Taking that away, creating rules to disband single gender organizations, is a step in the wrong direction," Smith said. "I'm a stronger woman and leader because of my sorority. It's a disservice to Harvard's students to take away an environment that supports young women in such a powerful way."
Appalachian State Alpha Phi's former director of marketing, Olivia Remsberg, said that she was also roused and confused by the implementation of the sanctions. 
"It's our right as Americans to peacefully assemble," Remsberg said. "Just because Harvard is a private campus doesn't mean it should have the right to stop students from assembling based on gender, especially since these clubs aren't violent." 
Kara Hershberger, of the Oregon State University Alpha Phi chapter, supported the campaign on her Instagram page, writing that "anyone who is a part of an empowering organization, whether it is Greek or not, should care about what Harvard is doing."