Greek Week Lip Sync – Dancing For a Cause
Greek organizations gathered at the Holmes Convocation Center on Monday to perform in the annual Appalachian State University Greek Week lip-syncing competition. You could hear the cheering and chanting from a mile away as fraternity and sorority members engaged in a little friendly competition – and a whole lot of dancing – for Lip Sync 2019. 
Lip Sync is a long-standing Greek Week tradition, always serving as the final event and biggest competition of the week. The Greek Week Lip Sync competition is more about dancing than it is about lip syncing. Organizations often have at least 20 members on the stage performing meticulous choreography that they've been rehearsing for weeks – or even months, in the cases of the highest-placing organizations. 
Other Greek Week events include a service day, Greek games and a construction competition that uses cans for one of the biggest canned food drives in Boone, North Carolina. 
"We donated over ten thousand pounds of cans this year for our Greek Week kickoff," Interfraternity Council Vice President of Programming Brandon Fox said.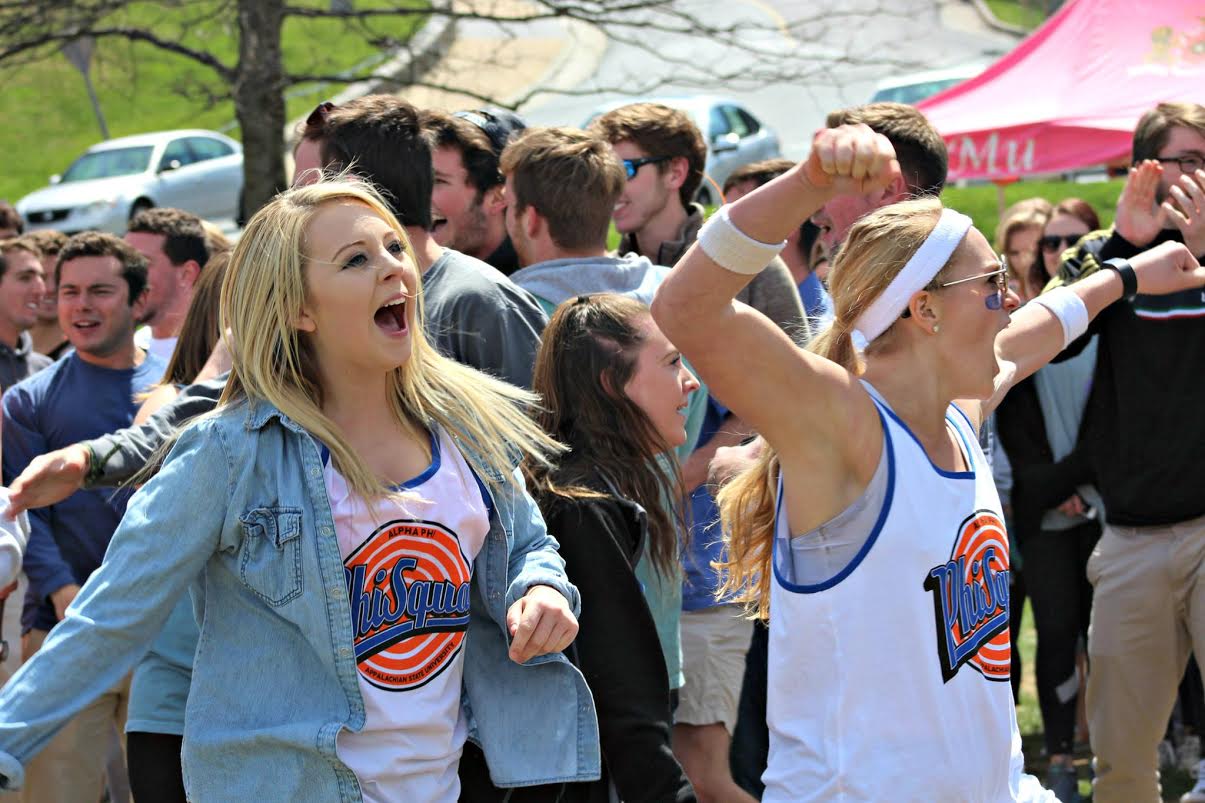 All 10 Panhellenic Council sororities and two of the IFC fraternities participated in Lip Sync this year. The PHC winners were Sigma Kappa, with Alpha Delta Pi and Delta Zeta in second and third place, respectively. Sigma Nu were the champions of the IFC division and Phi Sigma Kappa were the runners-up.
The theme of Greek Week this year was "Through the Decades," and Lip Sync routines are required to adhere to that theme. This year's Lip Sync champions drew from classic movies for inspiration. Sigma Kappa's winning routine was "Scooby-Doo" themed, and Sigma Nu's performance was "Forrest Gump" themed.  
App State Greek organizations have always held community service and philanthropy as a primary value, and many of Greek Life's largest events are philanthropy related. Each fraternity and sorority has at least one philanthropy that it supports in a variety of ways throughout the year. As a whole, App State Greek Life has a five-year partnership with three local philanthropic organizations. 
"In 2013, we decided that it would make more of an impact if we chose certain philanthropies to partner with for a longer period of time," Assistant Director for Campus Activities and Fraternity & Sorority Life Becky Acton said. "We landed on five years since many students are in college for four to five years."
This year's Greek Week proceeds benefited App Builds a Home, Life Village and Watauga Children's Council. The proceeds from Lip Sync, specifically, were donated to App Builds a Home, which is a campus-wide partnership with Watauga County Habitat for Humanity to build homes for local families in need. 
PHC Vice President of Community Service Alicia Beal said that she and her IFC and NPHC counterparts met with multiple local philanthropies and selected five organizations for Greek Life students to vote on to decide which three philanthropies would be included in the five-year partnership. 
"It was neat because the chapters had a say in where our money from events like Lip Sync goes," Beal said.
Fox said that Greek Week events like Lip Sync aren't just about fun and friendly competition, they're about giving back and embracing the community as well.  
"We want to get all of our organizations out in Boone and show people that we're not just here to have social lives," Fox said. "Philanthropy is such a large part of being a member of Greek Life, and we want to show people that our members genuinely are philanthropic at heart. It's one of the key elements that makes Greek Life special, growing through service."
"It's really exciting to see Greek Life get so hype at Lip Sync," Beal said. "I think there should be more of an emphasis on the fact that the money is going to our partnerships, because a lot of people don't realize that even when they have to buy a ticket to Lip Sync, they're not just spending five dollars. They're spending five dollars that is going to help someone in need."