Why We Need Accessible Sharps Containers at AU
The other day, I was casually scrolling through Facebook when something caught my eye: a petition for a publicly accessible sharps container at American University. A sharps container is a plastic box that has a sealed top where people dispose of their used needles or other sharps in. Sharps containers are important because they are a safe place for folks who use needles to dispose of their sharps that is bio-hazard safe. 
"I started the petition in response to seeing loose sharps by the Nebraska Bus Stop," Therese Wilson, a Junior at American University studying public health and the creator of the Change.Org Petition to demand a Publicly Accessible Sharps Containers on Campus. Following seeing loose sharps on campus, she reached out to the Health Promotion and Advocacy Center (HPAC) on campus and upon receiving no response, she started this campaign. Therese's campaign received 152 signatures since it was published on January 29th.  Since starting the petition, Therese met with HPAC representatives but no conclusion or commitment of action was adopted. 
Injection drug users are the most common population thought of when the conversation about sharps containers come up, but Therese recognizes there is more to this issue. In her petition, Therese noted that not only would a publicly accessible sharps container on-campus help injection drug users properly dispose of their used sharps, but it would be an accessible resource for other folks who use needles such as those with chronic illness or those undergoing hormone therapy. Therese further explained why this resource is a necessity, "it also would destigmatize the use of sharps to make it a health issue rather than an issue of criminality or bad behavior because that's not true. And what we've seen is that when you have harm reduction techniques in place, people are overall healthier."
However, when I sat down with the Coordinator for Alcohol and Other Drugs at HPAC, Yoo-Jin Kang, she doesn't have the same viewpoint as Therese Wilson. When asked, Yoo-Jin Kang expressed concerns about a publicly accessible sharps container on campus being potentially more stigmatizing to students who use needles on campus, "we want to make sure we aren't doing something that isn't needed, isn't helpful or is putting someone at more risk. So a hypothetical situation we establish a public sharps container and it's actually only one person who is using it and now we have outed them."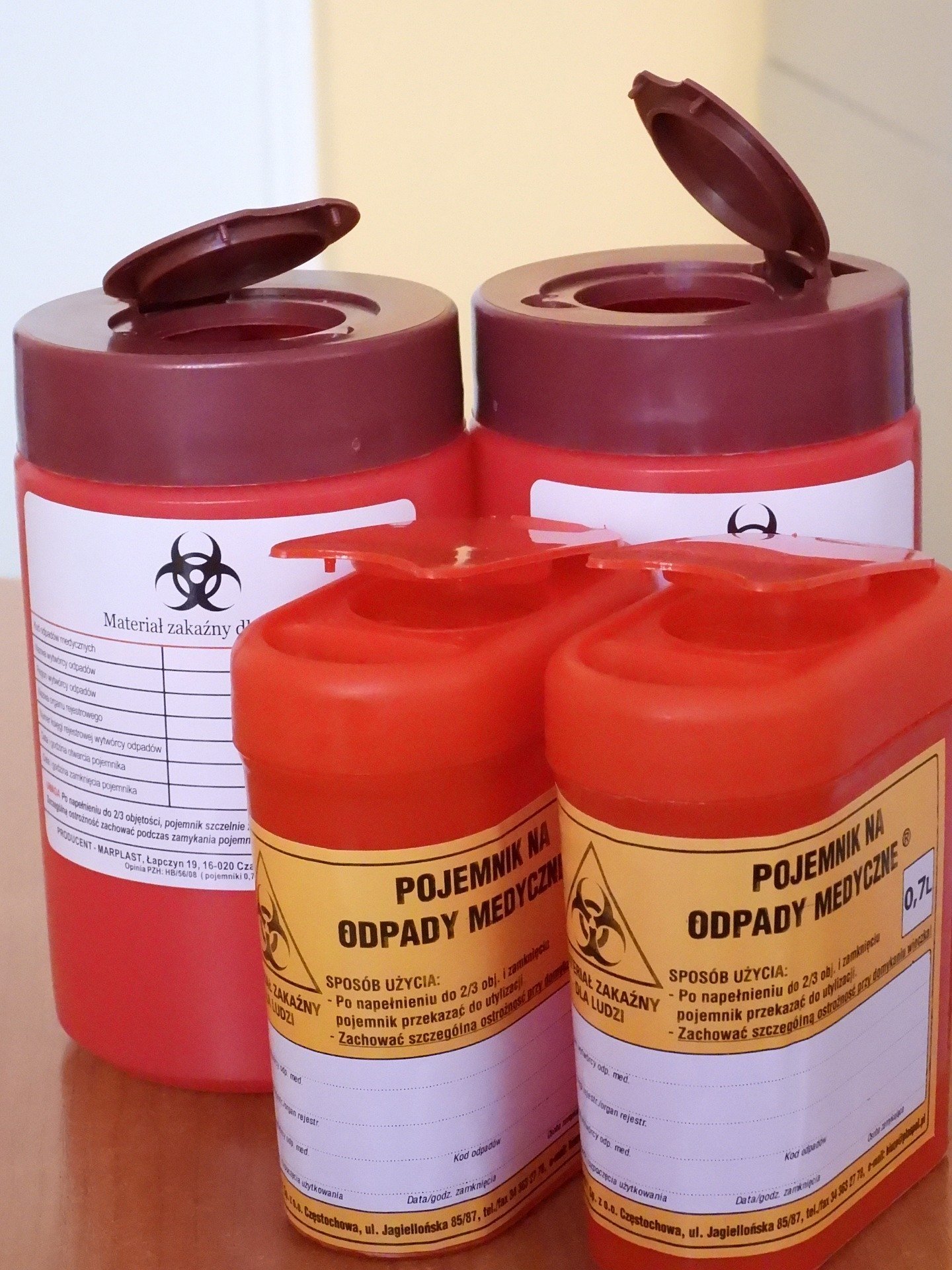 satynek from Pixabay Therese has a solution for the potential harms a publicly accessible sharps container could cause on campus, "pragmatically I would like it (the sharps container) to be housed in the student health center, housed in HPAC, and in most public restrooms. Ideally, every bathroom on campus would have one and every major entryway would have one. People won't necessarily have to put themselves out there if they don't want to." 
Currently, on-campus, the only resource for disposing of sharps is through the health center, which Therese brought up concerns about the cost of becoming a patient at the health center and maintaining your patient status at the health center. Every time you have an appointment at the health center there is a co-pay due. Additionally, if you see loose sharps on campus you are supposed to call the American University Police Department, according to Yoo-Jin, to report the sharps and they will come with the proper gear to dispose of them. Therese explained, "that (calling AUPD) was the anthesis of me starting the petition because we've seen time and time again, the police are not there to help a lot of disenfranchised folks. Specifically, people of color, even more specifically black people. There's no way I'm going to tell people to call this institution that will harm you."
Yoo-Jin Kang seemed concerned about the presence of loose sharps near and on campus but emphasized that they are in the monitoring phase at HPAC. "What we know is there has been one reported incident of loose sharps. We haven't had any reported incidents since or prior. We need your help in monitoring this issue so we can tell if we actually need this resource, " stated Kang. So, if you have seen loose sharps on campus, be sure to notify HPAC or Yoo-Jin Kang directly so that they have an accurate representation of data regarding this issue on campus. 
Additionally, I asked Therese what readers can do to support the movement for a publicly available sharps container on campus: "For people who are more active and are wanting to make a change and make noise, emailing and calling the people who are in charge. So calling Mickey (the director of HPAC), the student health center, calling other administrative people on this campus. For people who prefer to do things more quietly, which is valid, passing this (petition) along to people with more institutional power would be super helpful" such as professors on campus.