TW: Sexual Assault 
On Oct 31, students and staff at American University received an email detailing a break-in to two dorms in Leonard Hall. Four students in the freshman dorm were involved and one reported being sexually assaulted.
"Today at approximately 2:00 a.m., an individual was reported entering two different rooms in Leonard Hall without permission or authorization," the email stated. "All four students living in the two rooms have been engaged by the appropriate campus teams for support, including the Office of Equity and Title IX."
The campus community immediately was concerned for these students and for their own safety. Students started sharing their concerns and showed their outrage in multiple ways, social media being the most common.
Two students on campus took matters into their own hands and organized a walkout. Emily Minster and Lillian Frame have spent their time at AU helping survivors and used this as a chance to share their passion from personal ties on a larger scale.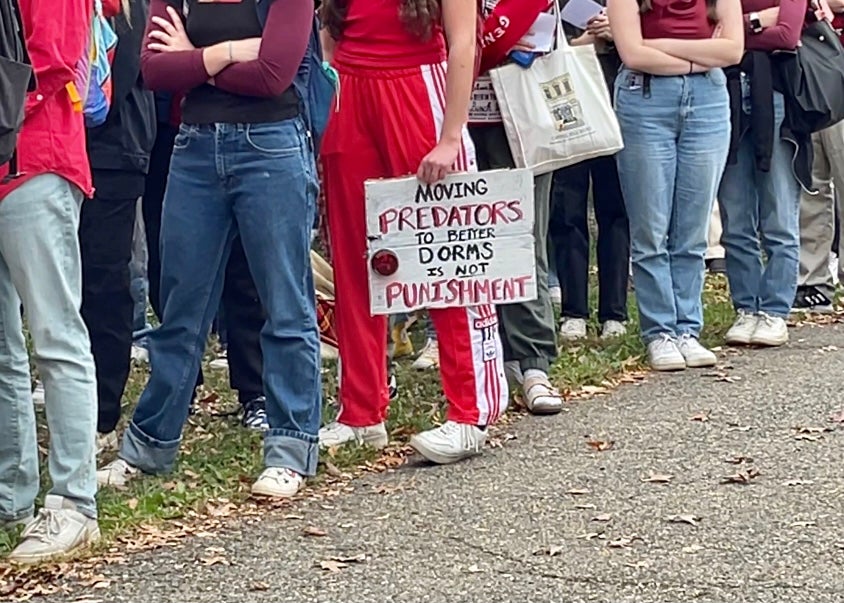 "I've had family members and friend who have had to go through these processes and systems and i also know people who have chosen to not go through them because of how hard they are," said Minster, "The people that I know who did go through them struggled really hard and it interrupted their ability to participate in school and do things on a daily basis."
Frame shared that she had been an advocate since high school and continued her work as soon as she arrived on campus.
When arriving to campus, Minster and Frame became a resource for students dealing with sexual violence. "I was a freshman and I had a junior come to me for advice about Title IX. I was like, 'you are a grown up, why am I, at the old age of 18, the best option today," said Frame.
Minster had similar, eye-opening experiences, saying, "Our name just gets passed around at this point because where else do we go. That raises some red flags for me because why are we the first option for students who want support and justice? Why can't the school's hundreds of thousands of dollars and countless administrators do that for them."
They have been helping countless survivors on campus through meetings, giving resources and teaching them about their rights regarding Title IX.
Frame said that the two had been looking for a time to plan something big, but never found a time when enough people would care or listen.
Despite the fear, the duo knew they had to do something. Frame said, "We're doing it because there is no other option."
They soon created an Instagram post, detailing the walkout they had planned.
The post spread like wildfire. "I went on Instagram and every single Instagram story that I saw was people sharing the graphic or someone sharing their experience," said Frame. "We sent out the petition at noon on Friday and I didn't check it till I got home that night at 5. It was at two hundred signatures and I thought, okay this is happening." 
On Nov. 10, hundreds of students and community members walked out of class, and gathered on the American University quad. Almost every person in the area was wearing red and ready to create change.
Freshmen from Leonard hall, alumni and the walkout's organizers shared their experiences and their demands to the university. Students across campus also shared their stories with one another.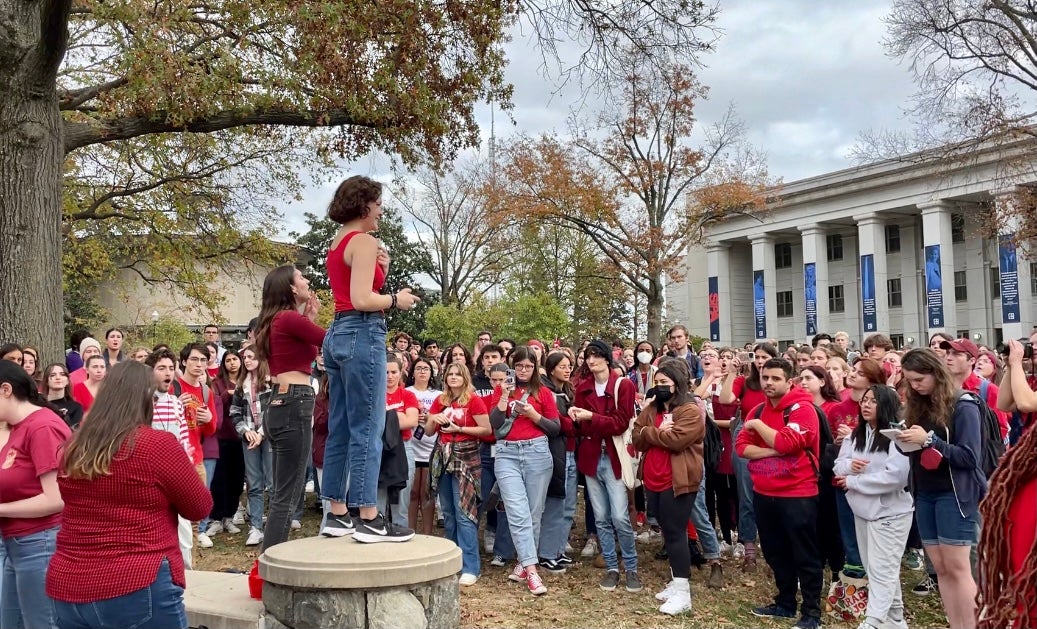 Many students expressed their frustrations with the university administration and the Title IX office. 
"I want to see action from the administration," said Katie Winter, an AU junior. "I think we see a lot of words but the ball needs to start rolling and the way to do that is to listen to the implementable and actionable demands that the organizers have put forward." 
Julia Olson, a junior at AU, shared that she was at the rally to support other survivors and to promote strength in numbers, saying, "If the university isn't going to listen to individual cases for years and years, I figured that with a big group of people here we can get them to make some change." 
Administration and the Title IX office go hand in hand when it comes to issues of sexual violence. Branden Cunard, an AU sophomore, shared his reasoning for coming to the walkout, "Title XI fails pretty much anyone who comes to them about sexual violence and its disgusting. I'm sick of it."
During the walkout, Minster and Frame shared lists of resources with participants and afterward, shared a list of strategic demands with the American University Administration. 
The university has not released a comment on these demands but did send out an email to the student body, launching a "Community Working Group on Preventing and Responding to Sexual Harassment and Violence."
This group will "make recommendations to the university's senior leadership and decisions will be shared with the community."
Little details have been released about the group, besides a brief description and an online form for those who wish to join.