Shows That You Should Watch On Netflix This Thanksgiving Break
Thanksgiving break is around the corner which means going home, seeing friends and family, and eating lots of homemade food. It also means a break from school. What's a better way to give yourself a break than having a Netflix marathon? Here are some shows that are available on Netflix that you should binge watch this Thanksgiving break.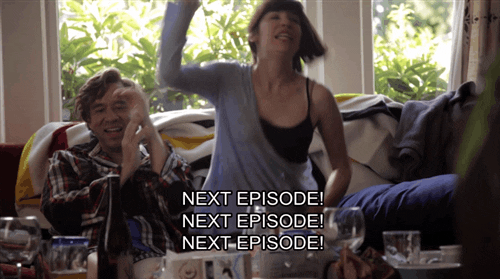 1) Friends
Do you love nineties humor and Jennifer Aniston? Then Friends is the series for you. In the ten years over this show was filmed, it's about six friends who are either related, in a relationship or were old friends or former roommates and the sticky situations they face together. Although ten seasons sounds like a lot, each episode is between twenty and twenty two minutes long so you can easily finish the entire series this Thanksgiving break!
2) Grey's Anatomy
Twelve years later and Meredith Grey is still a popular drama series surgeon. If you're a new Grey's fan, then go back and watch some of the early seasons about how Meredith and your other favorite characters became surgeons and what scandalous relationships they were in. Twelve seasons is definitely a lot to cover in the few days of Thanksgiving. So just watch a couple seasons that will get you reminded about who your favorite characters are.
3) Once Upon A Time
Ever wish you could relive your childhood dreams of being a princess? Then this show is for you. This dramatic fictional series is about all of your favorite disney characters including Snow White, Grumpy, and Belle and the conflicts they face with the popular villians like Cruella deVil and Rumpelstiltskin. If you are in the mood for a Disney movie but can't choose, then watch a couple seasons of Once Upon A Time to be in a fantasy mood.
4) Breaking Bad
If you love crime and suspense, then Breaking Bad is the perfect one for you to binge watch. In the six season series, a former chemistry teacher realizes that he cannot financially support his cancer treatment, wife, new baby and son with cerebal palsy. To put money in the bank, he decides to make and sell drugs. Enjoy the criminal suspense this show brings in six seasons during your break.
5) Parks And Recreation
Do you love Amy Poehler and Chris Pratt? Then have not only a Netflix marathon, but a laughing marathon with this show. In the series, Leslie Knope (Poehler) tries to make her city a better place as a bureaucrat in the Parks and Recreation department. The show also depicts her friendships with her colleagues and how they try to make their home a better place. So again, if you love Amy Poehler, watch this show not only for a good laugh, but also because she won a Golden Globe for her role as well.
Over this Thanksgiving break, if your'e not up for going out with friends, then have a binge watching marathon. Although it is nice to see those you haven't seen in a while, it's also nice to get caught up on some good shows as well. If none of these shows interest you, then explore the many other series available on Netflix to binge watch. So remember, Thanksgiving is a break which means to step away from work and relax. Relax by having a marathon of your favorite show.