My Life as a First Generation Student
The term "first generation student" has multiple definitions. The most popularly agreed upon one is: someone whose parents or legal guardians have not attended college, making them the first in their immediate family to obtain a Bachelor's degree.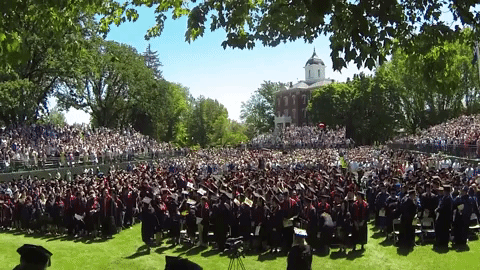 I am a first generation student. My experience may be unique, but according to the First Generation Foundation approximately 50% of all college students are first generation students.  I was never told that attending college was impossible and did not fully realize the extent to which some first generation students really struggled with the entirety of the college process.  I have known since I was five years old that I wanted to go to college, and I have known since I was nine years old that I wanted to be a lawyer.  I began my college search in 8th grade, and by the time I was a senior in high school my plans started to come together.
Many students work with their parents throughout the college process, from looking at schools to actually applying.  But that was not the case for me.  I went on several college visits by myself. I learned what the difference was between early action, early decision, rolling admissions, and regular decision, and then I filled out the Common Application accordingly.  I don't think my parents ever knew what the topic of my personal essay was, and I know that they could not have named all the schools I was applying to.  I did everything I needed to do, and then I waited.
By January I had acceptances from six out of the seven schools I applied to and was waiting on my Early Decision response from AU.  I began evaluating each school's financial aid plan. I learned the difference between merit aid, need-based aid, Federal Work Study, and Subsidized versus Unsubsidized loans and what they all entailed.  I went through the process of comparing the packages and then explained to my parents which schools were offering me the best financial aid plans.  We discussed all the options, but my parents ultimately left the choice up to me.
I decided to attend AU, 8 hours and over 360 miles away from where I lived.  Data from the National Center for Education Statistics finds this to be atypical of first generation students, who usually attend state or community colleges.  Many first generation students feel that out of state schools are unaffordable, and often students and parents set their sights low when applying to colleges assuming that the student may not be able to adjust to the rigor of an out-of-state institution.  According to the Boston Globe, first generation students are often tricked by the access to resources that for-profit universities boast, which students are often unable to find once they begin attending these universities.  They are then straddled with high loans, and since most first generation students have full-time jobs in addition to being full time students, they often have lower graduation rates, the New York Times reports. The Postsecondary National Policy Institute claims that there is a college graduation rate of lower than 40% among first generation students, and only 25% manage to receive bachelor's degrees within four years of starting school. That percentage drops to 22% for those who receive a degree within 6 years of starting school.
I grew up in a community where the majority of the people I watched go to college were first generation Americans and first generation students.  They broke through barriers that dictated how successful they would be in college and beyond.  Many of them worked full time jobs while attending school full time and still managed to graduate within four years.  Those people in my community inspired me to work hard and push myself to do everything I could and to receive the most beneficial education possible.  I aspire to be as hardworking and successful as they were, not only during their time in college, but in the years beyond.
Photo Credits: Cover belongs to the author, 1, 2 belongs to the author, 3