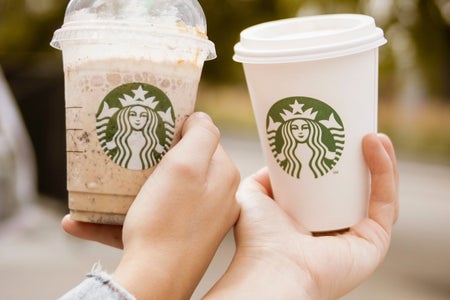 What Your Starbucks Barista Wants You to Know
When ordering coffee becomes a routine, it's easy to forget that there are people on the other side of the counter making it! Your baristas are people too, so here are a few things that they want you to know that will make both of your lives easier. 
Some places like Jamba Juice or In-n-Out Burger have official secret menus. For example, you could go to Jamba Juice and order a "Skittles smoothie," and they would know exactly what you were talking about and make it for you! Starbucks, however, does not have an official secret menu, so the fun drinks you find on TikTok were all invented by customers. This means that ordering a "Cotton Candy Frappuccino" or "Snickerdoodle Hot Chocolate" will likely not get you anywhere unless you have recipes to show your barista. FYI, the cotton candy frappuccino is a vanilla bean creme frappuccino with raspberry syrup, and the snickerdoodle hot chocolate is a white hot chocolate with cinnamon dolce syrup! Starbucks baristas are usually happy to make whatever you request, but be mindful that these drinks take more time and concentration to make, so try to avoid ordering these custom drinks if the store is super busy. 
In addition to these "secret menu drinks," it's also surprisingly common for Starbucks baristas to get requests like, "Give me your favorite drink!" or "Surprise me!" Although some baristas may have fun creating these surprise drinks, not everyone enjoys it. If you want one, be sure to give your barista a bit of guidance on the types of things you like, such as if you want a super sweet drink or something with coffee. This puts a little less pressure on them.
If you are someone who prefers basic drip coffee, you should know that Starbucks only brews the Pike Place Roast after 11:00 a.m.. So if you want Blonde, Decaf or Dark Roast Drip, it will be a pour over, which takes a lot longer. If you order one of these, it's usually best to place a mobile order or order in the café, so you don't hold up the drive-thru line.
If you're a loyal drive-thru customer, be mindful that there are cameras in the drive-thru. That's right, the person taking your order can see you when you are ordering! You should also be cautious of what you say, because the drive-thru microphone is surprisingly good. While you are pulled up to the box, the barista can likely hear everything said in the car through their headset.
Any caffeine addict knows that it can be hard to be patient while waiting for their coffee-fix. But if you are waiting for your order in the store, remember that your baristas are working as quickly as they can! Be mindful of your barista's space. Hovering by the counter or staring at them as they make drinks can be very stressful. It can happen subconsciously, so try to be aware the next time you are waiting for your drink! Also, remember that there are mobile orders and drinks being ordered in the drive-thru in addition to in-person orders, so even if there aren't many people physically waiting in the store, the baristas may be busier than they seem. 
You should always check your drink before you take it from the counter. Before you grab your coffee, double check that the name on the sticker is yours! If your drink wasn't made the way you wanted, kindly let your barista know and they will happily remake it. Last but not least, you should always feel free to ask your barista for a straw, but do not try to get it yourself! Behind the counter is your barista's workspace. Respect that and try not to reach over the counter for anything.
Hopefully these tips will help you become a more informed Starbucks customer! Special thanks to Starbucks barista extraordinaire and University of Alabama sophomore, Lauren Brown, for her help and insider-knowledge. Remember to be respectful, kind and always tip your barista, whether at Starbucks or any other local coffee shop!