Get to Know Dr. Heather Braun
Upon sitting down in the office of Dr. Heather Braun, the enveloping sense of comfort and security is almost impossible to ignore. Surrounded by shelved books within reach and crayon-inspired drawings taped to the back wall by Dr. Braun's daughter, an immediate familiarity leaves any visitor with the feeling of being welcome. That being said, it is easy then to understand how an interview for Her Campus Akron turned into over an hour's worth of conversation on an array of topics and ideas. Our discussion included everything from a love of education to the importance of feminism on college campuses, and provided new insights into the life of one of the University of Akron's most cherished professors.
Photo by: Shane Wynn
After completing her Ph.D. in English at Boston College, Dr. Braun entered the job market right away and secured her first tenure-track position in Macon, Georgia. A rural city in the deep South, Macon proved to be a place that provided opportunities for growth and investment in her career.
"I think a lot of people would treat it as a stopping-off point. I didn't do that. I ended up finding this great community of artists and professionals who were invested in the community. We were in it for the long haul," said Braun.
The we in this context refers to Braun's husband, Chris Horne, whom she met within two days of her move to Macon. Interestingly enough, it was Horne's pursuit of a career change that brought the pair to Akron.
By chance, Horne had sent Braun an ad from The University of Akron, which sought a Victorianist and provided the chance to teach both undergraduate and graduate-level classes. On a whim, Braun applied. At the same time she received an offer from U of A, she had also just gotten tenure in Macon. Faced with the prospect of a better position, Braun decided to leave Macon for Akron— a change she admits is "not a typical movement in academia." Still, the opportunity to teach and design a variety of courses was one she could not overlook.
Braun's initial impression of Akron was typical of what many believe to be the characteristic Midwest city.
"When I first heard of Akron, Ohio, I was thinking 'Rubber Factory'. I wasn't thinking parks and outdoor spaces," says Braun. "I just loved it."
Within two years of moving to Akron, Braun's husband, Horne, started what has become Akron's go-to arts and culture magazine, The Devil Strip. Braun considers her experience in Akron "lucky" thanks in large part to the publication and the connections it has generated.
"I've met so many people who care about this community, and have developed a core group of friends who are all doing things in the community to make it better. I'm finding ways to see connections between this university and the community of Akron more so than I might have on my own, because I've been able to have that resource [The Devil Strip] in my house," said Braun.
In fact, the literal dining room table in Braun's home is where she witnessed The Devil Strip come to life. Initially, the publication covered much of the controversy surrounding former U of A president Scott Scarborough, forcing Braun and Horne to weigh Braun's position at the school with how deep to dive into the story.
"There was a point where Chris said, 'I can make a lot of noise, or I can make a little noise.' And we opted for a lot. I'm glad he did it. It helped me be informed in a way that I may not have been if I hadn't been at the frontlines of what he was doing," said Braun.
Presently, the magazine has a more "celebratory" nature, showing what can be enjoyed and praised in a city that has so much to offer.
Whether she is instructing her students in the classroom or participating in a Young Adult literature book club, Braun says that her professional work and life outside the university are in constant blend with one another.
"It forces me to make what I do relevant in the classroom. We're not just talking as though what we do doesn't matter outside the class." As far as her daughter's involvement in understanding the work Braun and her husband do, Braun says, "she knows what we do, and she sees that we love what we do, which I think is a good message. That it's possible to do that."
The very idea of pursuing one's passions is a point that Braun strives to instill among her students at every turn. She encourages the study of the humanities by both showing its relevance to everyday life, as well as hosting discussion panels, including her upcoming panel titled, "What Are You Going To Do With That?" For Braun, it's all about seeing connections and references to the world.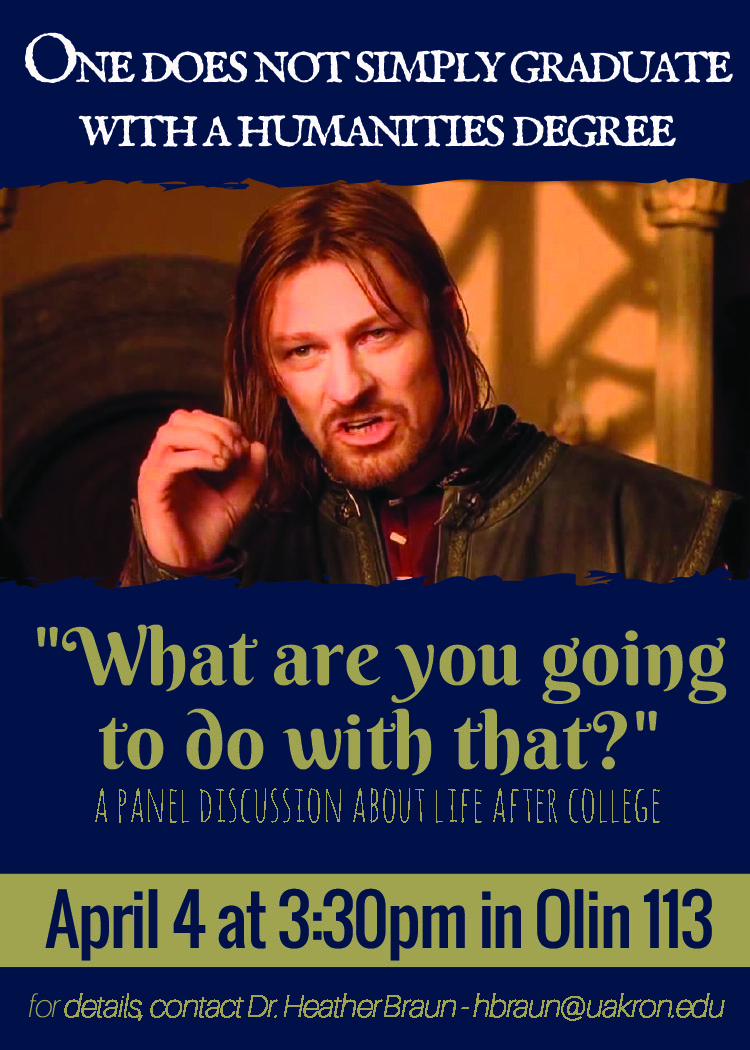 "I think a lot of my students are surprised by how relevant what we're reading is. They're just shocked by it. I'm teaching a class on Charles Dickens right now. In terms of conversations about politics, about gender, there are few things that Dickens doesn't address. What I love about it is the surprise… and showing them why writing matters outside of an English class."
Another way Braun aims to show how the breadth of learning matters is through her devout support for studying abroad.
"For me, the studying abroad component brings a lot of these strands of what I teach together. That is what a college experience should be; there should be an experiential component- whether it's travel or an internship or service-learning. It matters to me to help students believe that there are ways to go abroad."
Travel, it seems, is the key to unlocking aspects of learning that we could not experience otherwise.
One recent event allowed Braun to travel within the U.S. in order to join what time will surely interpret as one of the most significant grassroots movements in history. On January 21st, the Women's March on Washington was held in Washington, D.C. to honor and defend the human rights of those who face injustice in society. Braun, who says she "had never really seen  [herself] as an activist," was the first to organize her group of friends to attend the march as soon as it was announced. "I just wanted it that badly. I knew I wanted to be there and I knew it was something I wanted to tell my daughter about."
She describes the atmosphere of the march as "the most peaceful, inclusive, welcoming experience. It was about recognition and having a voice. It was about being heard."
Giving different voices the chance to be heard is an integral part of Braun's approach to teaching. "The most important thing for me is to never make anyone feel attacked," she says. Following the November election, Braun admits she struggled to find a way to do this well and wrote about the challenge of conducting an open dialogue in the context of anger or frustration.
"I chose not to stay silent because I wanted to provide a space for my students to talk, and they used it."
She explains that her class discussion wasn't angry. "Nobody was name calling, and no one was even talking about candidates, per se. But we were talking about feeling safe and what's changed."
For Braun, it's not enough to "agree to disagree." Instead, providing a space to hear and discuss the perspectives of everyone is the better route to take.
As the Campus Adviser for Her Campus Akron, Braun sees the online magazine's platform as an extension of that kind of inclusive space. The magazine covers anything and everything related to college life, with the specific aim of reaching college women in particular. The beauty of the magazine is that each university has the power to shape its content to cover what it finds most compelling, and for the Akron chapter, much of that has to do with incorporating feminist discourse and activism on campus. Braun says that in her classes, she tries to both "draw attention to what feminism is" and "dismantle stereotypes and assumptions about it in a way that makes everyone feel comfortable." Her Campus Akron, she believes, can play a part in exposing young women and men to what feminism actually is.
When asked about the kind of goals Her Campus Akron should work toward, Braun says, "Making it clear that this exists, that this a place where you can have a voice, and that this is something the campus cares about is a good start." When speaking to her students about the group, she tells them that Her Campus, "is a way to deal with a lot of the frustrations you're having; the things you're lacking or wish you could see more of."
The potential of Her Campus Akron to reach students on several different levels only adds to the exciting nature of the organization, and under the guidance of an incredibly dedicated mentor such as Dr. Braun, there is no doubt that the group will continue to reach new heights. Always equipped with creative ideas and an inclusive approach to problem-solving, Dr. Braun is certainly the figure you want as part of your team. Her Campus Akron is fortunate to have her.