HC Wake-Up Call: Trump 9/11 Backlash, World Hunger Highest in Years, & Australian Newspaper Serena Williams Controversy
Good morning Her Campus! With a break-neck news cycle, there is no possible way for you to stay on top of every story that comes across your feeds—we're all only human, after all.
But, life comes at you fast. So grab a cup of coffee and settle in for this quick and dirty guide to stories you might've been sleeping on (like, literally. It's early.)
Trump Faces Backlash for 9/11 Behavior
Tuesday marked the 17th anniversary of the 9/11 terrorist attacks, and President Trump spent the day saying and doing things that many found insensitive. The first incident occurred in early hours of Tuesday, when Twitter's trending topics were dominated by 9/11-related subjects due to many paying tribute to those who lost their lives. Trump, on the other hand, was tweeting about his disdain for the FBI and Justice Department. According to the president, two former FBI officials, Peter Strozok and Lisa Page (who were publicly revealed to be trading anti-Trump texts) tried to undermine his administration by launching what he called a "media leak strategy." 
North Carolina Republican Representative Mark Meadows was the first person to make this claim. The Washington Post reported that the claim is "debatable," and Strzok's attorney attributed any reference of the phrase in leaked texts from his client to "an effort to stem unauthorized disclosures of information." Trump called for action from both the DOJ and FBI, despite the fact that Strzok and Page have both left the bureau (Strzok was fired for the texts). In other tweets, Trump again condemned the FBI and DOJ, along with Hillary Clinton's presidential campaign, who he thinks colluded with the departments, foreign spies, and Russians. 
Later, a photo emerged of Trump arriving in Pennsylvania to attend a 9/11 memorial service — where he was pumping his fists. Twitter quickly called out what appeared to be an untimely celebratory move. 
Trump's past behavior in regards to 9/11 was also a talking point for many. Just hours after the terrorist attack, Trump called into a New Jersey news station to discuss what happened. He ended up talking about how his building at 40 Wall Street "actually was the second-tallest building in downtown Manhattan, and it was actually — before the World Trade Center — was the tallest."
He continued, "And then, when they built the World Trade Center, it became known as the second tallest. And now it's the tallest." 
World Hunger is at Its Highest in Years
According to the United Nations' 2018 State of Food Security and Nutrition in the World report, which was released on Tuesday, the number of people suffering from hunger is at an eight-year high. In total, 821 million people — one in every nine — were malnourished in 2017. The number is significantly higher than 2016's figure, which CNN said could put at risk the UN's goal of eradicating hunger in the world by 2030. 
Though a variety of factors affect the number of hungry people around the world, the UN said climate change is playing a large role. "Hunger has been on the rise over the past three years, returning to levels from a decade ago," said the UN agencies responsible for hunger and health in a statement. "This reversal in progress sends a clear warning that more must be done and urgently if the Sustainable Development Goal of Zero Hunger is to be achieved by 2030."
Hunger is on the rise.

821 million people are undernourished.

More than 150 million children are stunted.

One in 3 women of reproductive age is affected by anaemia.

New @UN report on #FoodSecurity and #nutrition 🌍 https://t.co/cOixQCVX0P #SOFI2018 pic.twitter.com/RutrjzbMSp

— World Health Organization (WHO) (@WHO) September 11, 2018
Undernourishment and "severe" food insecurity have also increased in all parts of the world, except for in Europe and North America. The problem most prevalent in North America? Adult obesity. Global rates are on the rise, with more than 672 million obese. 
An Australian Newspaper is Doubling Down on Its Controversial Serena Williams Cartoon
Serena Williams stood up to an arguably sexist — or at the very least, unfair — umpire at last weekend's US Open, and Australian newspaper The Herald Sun responded by running a cartoon version of the tennis legend, which has since been labeled both racist and sexist.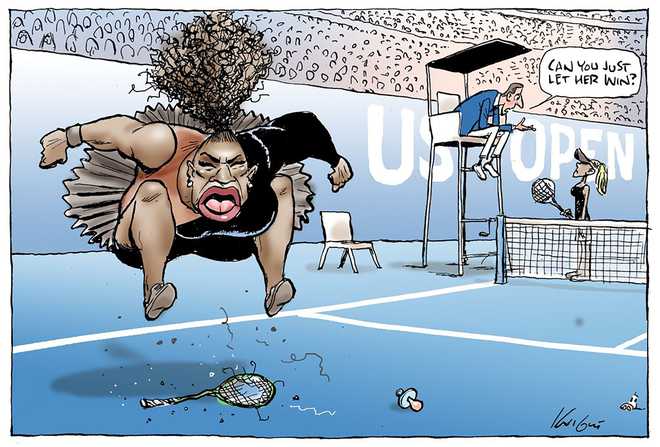 Among those who condemned the cartoon were J.K. Rowling and the National Association of Black Journalists. "The Sept. 10 cartoon not only exudes racist, sexist caricatures of both women, but Williams' depiction is unnecessarily sambo-like," the group said in a statement. "The art of editorial cartooning is a visual dialogue on the issues of the day, yet this cartoon grossly inaccurately depicts two women of color at the US Open, one of the grandest stages of professional sports."
Mark Knight, the editorial cartoonist for the Sun, dismissed the criticism. Then, on Tuesday, another cartoon of Knight's turned up in the paper — this time on the front page. His original depiction of Williams was surrounded by additional cartoons and a huge headline that reads, "Welcome to PC World."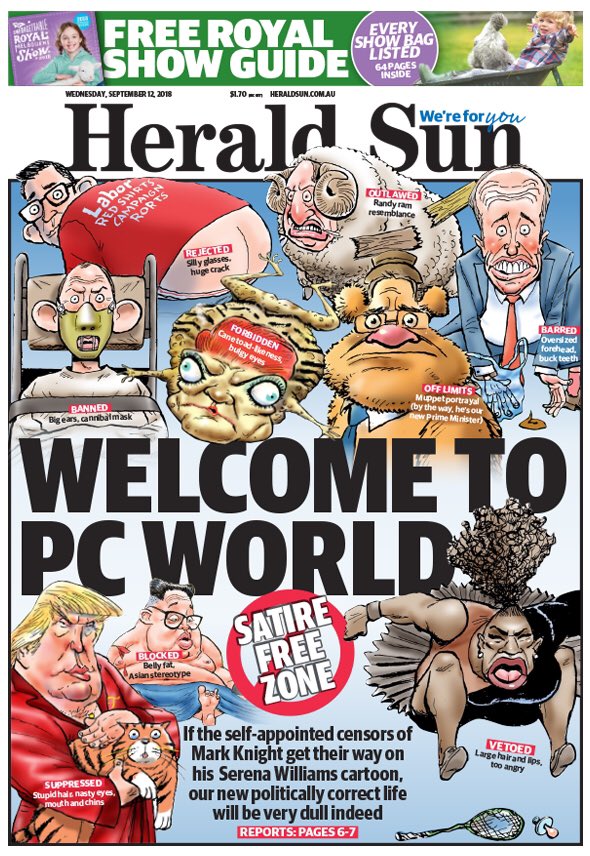 "When I watched the U.S. Open, I was sitting there like everybody else, and I saw the world No. 1 tennis player have a huge hissy fit and spit the dummy," Knight said. "That's what the cartoon is about, her poor behavior on the court. Nothing to do with gender or racism at all."
He continued, "I think what's happening here is people are just making stuff up. The cartoon was just about Serena on the day having a tantrum. That's basically it."
The cover faced the same, if not more, criticism. 
What to look for...