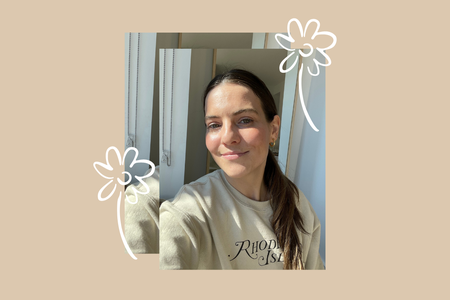 Olivia Kirby Shares Her Journey To A Sustainable Life And Career As A Social Media Director
This Earth Month, I've been reflecting a lot on improving my personal impact on our planet, making smarter shopping decisions, and learning more about sustainability. So, I turned to Olivia Kirby, (@livkirby on the 'gram), who has inspired me personally and professionally to be a more intentional and mindful person, colleague, citizen, and friend. She is currently the Director of Social Media at Cleancult, a sustainable cleaning product company, and an all-around incredible human being.
In speaking with Olivia on this topic, I learned she was raised to think of others and fight for justice from a young age. She shared that she has taken accountability for her footprint over the years and has learned how sustainability and human rights are so intrinsically tied. Read on for more about her vision of sustainability and how it has shaped her career and life. 
Her Campus: What is the most important lesson you've learned thus far in your sustainability journey?
Olivia Kirby: Climate change and consumerism disproportionately impact BIPOC, specifically Black women and WOC. I would urge anyone to take that into consideration when they're making decisions and adopting new habits that are better for the planet. So many of the "sustainable tips and tricks" you'll learn along the way are rooted in indigenous communities and communities of color as means of supporting themselves, making things last longer, and saving money. It's so essential for us all to know that as we work to fight climate change and honor those who came before us. On this journey, make sure you're following and listening to different voices than your own, learning from people who don't look like you. And always support local and small businesses, especially BIPOC businesses!
HC: For someone who is looking for ways to make sustainability a part of their lifestyle, where would you recommend they start?
OK: Honestly, I would recommend taking a deep dive on social media to get started! Explore #sustainability or #sustainableliving and other comparable hashtags on Instagram and TikTok. Watch and read content in these spaces. Go down the rabbit hole! Follow trusted leaders such as @intersectionalenvironmentalist  and @brightly.eco, because there is a lot of noise out there when it comes to sustainability, and anyone can fall prey to greenwashing. As you learn more and get confident in doing your own research though, you can start taking on bigger steps like stopping purchasing fast fashion or helping your parents transition from single-use plastics. 
HC: What led you to pursue a career path at brands with a focus on sustainability?
OK: My whole career I've been very focused on how I can be accountable to my personal values through my work — for example, empowering other women and building inclusive digital spaces. My last role was at EILEEN FISHER, where I was able to focus on those things at a brand that pioneered sustainability in fashion. Their efforts allowed me to bring another personal pillar of mine — being responsible for my impact on the planet — into my work in a very tangible way. I knew my next step and future steps had to allow for that same visibility. As you get older, you get to be more selective about your opportunities, and given the nature of working in social media, where there is less work/life balance, I wanted to work for a company whose ethos reflected my personal principles. That said, I guarantee at most companies now, sustainability is either an emerging priority, or a current priority, so in the future, it will be easier to make an impact through your work at any phase in your career. 
HC: Tell us a little about your job at CleanCult. What is it like to work for a brand that is changing an industry that is not known for sustainability?
OK: I am Director of Social Media and Content at Cleancult. I oversee all social media strategy, influencer relationships, brand partnerships, content creation, and press. We are really trying to reinvent cleaning, starting with better for you and the planet ingredients, and zero-waste, fully recyclable packaging. The current products in the cleaning industry have really harmful ingredients, and I am sure you know the lasting impacts on the billions of pounds of plastic these brands are responsible for post-consumer. It's been an interesting change coming from clothing to soap, but I have found our customers are obsessed with our products. For me, a community on social media is stronger for how inclusive, diverse, and compassionate it is. The sustainability world on social media is incredible. They are so supportive of each other and newbies, and it's been very rewarding tapping into that as a brand that makes products for the home.
HC: What advice do you have for the Her Campus audience with regard to fast fashion and making the switch to investing in a sustainable closet?
OK: First of all, don't feel like you need to get rid of all your Zara and H&M and start anew. The most sustainable clothes to wear are what's already in your closet. If you want to buy new pieces at sustainable brands, there are a lot of incredible small companies doing really innovative things, like Backbeat, Girlfriend, Arq, Athleta, Allbirds, Kotn, Patagonia, Pact, Tradlands, the list goes on. There are also off-shoots of popular brands that are upcycling and recycling their product, like Patagonia Worn Wear, EILEEN FISHER Renew, Levis, etc. This is the thought process I'd recommend when buying anything: What is it you're looking for? Is it on Poshmark or The Real Real? Can you find it at a local thrift store? Can you borrow it from someone? If not, go from there. Where can you buy it at a company that is making it in the most responsible, ethical way? And remember, a sustainable closet is not an all-or-nothing thing. I shop fast fashion brands on resale sites, and occasionally still buy designer pieces. I read somewhere to think of it as progress, not perfection. 
HC: How do you feel colleges are doing in regards to sustainability on campus? 
OK: I think a commitment to the planet and its people is something kids need to learn from a very early age, and it seems like a lot of lower schools have started integrating climate change into their curriculums, which is great. As for higher ed, there are some colleges that have really progressive cultures and communities that are doing amazing things on campus in terms of education and programming. However, some schools don't have the same resources, and that's okay — it means there is an opportunity for students who are passionate about sustainability to lead the charge on their campus! I think, like with any institution or government, it's up to us to advocate for change. If your school isn't doing enough in your opinion, start a club or committee, organize protests, get other students involved. Be loud! About whatever you're passionate about. 
For more Earth month content, check out more from our sustainability series From The Ground Up, here.