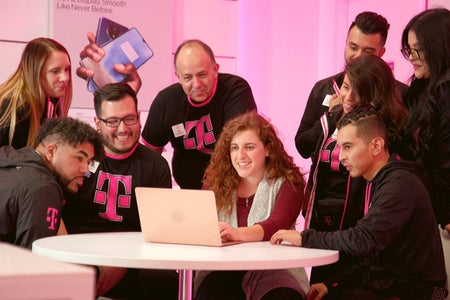 This Group of Changemakers is Making the World More Inclusive Through Video Games
This is a sponsored feature. All opinions are 100% our own.
For the second consecutive year, T-Mobile, along with the T-Mobile Foundation and Ashoka, put out the call to young visionaries across the country to submit their world-changing ideas to the Changemaker Challenge. This contest encourages trailblazing young adults to submit big ideas that will make their communities – and the world – a more connected, sustainable, and inclusive place. 
One of the standout groups this year was Social Cipher. Their video game Ava was selected as the technology category winner for the Changemaker Challenge. This team of game developers, autism advocates, and social entrepreneurs is on a mission to make neurodiverse inclusion a reality through representation, self-advocacy, and empowerment through their video game, Ava. This role-playing video game gives autistic players a safe space to apply and understand social skills while also learning to advocate for themselves through characters that represent them. Read on to hear from one of the Social Cipher co-founders, Amy Wu, on how they are empowering those with developmental disabilities to not view their diagnosis as a deficit, but a superpower. 
Tell me a little about your video game, Ava, and the journey to create it. Why did your team at Social Cipher develop this video game?
Our CEO, Vanessa Gill, is a neuroscience researcher with a deeply personal connection to autism. She started Social Cipher because of her own experience as an autistic individual, having worked for years using music, movies, and games to build her own understanding of social skills and sense of belonging. She struggled through anxiety, depression, and low self-esteem during her teenage years, hiding her autism diagnosis until halfway through college, and even then, she asked the few close friends she told to keep it a secret. I was one of her close friends who happened to be passionate about social entrepreneurship, so Social Cipher started as a college passion project after our co-founders Charlie Anderson and Lucy Stevens joined as well. We started prototyping the game, Ava, after we met our very first playtester, a young autistic girl named Ava – and the rest is history.
Why did you decide to enter Ava into the 2019 T-Mobile Changemaker Challenge?
This challenge was a unique opportunity for young people to be recognized for their changemaking endeavors, and we're firm believers that young people should be encouraged to pursue social entrepreneurship (as we were encouraged to in high school and college)! Ashoka and T-Mobile are such big names in the social impact and tech industries; they were already brands that we knew and trusted. What we liked about the Changemaker Challenge was that they were offering not only seed funding for winners, but the opportunity to get more hands-on learning at T-Mobile's headquarters for the winners.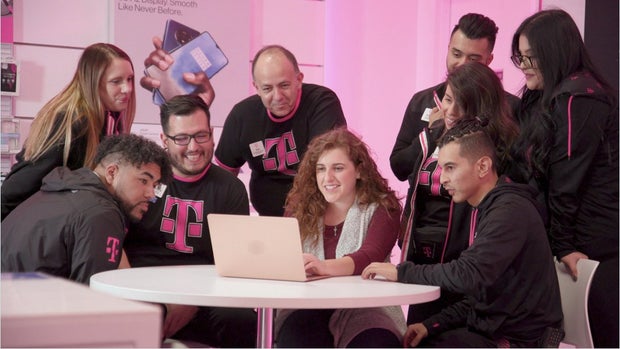 Vanessa Gill, founder and CEO of Social Cipher and co-creator of Ava, shows the game to T-Mobile employees.
Ava was designed to give autistic players a safe space to try out social situations and emotional responses. What makes this video game so special compared to other tools for those with autism?
We're a video game first and foremost, built by and for autistic people along with a team with game design expertise. Traditionally, products in the autism industry are built for parents, to train "desired behaviors." While such products can teach social skills, players can tell when a product isn't actually made for them, when it's "chocolate-covered broccoli." That's why we're building for autistic youth, through a medium they already enjoy. We prioritize gameplay, story, and authentic, relatable characters because we believe it's most important for players to be engaged and empowered.
How will Ava help the autism community, and what impact has it made so far?
Our role-playing video game gives autistic players a safe space to try out social situations and build social-emotional skills through play. Ava's space-pirate adventures break down complex interactions into collaborative dialogue choices and a gamified emotional system. The game encourages self-advocacy and reminds autistic youth that they belong. Nearly 190 Kickstarter backers and 60+ playtesters have been impacted so far. Although we're still in development, we've had so many autistic young people tell us how much they wished this existed when they were growing up. Parents have told us that they can see Ava helping their kids navigate what it means to have autism, and that they love that players identify with their characters in our game, becoming the best version of themselves and who they would like to be.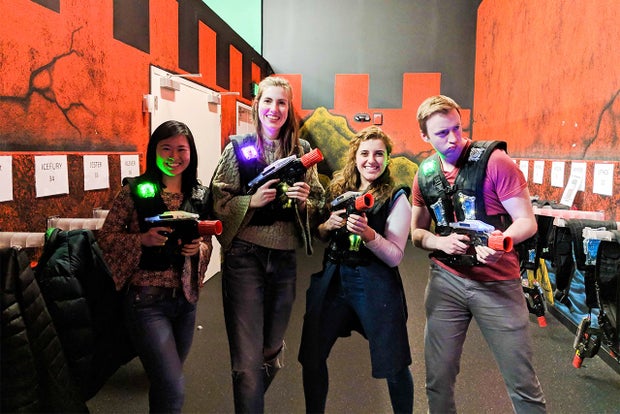 The Social Cipher founders, including (from left) Amy Wu, Lucy Stevens, Vanessa Gill and Charlie Anderson.
What has the T-Mobile Changemaker Challenge process been like for your team and what have you learned from it?
To expect the unexpected. We were pleasantly surprised that a community review was part of the process to encourage cross-pollination between young social entrepreneurs. We were shocked after being celebrated for our win with a surprise party at our local T-Mobile store! The process isn't even over yet; we are still looking forward to visiting T-Mobile's headquarters in February. 
Also, congratulations on being selected as the technology category winner in the 2019 T-Mobile Changemaker Challenge! What does this acknowledgment mean to you, and how will this help further your team's mission of neurodiverse inclusion through representation, self-advocacy, and empowerment?
Thank you! It's really, really cool to be recognized by a major tech company, and especially for a young team building a tech product, we know we can't do this without the support of those with more expertise, resources, and reach than we have. We hope this acknowledgment will help convince potential supporters that we're worth believing and investing in.  
What's next for Social Cipher? What are your future plans for Ava?
We're working hard to launch the game in 2020 and start piloting in schools, as well as grow our community (e.g. through our Discord channel!). 
What advice would you give to other groups like yours who are interested in entering the next T-Mobile Changemaker Challenge?
Do it! The more you apply for opportunities like this, the more chances you get to refine your answers, get feedback, and get your idea in front of those who can help you realize your vision. 
Inspired by Social Cipher and want to make your world-changing idea a reality? Learn more about the T-Mobile Changemaker Challenge here.