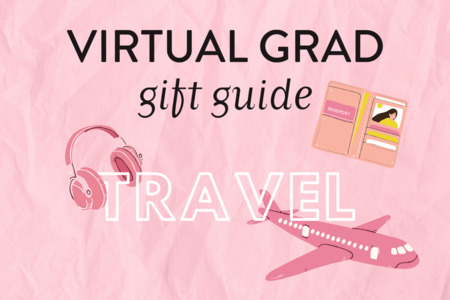 10 Gift Ideas For the Grad With A Serious Case of Wanderlust
I think we all have a case of wanderlust these days, so allow me to drop by with this friendly reminder: You might not be traveling at the moment, but that doesn't mean the days ahead won't be filled with exciting adventures. Stock up on what you need now, and you'll be ready to board the first flight out later. 
1.

Small Tri-Color Saffiano Leather Smartphone Crossbody Bag

Just the right size to keep your cell and cash secure, this cross-body bag is perfect for flying, exploring, and enjoying a night out on the town. 

MICHAEL Michael Kors​, $134; shop now

2.

Lustre 28" Spinner Suitcase

This saying has never been more relevant. With this tag, you can identify your bag, mix and match with your passport holder for the ultimate travel aesthetic, and remind yourself of what's really important right now – what's to come, not what's done. 

Ban.do, $24; shop now

4.

TSA-Approved luggage locks

Random luggage checks are not ideal (especially when you're running late), but these TSA approved locks help. With these, you can prevent unauthorized access to your bags while the TSA can open your luggage with their master keys. A handy red flag will even pop up to alert you that they did so!

Fosmon, Walmart, $19; shop now

5.

Ban.do's Getaway Passport Holder

A matching passport holder to match your tag? Yes, please. Available in several designs and featuring a handful of card slots inside, you can protect your passport and keep your credit card and ID close, all while showing off your personal style.  

Ban.do, $24; shop now

6.

Large Travel Duffel Bag

Truth: I've never met a Vera Bradely duffel bag I didn't like. My friends joke that I am Mary Poppins because of how much I can fit in this thing. Available in multiple designs, this sizeble duffel bag works for an overnight stay or a whole trip.

Vera Bradley, $100; shop now

7.

Plush Fleece Travel Blanket

Y'all this blanket is pure magic. You can use it to stay warm during your in-flight movie and then turn it into a pillow once you're ready for a nap. It even straps onto your luggage for easy access. And yes, it does come in even more patterns for whaetver your aesthetic. 

Vera Bradley, $40; shop now

This over-the-shoulder bag is available in several colors, but this gorgeous watercolor tie-dye pattern is peek 2020 style. Keeping your most important valuables close for safe keeping has never looked so good.

Marc Jacobs, $225-$350; shop now

9.

Beats Studio3 Wireless Over-Ear Noise Cancelling Headphones

Block out everything around you (hello, baby crying three rows back) and immerse yourself in whatever you want to listen to. 

Beats by Dre, Walmart, $289; shop now

10.

Prism Pop Limited Edition 21 oz Standard Mouth Hydro Flask

Avoid $8 water bottles at the newstand and bring along your reusable one for the ride. The narrow mouth on this Hydro Flask makes it less likely to spill all over when you hit turbulance or try to drink when you walk, plus you'll be doing your part to save the planet so it's a win-win!

Hydro Flask, $43; shop now
The Her Campus National Editors write about products we love and think you'll love too. Her Campus has affiliate partnerships, so we get a share of the revenue from your purchase. All products are in stock and all prices are accurate as of publication.