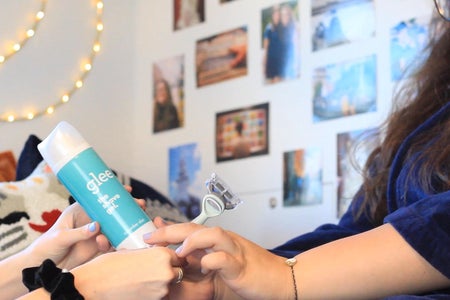 How to Be a Good Hallmate
This is a sponsored feature. All opinions are 100% our own.
There's nothing worst that having issues with your roomie. You guys will inevitably be spending a good amount of time together so it's *super* important to be on good terms. Check out below for our easiest tips for being a good hallmate.
1. Communication is key.
From the very beginning, you should be open and honest about the expectations you have for each other. You guys aren't mind readers so it's important to express exactly what you mean. 
2. Be willing to compromise.
From sharing your opinions about which Netflix show to watch to your opinions about the best razor to shave with, a good roomie knows when to compromise. You can shop our favorite razor, joy, in the shaving aisle only at Walmart!
3. Shower mindfully. 
Make a mental note (or a physical calendar) when you plan to shower so you aren't fighting for the shower at the same time! 
4. Set food boundries right away.
Sharing is always caring but don't feel bad about keeping your care package snacks to yourself. Be upfront with your roomie as soon as possible.
5. Spread joy whenever you can. 
It's all about the little things! If your roomie has a big exam coming up, grab them their favorite treat for after. Or if the common room could use a little life in it, bring a plant home. 
Moral of the story: do whatever you can to make your dorm a happy space.