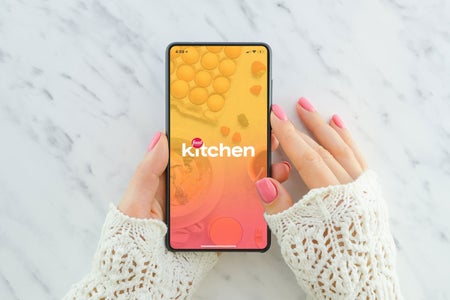 Our New Favorite App Will Teach You How To Cook Everything
This is a sponsored feature. All opinions are 100% our own.
If you've ever found yourself saving hundreds of thousands of cooking videos on Instagram without any idea on how to actually make them, you're in luck. I recently discovered the new Food Network Kitchen app, which is a lot like having a personal chef inside your phone to help you cook the meal of your Insta dreams. Mhm. Here's why you should probably download the app right this second (besides the fact that they're offering a free 3-month trial):
You can talk to top chefs in real-time 
In addition to watching Food Network shows and thousands of on-demand classes, you're able to take live virtual cooking classes. Yes, you're about to be the Giada of your campus! With more than 25 live classes every week, you can learn to cook and ask Giada, Ina, or Martha questions! Well, at least if you download the app (do it here!).
You can cook hands-free and order ingredients via Amazon Alexa 
IDK about you, but I find grocery shopping overwhelming and time-consuming—I'd rather be cooking or eating, thank you. With your Amazon Alexa, you can set reminders before live classes. Then you'll be notified with enough time to order your ingredients via Amazon Fresh, Instacart, or Peapod. And once you're ready to start cooking, you can tune in on your phone, tablet, or Fire TV. You can also use Alexa for help following your saved recipes or exploring new classes by saying things like, "Alexa, show me recipes by Giada de Laurentiis."
You don't need to be a chef to cook with the legends
Looking to improve your skills in a certain area, like cocktails, baked goods or appetizers? You can filter the classes and recipes by category to focus on your specific cooking goals and interests. You can also search by chef if you're interested in learning from a specific culinary pro! Courses are offered at a variety of levels, this app is really for anyone, from beginners to self-proclaimed chefs. 
You can create your own food inspiration board
The days of screenshotting something that looks delicious only to never make it IRL are over. Since you can save all of your favorite recipes right in the app, it's a one-stop app for all things food. This app will get you excited about cooking!
If all of this isn't enough, coming in early 2020 to the Food Network Kitchen app will be 24/7 LIVE culinary support! Follow @foodnetworkkitchen for the latest about the most innovative food app around!