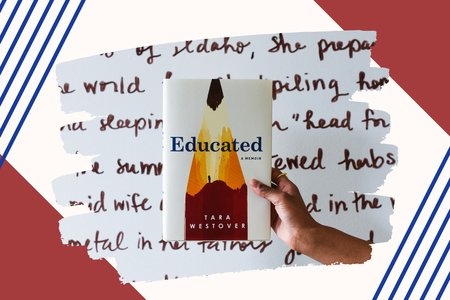 Penguin Random House / Emily Veith
The One Book Influencers Are Obsessed With Right Now
This is a sponsored feature. All opinions are 100% our own.
This article contains syndicated content from Graceful and Free; Taylor B; Repressing the Crazy; Space, Place, & Southern Grace; skhammer; and Molly on the Move, all members of Her Campus' InfluenceHer Collective.
While the college lifestyle can be busy, it's nice to occasionally take a break from the hustle and bustle of class assignments and enjoy a great book. If you're looking for the next best read to add to your list, you're in luck, because some of our favorite influencers are completely obsessed with an award-winning book that you *need* in your life immediately. 
Educated by Tara Westover is an inspirational memoir about a young girl whose family does not allow her to go to school. In spite of this, she embarks on a quest for knowledge. Born to survivalists in the mountains of Idaho, Tara was 17-years-old when she first stepped foot into a classroom. Determined to create a different life for herself, she taught herself enough to get into college despite having no formal training. Her thirst for knowledge ultimately propelled her across the ocean to earn a PhD from Cambridge University. 
Read on below to hear what some of our favorite influencers are saying about this thought-provoking and eye-opening novel. 
"Growing up, there was never a discussion of whether or not I'd go to college. There was no question (or option really—not that I never wanted to not go) about whether or not I'd go, but just the discussion about where I'd apply and where I'd get in. I realize now that's something I completely took for granted because there are people, like Tara, who truly had to fight for an education. Receiving a college degree is a gift that I am guilty of not thinking twice about. I don't think about the hardships many face to get their degrees, or that many face without one. I'm so grateful that I was able to go to an amazing school to receive a degree. This book opened my eyes to the blessing that my education is." – Molly
"Her story is remarkable; her voice, incredible. In a society where we take so much for granted, her story reminds us that the most powerful things in life are the things within us. Our job in this world is to dive in and use them for good, and to not let anything or anyone stand in your way." – Haley
"I came across this book and it was a much needed read! It was motivational to me because, as a college student, I sometimes find myself thinking of different paths that could work out for me other than taking the traditional route. And although school may not be as important to some for their success, this book is a great example of how you can still open doors for yourself through education and believing in yourself. At the end of the day, no matter how much support you may have, it's all up to you to break out of your shell and believe in yourself to make things happen." – Taylor B
"This book shows what anyone can do with the power of education. Before reading this book, I was feeling extremely unproductive and uninspired. After getting through it, I feel like I have new energy. Reading about her experience and stamina really inspired me, and I feel like many "girl bosses" need to read this. It is all about finding motivation within yourself to reach your own dreams. It also inspired me to sign up for my classes about my craft. I know I need to invest in my business and social media education in order to succeed." – Taylor C
"Reading Tara's memoir struck a cord so prominently in me, touching an issue with which I continue to wrestle. She writes, "Curiosity is a luxury for the financially secure," and in that quote, she speaks volumes to the privilege I was afforded during my time at a four-year university. I had the liberty—truly a luxury—to dive headfirst into my studies, without immense distraction or obstacle. I was free to explore new modes of thought, discuss them verbally and probe them further in writing, and receive feedback on my progress along the way. Without question, my education, and the continuing thereof, was essential to my success as it continues to develop." – Sarah C 
"Higher education is important to me because, like Tara, attending university in a large city after being raised in a small town completely changed my life perspective and trajectory. Not only that but I am currently in a Master of Education program and am two months away from graduating with a degree to pursue a career in Higher Education. The advice given to Tara by her Cambridge PhD advisor struck a chord with me: "First find out what you're capable of, then decide who you are." This book helped me realize I need to focus on my studies, my work, and the joy I find in exploring others' perspectives. I do know education has changed my life and what I am learning is helping me be a more understanding, loving and accepting human." – Sarah H
Interested in reading Educated for yourself? Pick up your own copy here!