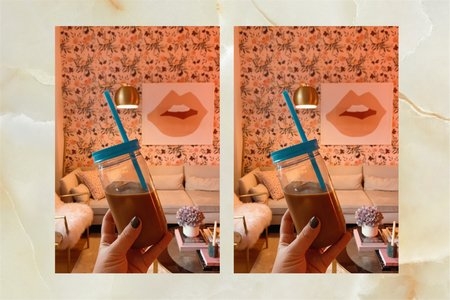 This $25 Cold Brew Maker Made Me A Morning Person
As far as I'm concerned, allowing ourselves to celebrate small wins is more important than ever. For me, that means feeling joy over a gadget that lets me make cold brew from my apartment while still supporting local coffee shops. It's not groundbreaking, the idea of DIY cold brew — but it's been on my Pinterest board of things I've been meaning to do forever, and I'm glad I finally did. Enter the Deluxe Cold Brew Iced Coffee Maker by Takeya, the little tool that's made a big difference in my morning routine. 
For $25 on Bed Bath & Beyond I now wake up to a quality coffee-shop brew each morning. Even better, it's ridiculously easy to use. You simply fill the filter with coffee grounds (I ordered mine from my favorite coffee shop) and allow it to steep overnight or for 24 hours. Read on for the easiest how-to ever. 
1.

Add a cup of coffee grounds to the filter.

If you have the 2-quart maker, you'll have to add two cups of grounds.

2.

Fill the pitcher 3/4 full with water. 

3.

Add the filter to the pitcher, and seal tightly.

Shake before putting it into the fridge. 

4.

Store on its side in the refrigerator overnight or for 24 hours. 

Pro-tip: Twist open and swirl filter ocassionally.

5.

Enjoy very delicious cold brew. 
The Her Campus National Editors write about products we love and think you'll love too. Her Campus has affiliate partnerships, so we get a share of the revenue from your purchase. All products are in stock and all prices are accurate as of publication.