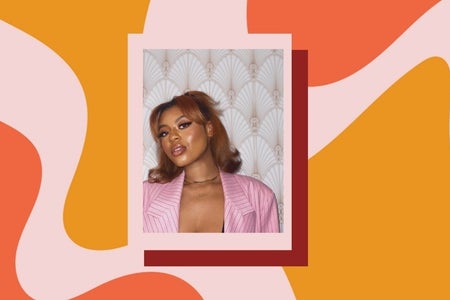 Courtesy of Influencer / Canva
Behind the Feed: Morgan McKensey, Becoming the BIPOC Fashion Representation She Never Had
A current senior at the Savannah College of Art & Design, Morgan McKensey Daniel, or Morgan McKensey as she's known across her social platforms, is already taking the fashion industry by storm. With collaborations already under her belt with brands like Topshop and True Religion and her previous work as a stylist for multiple campaigns, local artists, and short films, Morgan has a bright future close ahead. She's been passionate about fashion since a young age, and shows that to the world through her personal Instagram account, where she posts about pieces and brands she loves as well as BIPOC empowerment.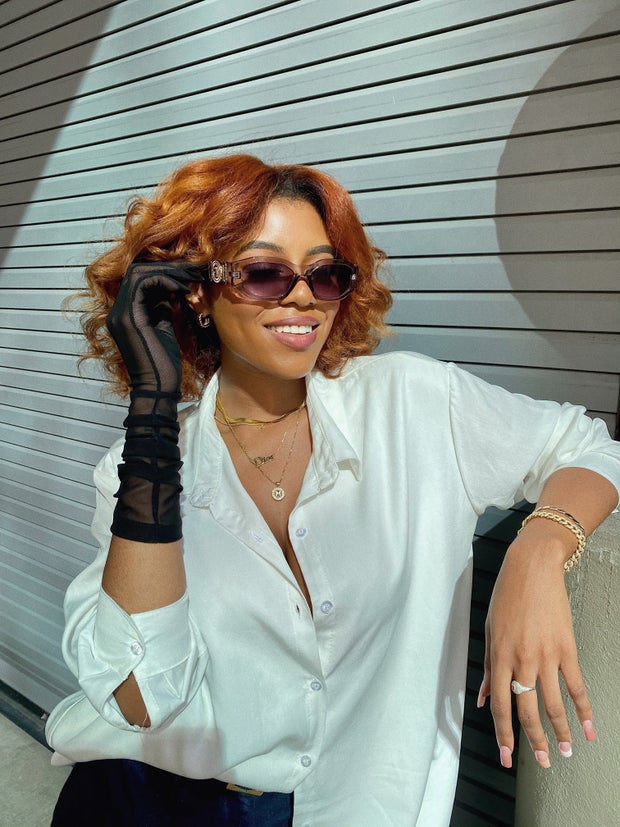 Courtesy of Influencer
Her Campus: Tell us about your site/platform and why you launched it.
Morgan McKensey: I first got into styling and taking OOTD pics by dressing up my junior/senior year in high school. I literally treated every day like a fashion show and was known for wearing heels, which was a huge feat considering my school was 11 stories tall (I never walked, I used the elevator lol). Once I got to college, I started exploring my style even more and continued to take pictures, as those were the types of posts that intrigued me and inspired me. When I started getting involved with SCAD's student media team, particularly The Manor, the fashion publication, I was able to use my passion for styling and daily inspirations to craft my own editorials and visual stories. My Instagram is more about me and my outfits, because it genuinely makes me happy creating the types of photos and looks that got me into styling in the first place. My website is where you can see all of my editorial fashion photoshoots and video projects, which I want to serve as inspiration for other Black creators and fashion enthusiasts.
HC: What do you hope your followers get out of following you?
MM: I want my followers to be inspired, especially my followers that are Black and people of color. Growing up, I didn't really see any Black or Brown people doing what I wanted to do, so I decided I could be that person for others!
HC: What does your week currently entail? 
MM: My day-to-day activities pretty much consist of waking up, making tea or coffee, answering emails, and then doing homework and doing work for my internship. On a weekly basis, I'm shooting content for different brand campaigns or planning future content and outfits, which is my favorite part.
HC: What's the best and worst part about being an influencer?
MM: The best part about being an influencer is definitely all of the internet friendships I've made! I think it's so cool to be able to connect with different people who all have similar interests and understand the challenges, as well as the fun parts of being a creator.
There isn't necessarily a bad part of being an influencer, except for when campaign deadlines overlap on top of my daily activities. If there's anything I've learned, it's that time management is crucial! I highly recommend having a planner and creating a content calendar so you're able to see exactly what campaign assets are due and when.
HC: Is running your platforms your full time job or a side hustle, and why did you make that decision?
MM: For right now, my Instagram is a side hustle. I'm not opposed to making a career solely from social media, but the aspirations and plans I have for myself are definitely beyond Instagram!
HC: Which people have had the most influence on you, and why?
MM: My biggest inspirations on Instagram are Danielle Bernstein of We Wore What, Symphani Soto and Jess Hunt. All of these women have influenced my style and the things that I love to shop for, which are basically elevated and timeless basics. They all have their unique styles and I love taking pieces of inspiration from each of them and then integrating them into my own wardrobe.
HC: How has being an influencer affected your friendships and relationships?
MM: By being an influencer, I'm kind of the go-to person people go to for styling tips, store/product recommendations and unbiased opinions! I think it's pretty cool that people I'm close to (and those friends I've made on the internet) trust my opinion and are willing to try or buy things based off of how I've styled or presented something. I've also been told that I've influenced some of my friends to try and get into the influencer/content creation space.
HC: What has been the most surreal thing that's happened to you as an influencer? 
MM: Honestly, it's still surreal to me that I'm able to receive compensation or gifted products just by being authentic with my audience and myself. I've definitely gotten some really cool and amazing products and gifts, but my favorites would have to be the jewelry pieces! My favorite piece is my Aries zodiac sign necklace from a company called Dear Ava, and I literally never take it off. My followers know how much my sign means to me.
HC: What are your three favorite tools for content creation?
MM:  The apps I can't live without are VSCO and Snapseed, and I definitely can't live without my tripod and Bluetooth remote.
HC: What does the future of influencing look like for you? What's next for you personally?
MM: The future for me hopefully includes working with more fashion brands and garnering a relationship with them! I would love to one day travel with a brand – of course, once things are safe again. At the moment, I'm focused on finishing my last year of college strong and continuing to post pictures of my outfits and photoshoots. There are a lot of exciting things that I have planned for the next couple of months, and I can't wait to share with my audience!
Behind the Feed is a weekly series showcasing a different member of the InfluenceHer Collective every week. Are you an influencer? Apply to join the IHC, and you could be featured in the future!