7 Tips for Your Best Spring Break Yet
This is a sponsored feature. All opinions are 100% our own.
Who doesn't love spring break? Mid-semester, we all need a little reprieve from classes, studying and dining-hall food. No matter what your spring break plans are (or even if you don't even have any yet), there's a ton of ways to get some rest and have some fun while you're away from school.  Here are a few tips for having a spring break to remember!
1. Read something just for fun.
When you're trying to plow through doing required reading, writing research papers, and running from meeting to meeting, it's next to impossible to have enough time to read for pleasure. When was the last time you got to plop down on a couch and read a novel that you actually wanted to read? Spring break is the perfect time to pick up the book you started reading over winter break (or maybe last summer…)! Need a new book to start? Check out The New York Times Best Sellers list and then head to the nearest bookstore.
2. Find a cool concert.
No matter where you're going on spring break, there are bound to be awesome concerts going on. Even better, if you're a music junkie, why not go on a spring break trip that gets you in the center of some of the world's best music scenes? HC's favorite travel site, Contiki, even offers trips that are perfect for music lovers! From Memphis to Barcelona, there are tons of possibilities for a trip that allows you to check out music around the world.
3. Get in some beach time.
Just imagine lying out with the sun on your skin, the sound of waves crashing on the sand and a cold drink in your hand. Doesn't that sound fantastic? If you're lucky enough to travel somewhere tropical, get some much-needed rest on the beach. Plug your headphones in, take a nap or people watch (or all three!).
4. Go abroad (seriously!)
Whether you have friends studying abroad or you just feel the need for a European adventure, this mid-semester break might be the perfect time to escape to Europe. Plane tickets tend to be cheaper this time of year, so deals are much easier to find! You could let your inner foodie out in Spain, meander the canals in Venice or even taste real macarons in Paris! If you want to book a European getaway, check out these last-minute deals!
5. Take a road trip.
If you and your besties have access to a car, then taking a fun road trip could make for an awesome spring break! No matter where in the country you go to school, there are always cool things to see within a couple hours' drive. Need a few ideas of where to go? Check out Her Campus's 10 Best Road Trip Stops or one of Contiki's awesome road trip adventures!
6. Go shopping!
You probably don't have a lot of spare time to indulge in a little retail therapy when you have class, so why not take the extra days over spring break to get some shopping in? Make a day of it with your girlfriends or go all by yourself for some "you time." If you can't bring yourself to get off the couch, you can even go on an online shopping spree! As the great Blair Waldorf once said, "Whoever said that money doesn't buy happiness didn't know where to shop."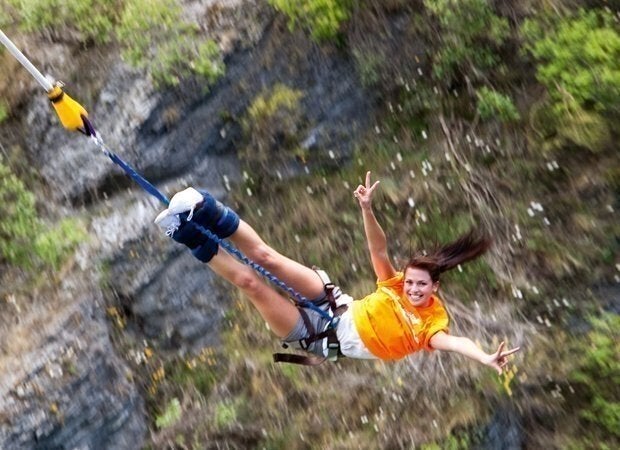 7. Do something you've always wanted to do.
Spring break is the perfect time to do something you've always wanted to, but have never had the time (or guts) to follow through on. Maybe you've always wanted to take a cooking class, go skydiving, or travel by yourself. Whatever you've been dying to do, this is the time! Plus, the best way to live is with #NOREGRETS.