It's hard to believe that summer's almost over. As you get ready to switch from bikinis to backpacks and say goodbye to Season 2 of The Summer I Turned Pretty, you probably feel like celebrating another quarter-trip around the sun with the people you care about the most with a The Summer I Turned Pretty party. What better time is there to have one final get-together with all your closest friends and pay homage to the time of year that brought Belly, Conrad, and Jeremiah to our screens in the first place? 
The TSITP characters love a good party in Season 2, from Steven's graduation rager in the premiere to the retro-themed Cousins blowout bash in Episode 6. Take inspo from the characters' Pinterest-worthy lifestyle as you plan your own summer send-off to create a theme party you'll never forget. Try out these The Summer I Turned Pretty-themed party ideas, from the perfect playlist to the yummiest food, before summer ends.
The Outfits
Belly's wardrobe is enviably cute and, luckily, super easy to recreate! Throw on your favorite pair of denim shorts, a summery crop top or tube top, some well-worn sneakers, and your staple jewelry pieces for the perfect laidback look. Pick up some pieces from American Eagle's collab collection with TSITP (like the graphic tees or sweatshirts) this summer if you want an authentic, Cousins-approved fit.
Making the dress code retro costume-only would be a fun nod to the party the Fishers throw during their last night in Cousins. Go all out in dressing like your favorite decade, from your hairstyle down to your rollerblades (or maybe that's just Belly).
The Playlist
To keep your party from being a total Belly flop, you need a playlist that's going to keep the good vibes going all night long. You'll obviously need to play some Taylor Swift songs, in true TSITP fashion. I recommend keeping them upbeat with tracks from 1989 and Reputation, as well as mixing in crowd favorites like "You Belong With Me (Taylor's Version)" and "22" (not Taylor's Version — the original just hits different!). 
Steven and Taylor proved in Episode 6 that you can never go wrong with summer classics like Miley Cyrus's "Party In The U.S.A." Stick to the theme by picking songs that have appeared in or are inspired by the show, like the ones on Spotify's official The Summer I Turned Pretty playlist.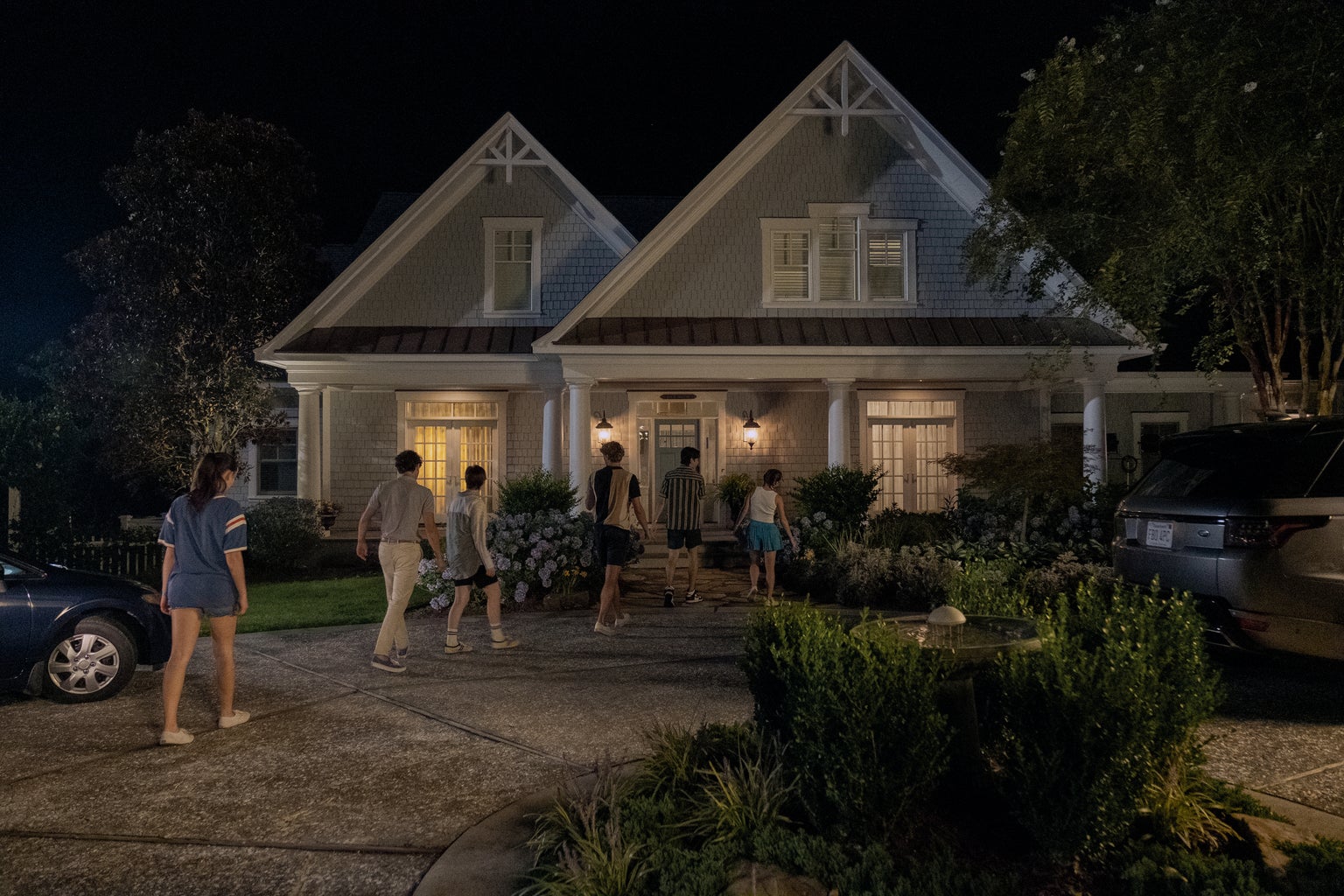 The Decor & Supplies
Since Cousins is a beach town, you'd ideally want to host your get-together at some summery location like a beach, backyard pool, neighborhood pool, or local park. Lay beach towels or picnic blankets out instead of chairs to get people comfortable with each other. Bonus points if you can get a bonfire going! 
If you think sparklers are more of a safety hazard than a good time, a house party always works too! Pile on the summer vibes with blow-up palm trees and colorful cutlery. Set up an art station with blank canvases and paint palettes for guests who want to try their hand at painting portraits of each other like Susannah did in Season 1. You may even want to project episodes of TSITP on a white sheet to set the mood.
The Food & Drinks
When it comes to food, simplicity is key. Whip up summer staples like hamburgers, pizza, and hot dogs for the main course. Keep your appetizers easy to handle: fresh fruit, chips, veggies with ranch, and pigs in a blanket are always satisfying. Bring in TSITP in your desserts instead, like pies a la mode inspired by the roadside shop Belly and Jeremiah stop at on their way to Cousins.
Belly's famous for two drink specialties: hot cocoa and half cherry, half Coke slushies. They're kind of an odd mix, but accuracy is the key to throwing a successful theme party! Alcoholic drinks or mocktails should also be summer-inspired, like Long Island Iced Teas or the pomegranate margaritas the gang makes in Season 1 (as long as you're 21+, of course).
Rewatching the entire show is an absolutely essential part of planning a The Summer I Turned Pretty-themed party, BTW. Get to work!