With Pride Month coming to an end, it's important to celebrate the steps taken for the inclusion of the LGBTQ+ community in life, school, society, or work. From organizations that help the professional development of LGBTQ+ students to Queer Prom, students and professionals alike have been making strides towards a brighter future for the representation and inclusivity of LGBTQ+ students on college campuses.
For the University of the Arts (UArts) in Philadelphia, two students, Katie Szykman and Gi DiMatteo, have made an impact on uniting their LGBTQ+ community by creating That Queer Club — a space for queer, trans, and non-binary individuals to come together and celebrate their identities. It was started when Katie and Gi noticed a lack of queer space on campus. Beyond giving LGBTQ+ students a place to come together, they also hosted a queer prom, an idea that came to one of the co-presidents in a dream.
Katie tells Her Campus, "I dreamt it. That Queer Club was on my mind and I woke up and was like, 'oh my gosh, a queer prom would be so fun.' It also came out of a space of not being able to really see any of my friends for the past two years, not being able to gather, and knowing that the freshmen and sophomores at the time didn't get prom. They didn't get the high school experiences that we had." When the Queer Prom came to fruition, it was a night of celebrating queer joy, coming together, meeting new friends, and giving queer students a chance to experience a prom where they could truly be themselves. Now, Katie and Gi are hoping to get students on other campuses to create new chapters of That Queer Club and host their own Queer Proms, expanding the space for queer representation on campus.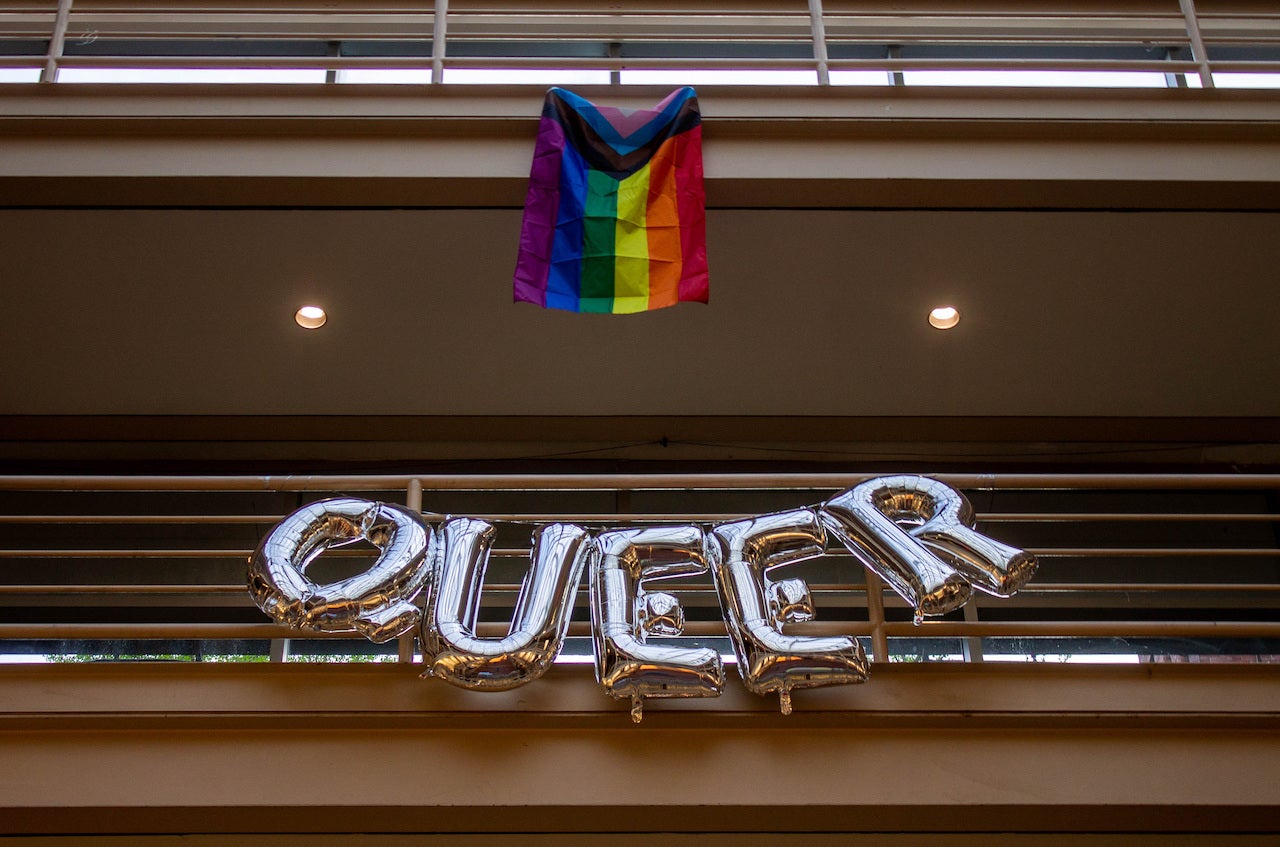 What is queer prom?
Queer Prom allows students to fully express their identity. Like other proms, it involves dressing up, dancing, food, and socializing. But it makes a difference by celebrating queer joy and creating an experience that is accessible, accepting, and representative of all identities — something that many traditional high school proms are not.
Gi tells Her Campus, "Prom is such an important part of high school, but a lot of queer kids are not out in high school or even if they are out, they're not comfortable with their identities, or they are not able to express that. For Queer Prom, the main thing is making sure everyone feels accepted there and their identities are recognized."
A part of making it an accessible experience is taking into account those with disabilities, different identities, or different types of relationships, such as being polyamorous. Gi continues, "We let our guests bring up to three non-UArts guests, so you could bring your group of friends or partners. We also had ear plugs if you didn't like loud music, we had quiet spaces, gender-neutral bathrooms, allergy-inclusive catering. The main thing we wanted for prom was just everyone feeling like they could come and enjoy it."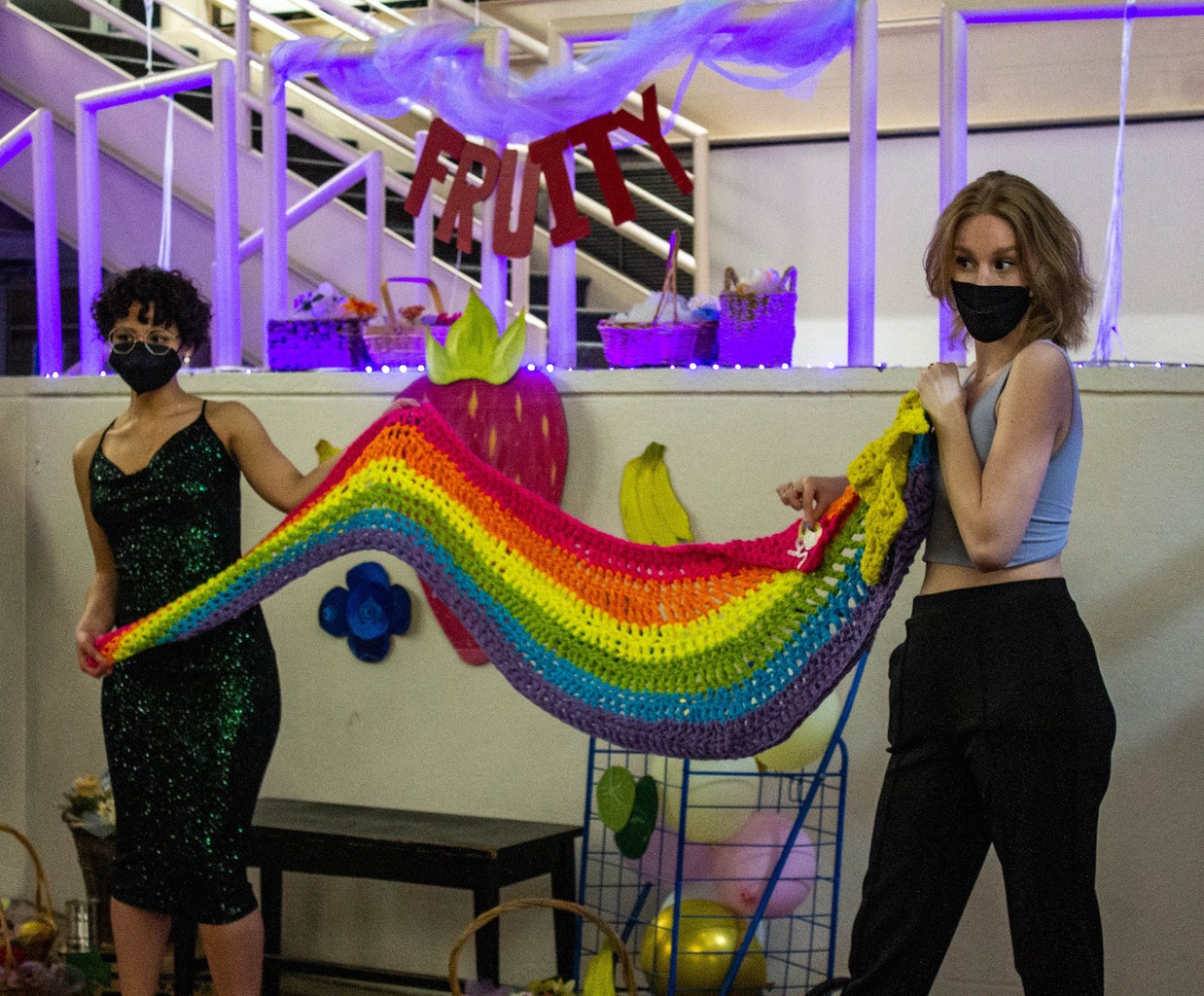 How does Queer Prom celebrate queer joy?
From the activities to the accommodations, Queer Prom is fully centered around queer representation. Katie explains, "The way we really phrased Queer Prom is that anyone who wants to come can come, but it's a queer-centered space rather than a straight-centered space. There was so much joy, people were so happy, they were able to express themselves however they wanted to express themselves. It created a space we didn't have beforehand."
Queer joy shines through this event because it embodies what it means to accept different identities and give them a space to be authentically themselves. The Queer Prom at UArts had raffles from small and queer-based businesses in Philidelphia, painting in quiet spaces, board games, and chill music. They even switched out the stereotypical prom queen and king for a gender-neutral monarchy crowning. Queer Prom is a chance to ditch the norms of society and create a memory that is representative of who you are.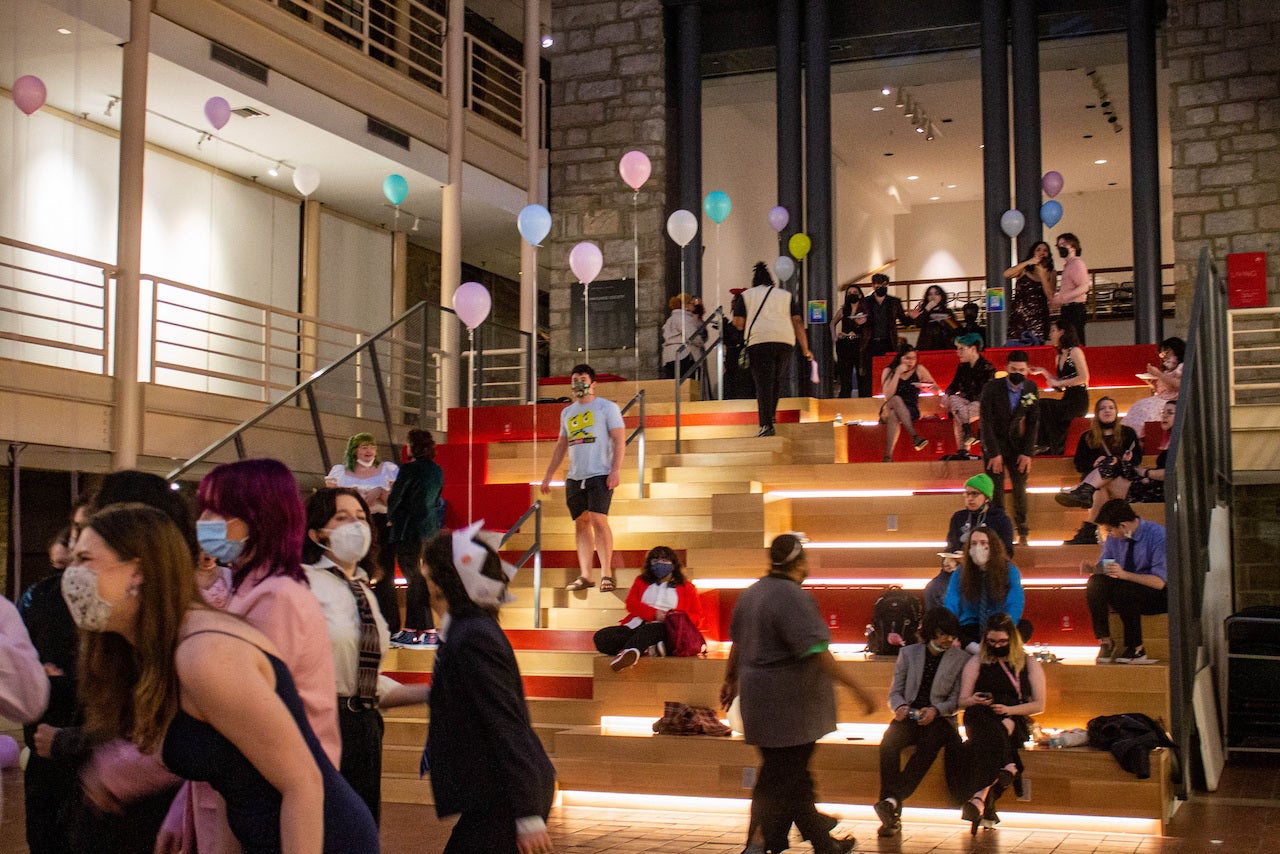 How can I get involved on my campus?
That Queer Club plans on expanding to a non-profit organization with chapters at different colleges all over the U.S. With more chapters, they hope everyone gets to experience a queer prom. If you want to get involved with That Queer Club or learn more about their mission, the co-presidents say their Instagram DMs are always open. If you're looking to start a queer club of your own, you can fill out a registration form and pitch one to your school. There is always room for more LGBTQ+ representation on college campuses.
When it comes to planning a queer prom, Katie advises, "Don't put limits on yourself. Just make it as accessible and as fun as possible. Honestly, when it comes down to it, all you really need is a laptop with music, and people."
Whether you're wanting to start a club of your own or host a prom, queer representation through extracurriculars on campus helps create an environment that is reflective of the community. It gives LGBTQ+ students a safe space and a platform to share their voices.