All that glitters is gold! You know you want to be the sparkle in Mom's eye this holiday season, so give her something that will really make her smile. With family photo frames, crowd-pleasing food, style-savvy accessories and the best in beauty, you'll find the perfect present for any personality! Make this holiday amazing for Mom; she'll never forget it!
UNDER $25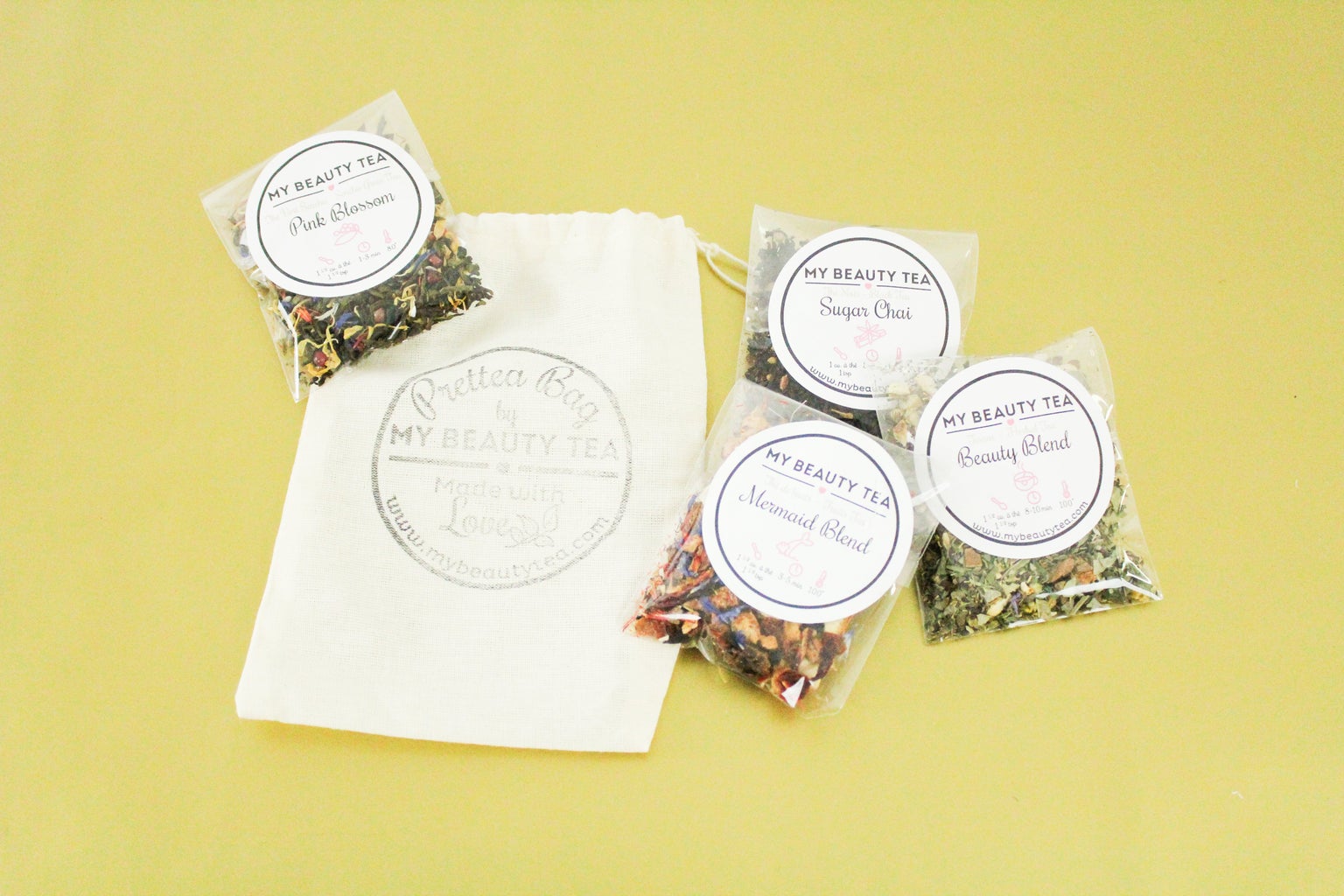 Prettea Bag – The Classic Collection, $8, available at My Beauty Tea
The ultimate gift for any tea lover, the Prettea Bag contains four different loose leaf samples that are sure to please: Beauty Blend, Sugar Chai, Mermaid Blent and Pink Blossom, all made with natural ingredients like orange peels, cinnamon bark, hibiscus flowers, vanilla beans and more.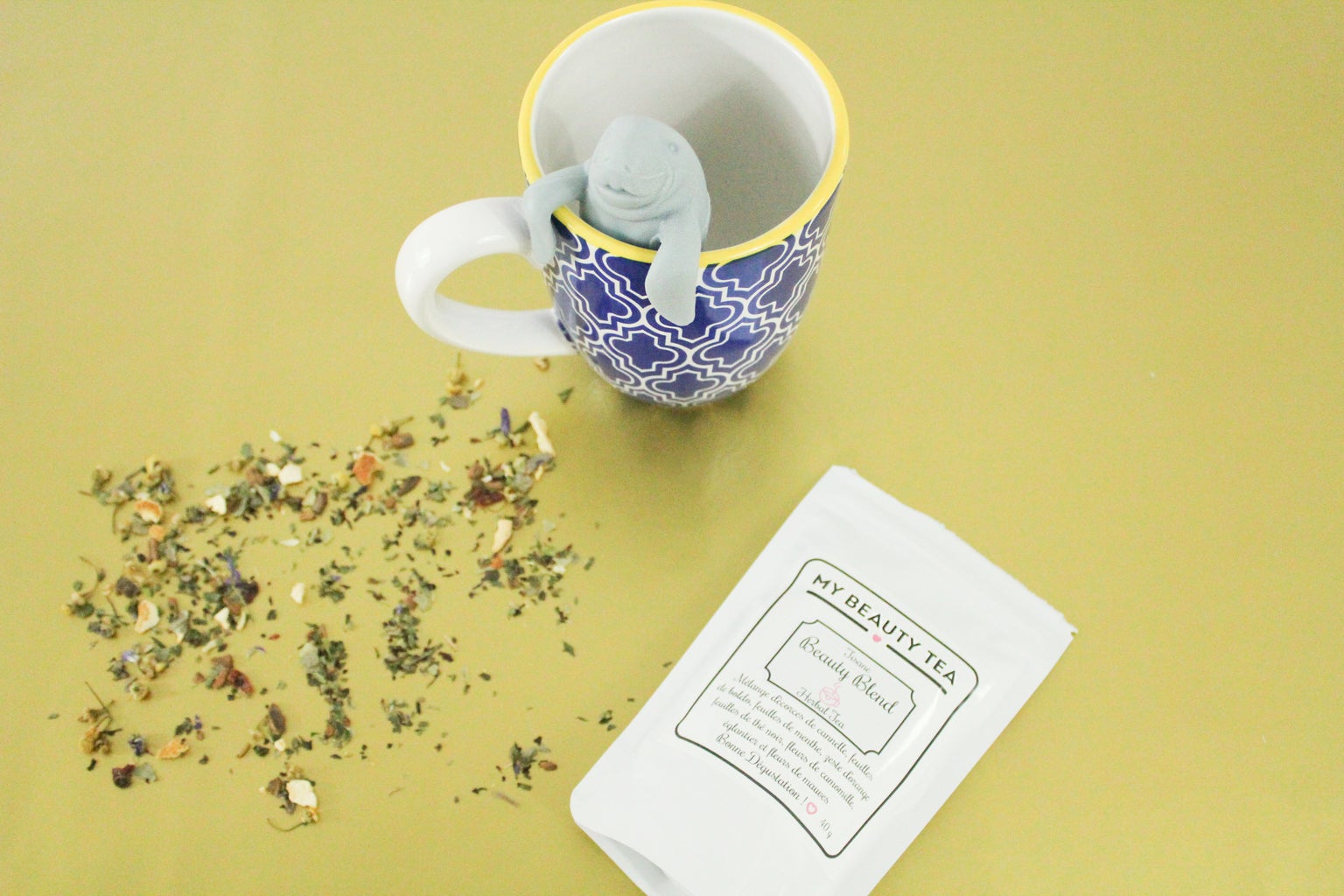 Manatea Infuser, $11.50, available at My Beauty Tea
Let Mom sit back, relax and enjoy her tea! This calming manatea infuses the water with every bold blend and rich flavor, plus it's something she'll love to wake up to in the morning!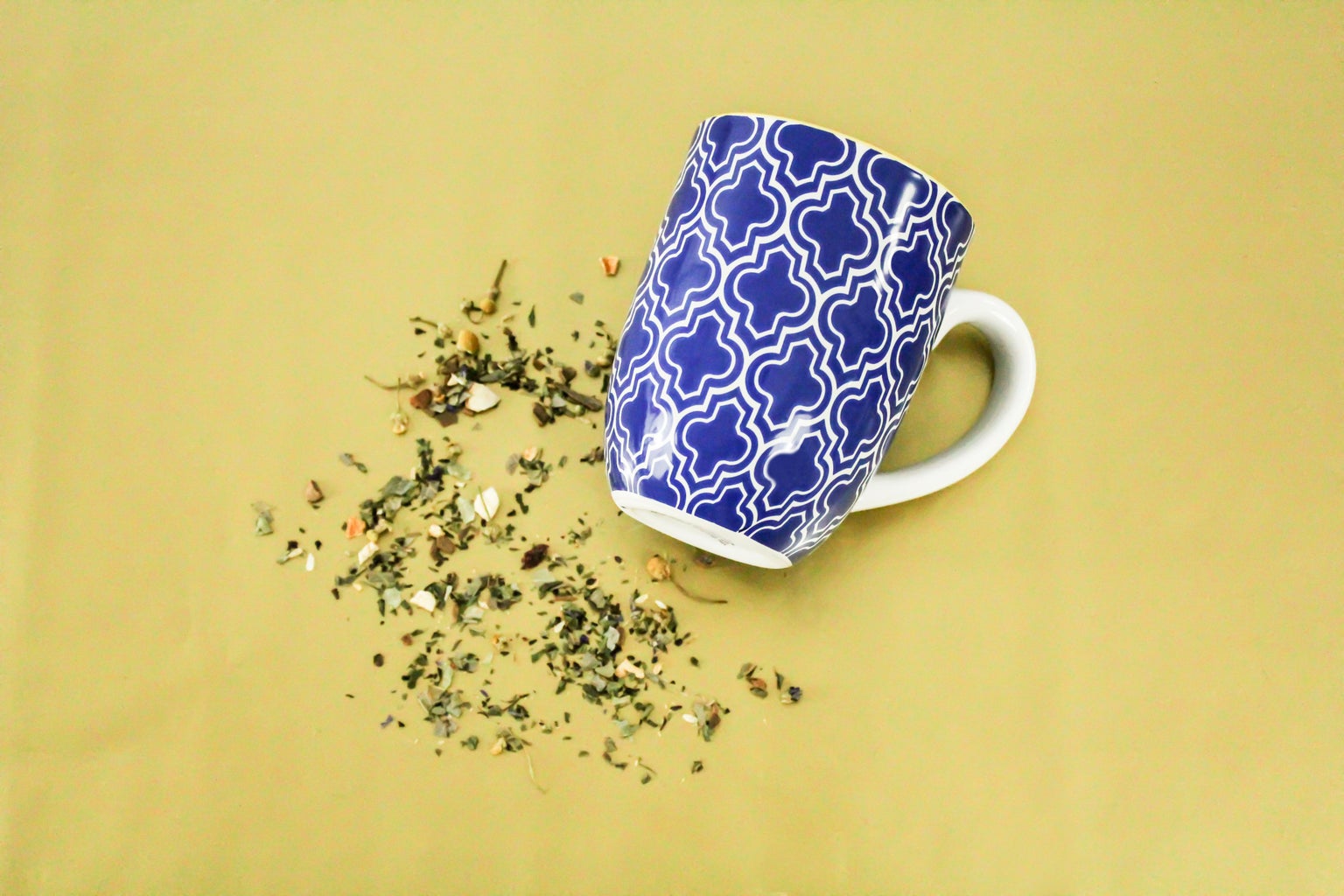 Certified International Blue Geometric Mug, $12, available at Macy's
Help your mom start the day off right! This cute geometric mug has just the right touch of sunshine yellow around the rim to get her smiling (yes, even in the morning – we swear!).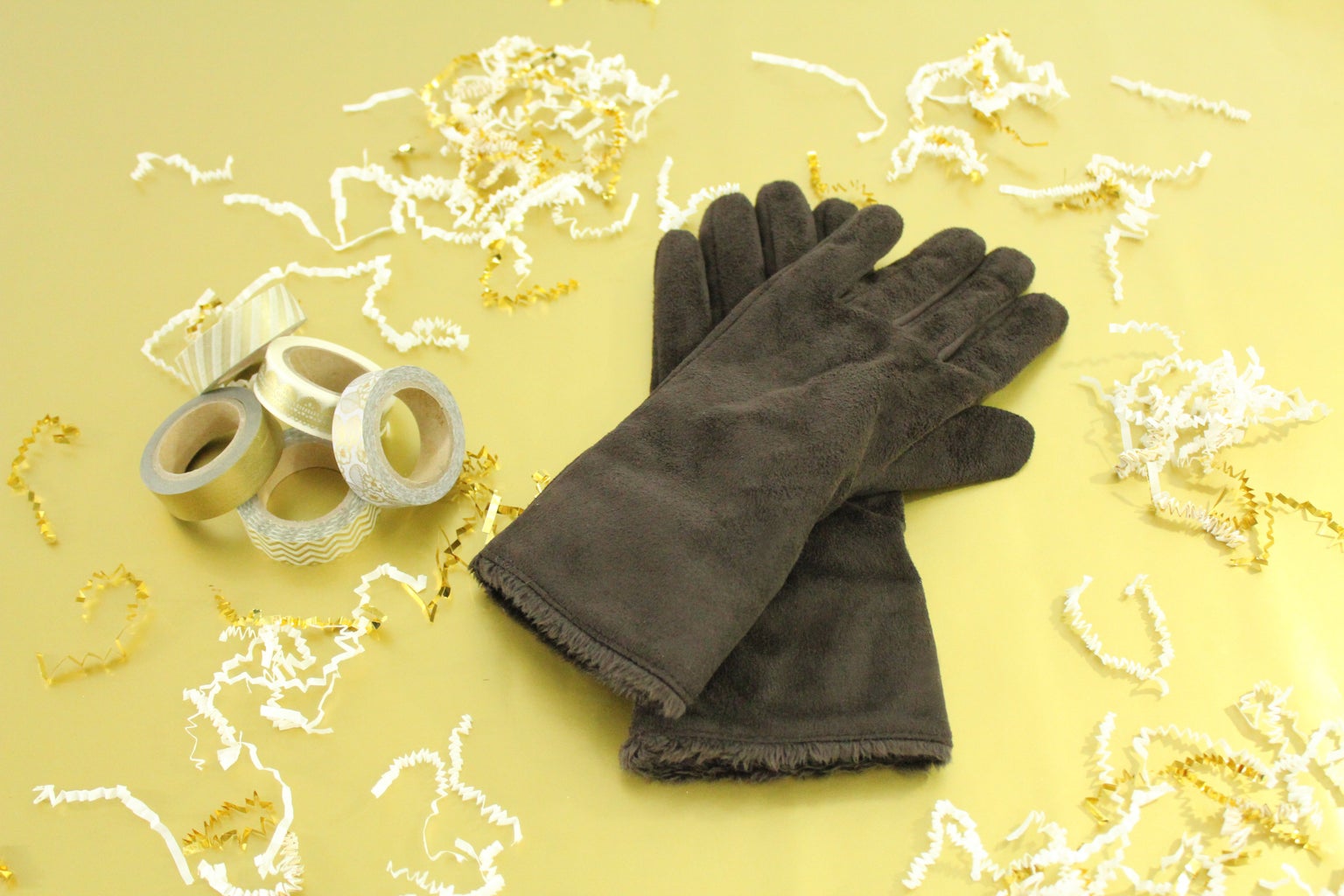 Women Heattech Lining Faux Leather Gloves in Dark Brown, $12.90, available at UNIQLO
Warm gloves on a collegiette-friendly budget? Basically unheard of. But these gorgeous chocolate gloves won't break the bank when you gift them to Mom, and the specialized heattech will keep her cozy in the cold!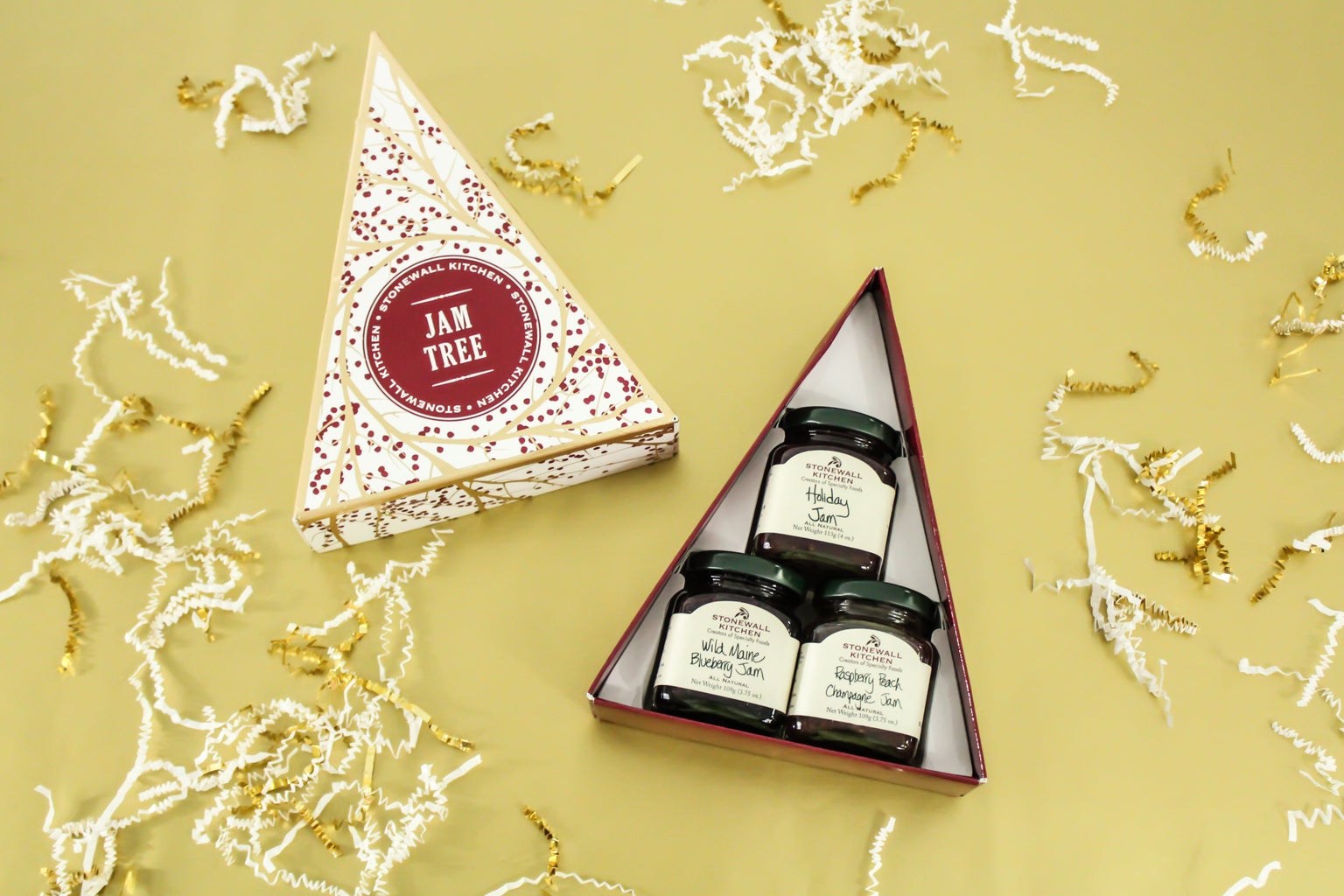 Stonewall Kitchen Jam Tree, $15.99, available at Macy's
Give the leading lady in your life something as sweet as she is! With Maine Blueberry, Raspberry Peach Champagne and tart Holiday Jams, this sampler jam tree is the special present she's been waiting for!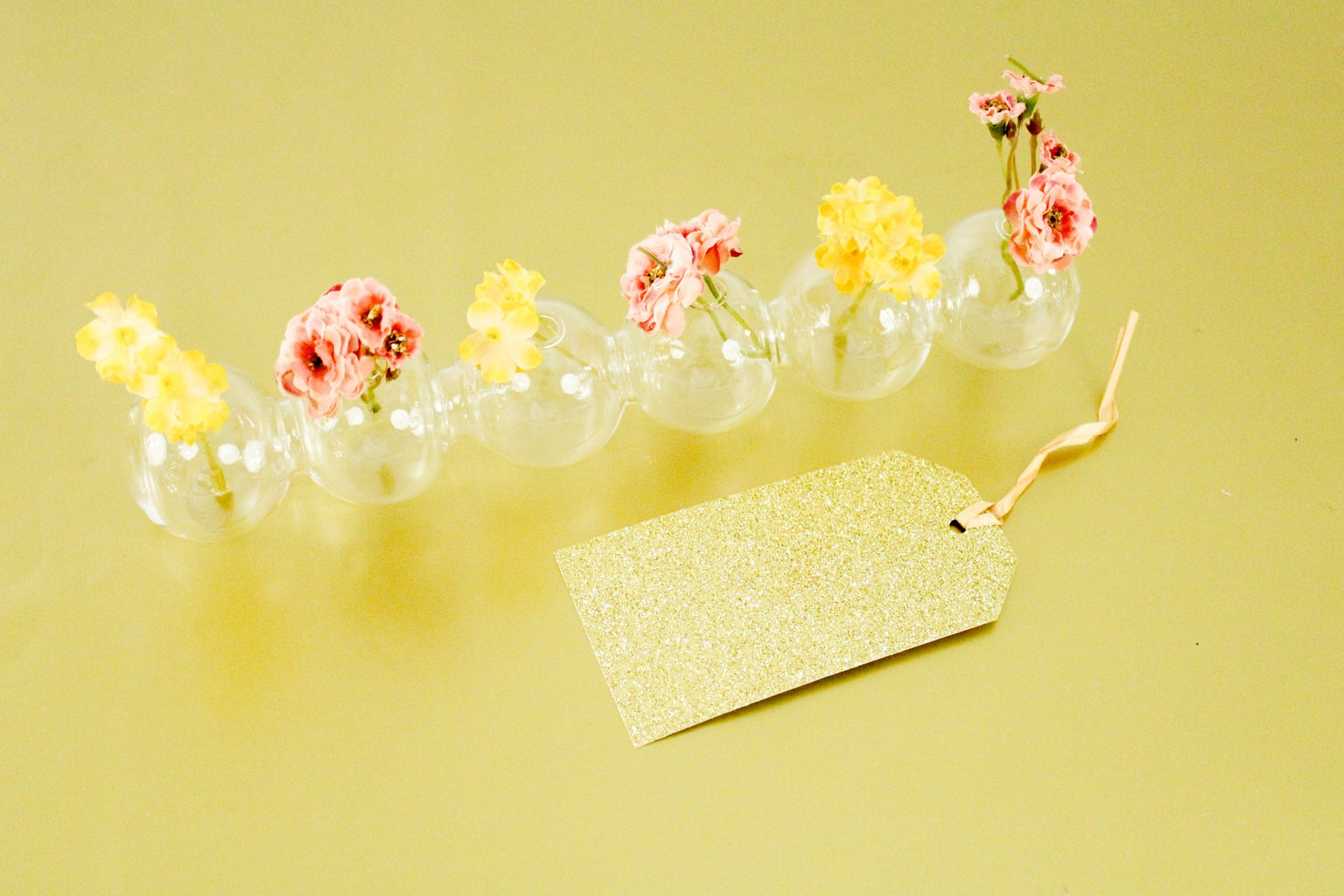 Caterpillar Bud Vase, $20, available at Uncommon Goods
Why settle for one flower when you could have six?! This delicate glass vase is anything but ordinary, so make your mom's flowers (and your space) unforgettable with this oh-so-lovely, wish list-worthy gift!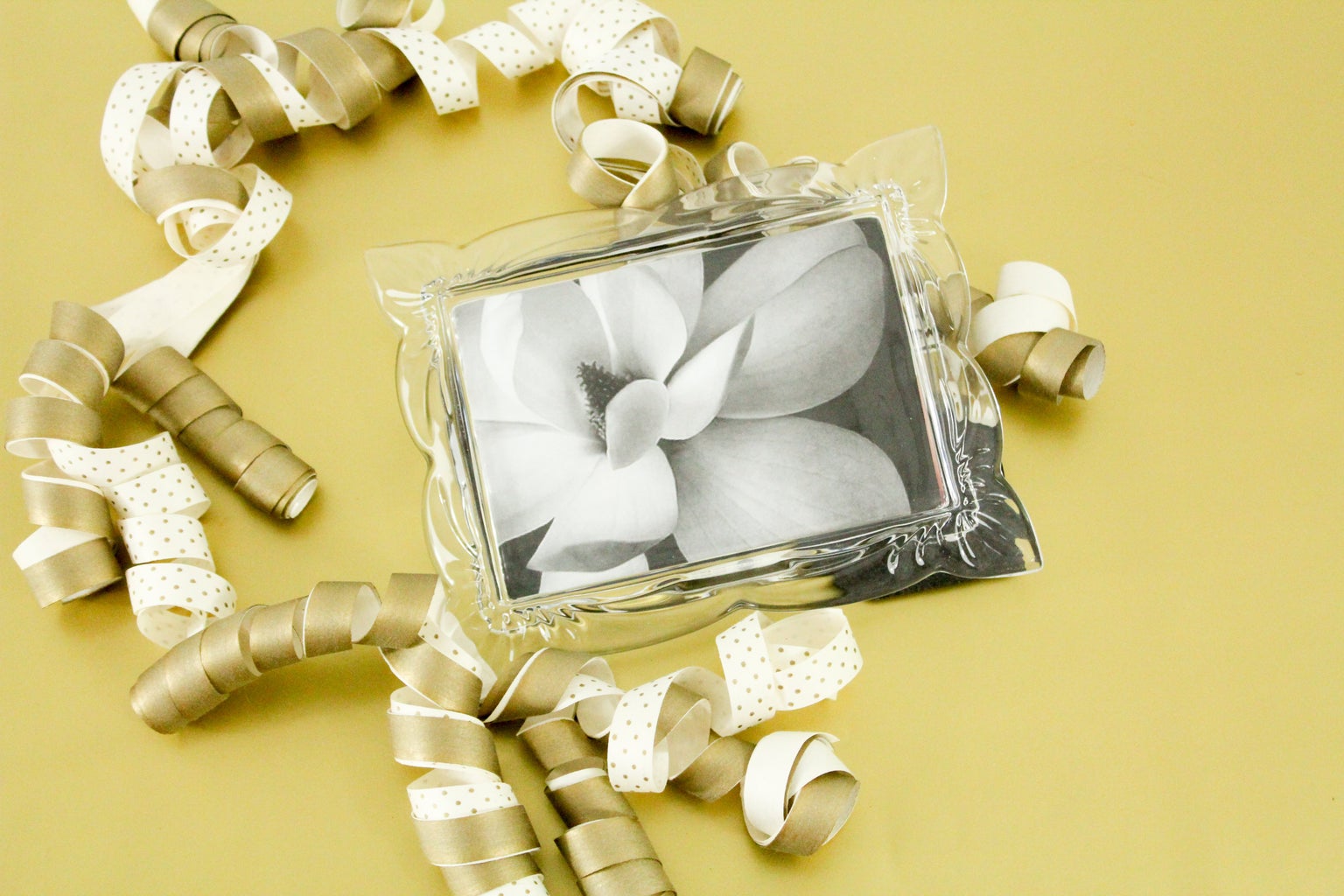 Godinger Serenade Frame 3″x5″, $20, available at Macy's
Picking a pretty frame is the easy part, and this one takes the cake. The only question left: which picture will YOU put in it? Maybe that snapshot from your last family vaca, or a mother/daughter candid? You decide!
Martha Stewart Collection Picture Frames, Set of 3 Silver Bead Mini, $22, available at Macy's
Can't settle on just one picture (or just one frame)? This set of three mini frames will solve the problem! Delicate and sophisticated, these frames are sure to tug on Mom's heartstrings (especially when you fill them with family photos).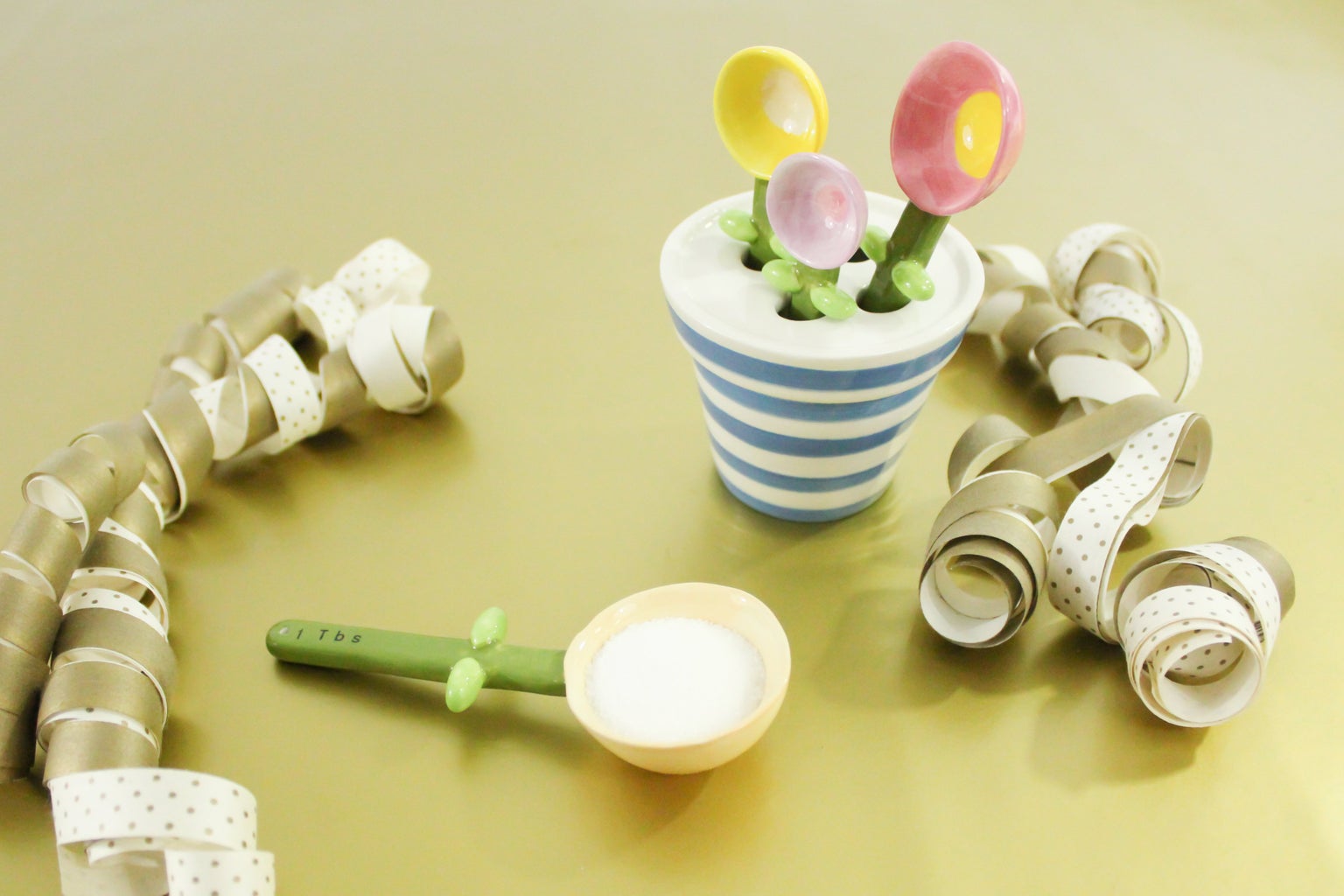 Scoops of Flower Measuring Spoons, $24.99, available at ModCloth
Put a little sugar in the cup with these adorable measuring spoons! Whether your mom likes to bake or just likes floral décor, this set of flowery spoons is the perfect pretty addition to any kitchen!
UNDER $50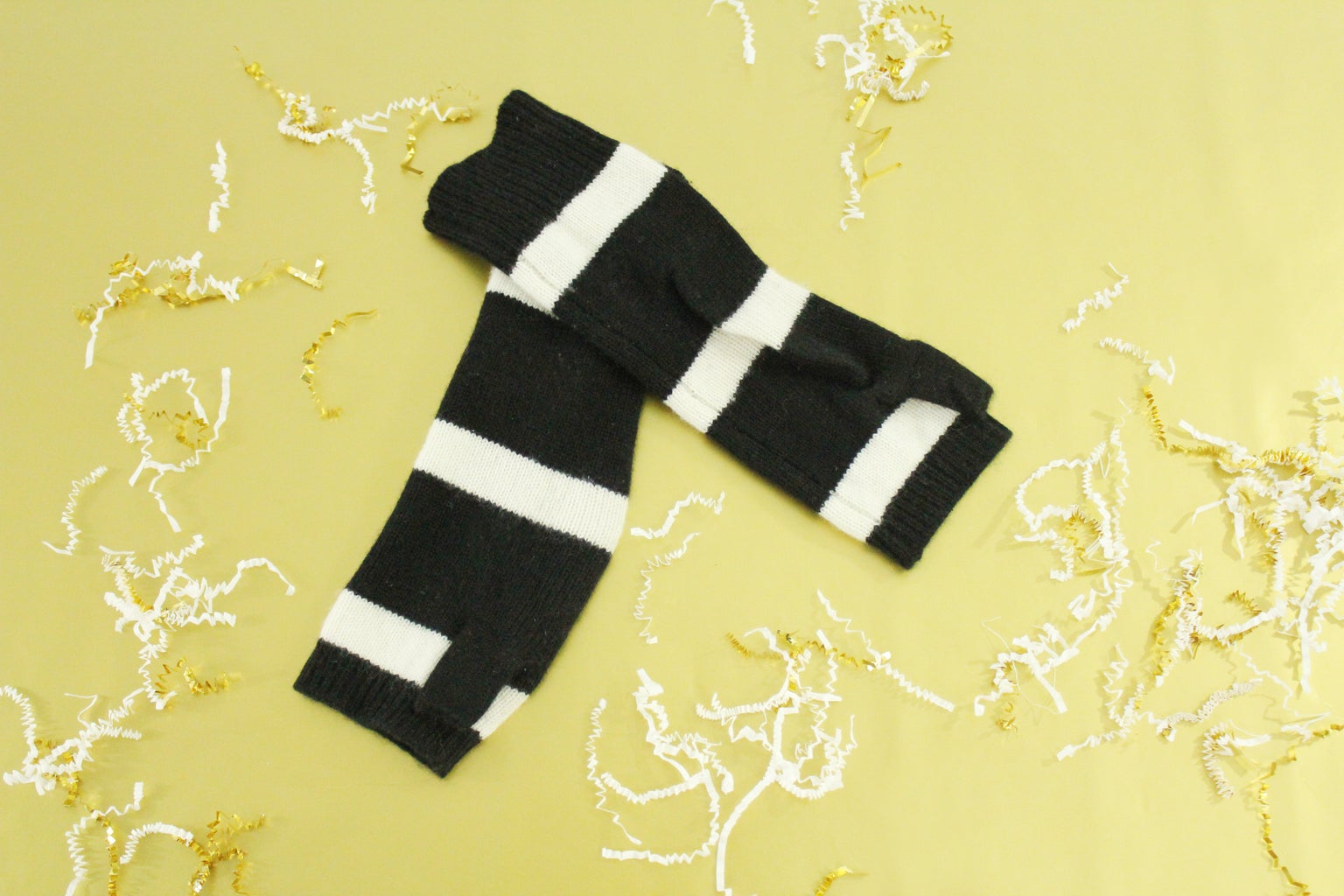 Women Cashmere Hand Warmers in Black, $29.90, available at UNIQLO
Mom can cozy up in cashmere this winter, thanks to you! These hand warmers are exactly what she needs to brave the winter weather, and let's be honest: you're totally going to borrow them.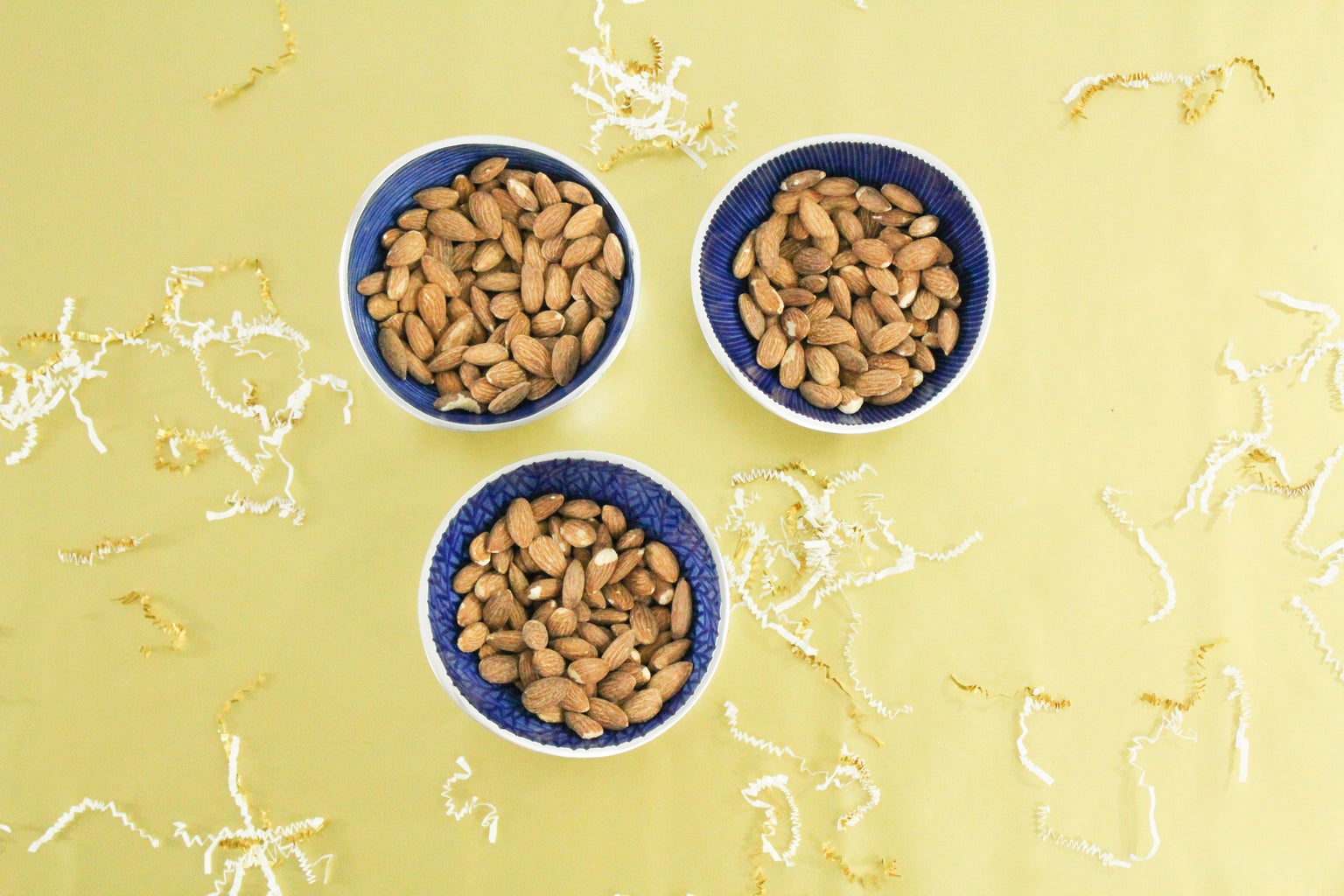 Simply Designz Serveware, Set of 3 Organic Nut Bowls in Royal Blue, $36, available at Macy's
Imagine this: Your mom opens your present to find three bowls in her favorite color (there are plenty to choose from!) and immediately falls for their handcrafted enamel designs. Cue hugs. You've just won the Best Daughter Award!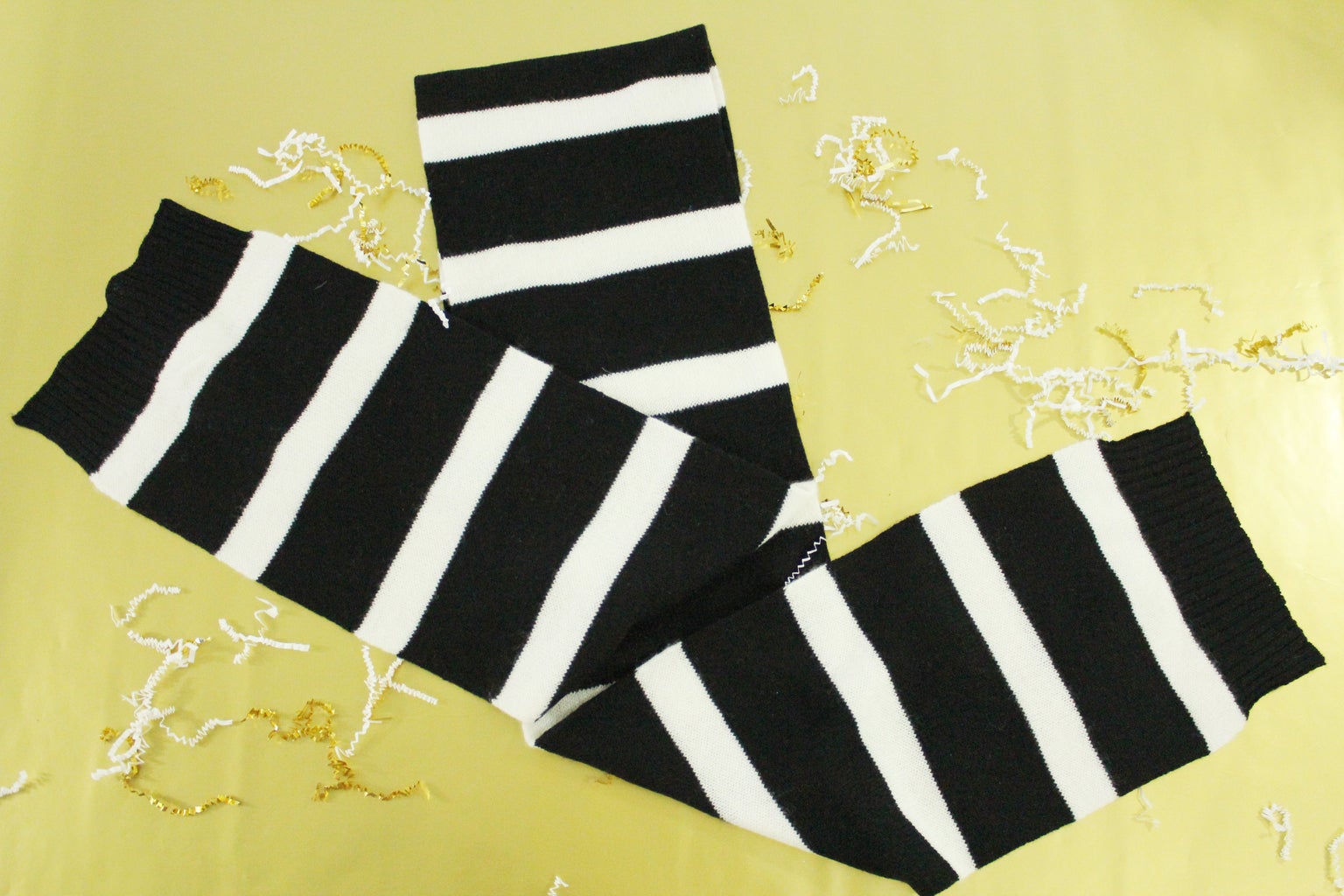 Women Cashmere Knitted Scarf (Patterned) in Black, $39.90, available at UNIQLO
Complete her cashmere set with this striped perfection from UNIQLO! No winter outfit is complete without a cozy scarf, so give her one she'll wear every day!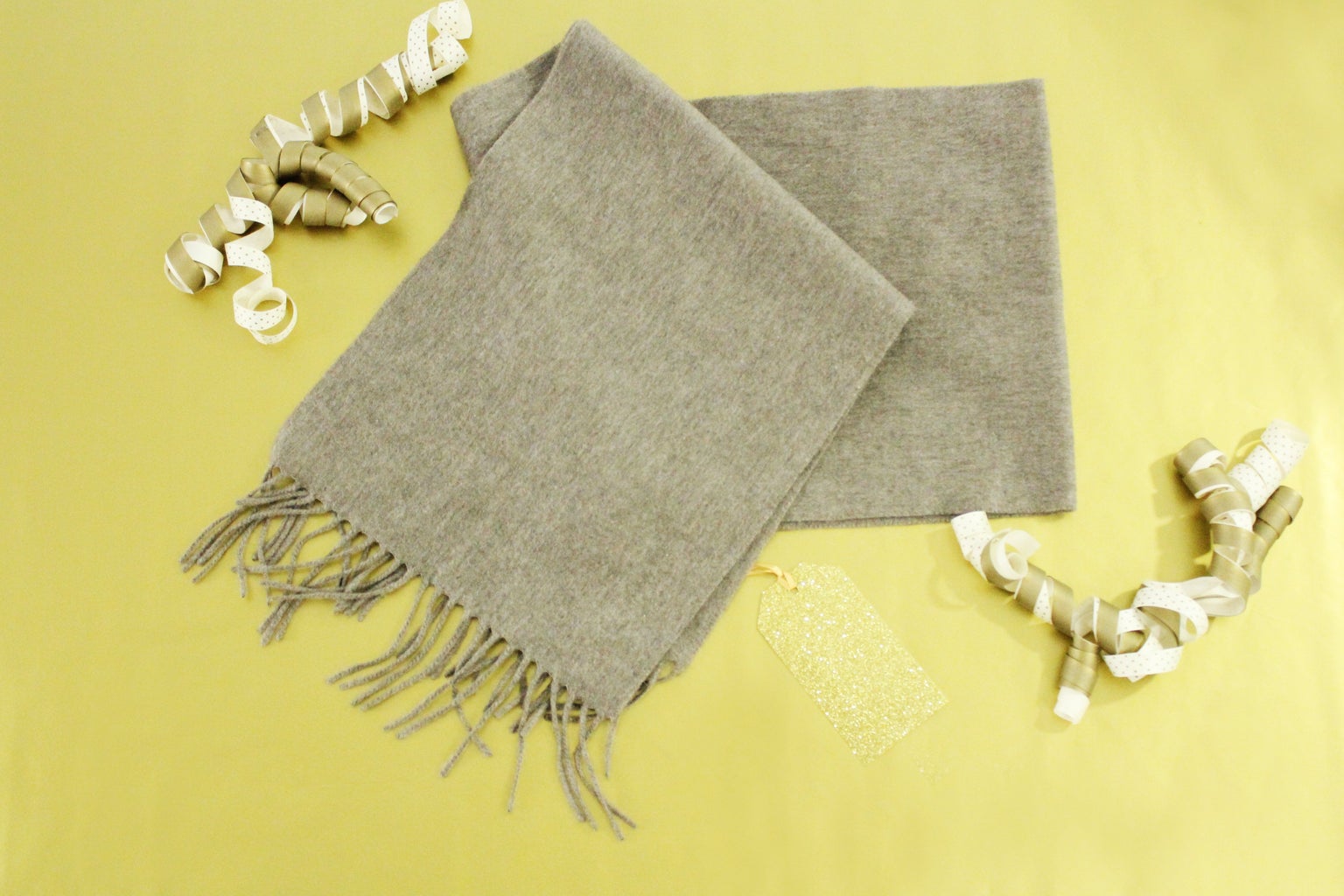 Cashmere Scarf in Brown, $39.90, available at UNIQLO
We're so in love with this creamy, café au lait color! We can totally imagine grabbing hot chocolate with Mom while she's wrapped up in this super soft scarf. Time for a mother-daughter date!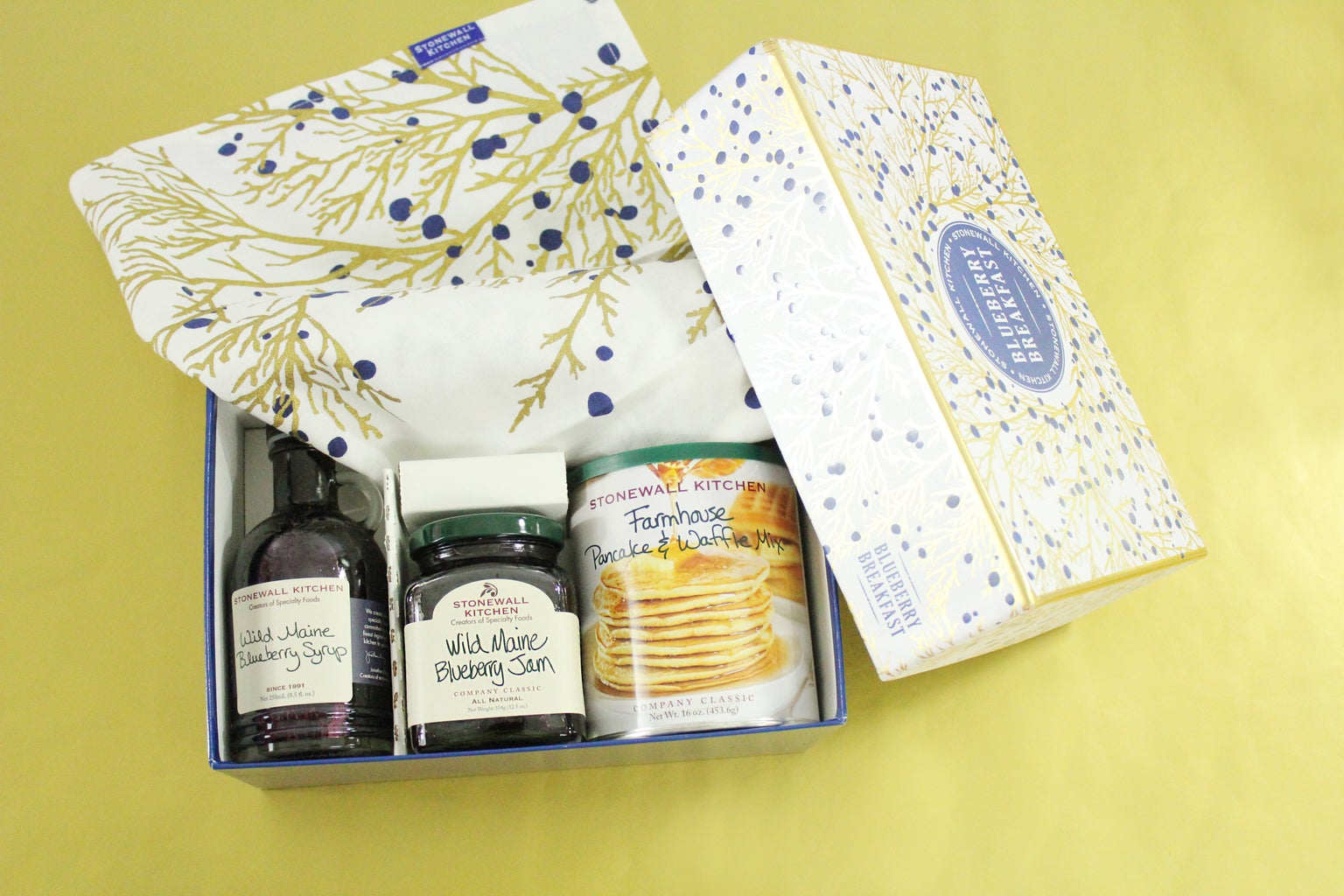 Stonewall Kitchen Blueberry Breakfast Collection, $39.99, available at Macy's
Aside from coming in some of the cutest holiday packaging we've ever seen (hello, gift wrap-ready!), this Stonewall Kitchen set is by far the best way to make mornings magical for the whole family. Try the Old Farmhouse Pancake & Waffle Mix, Wild Maine Blueberry Syrup and Wild Maine Blueberry Jam!
kate spade new york Fancy Another? Melamine Serving Tray, $40, available at Macy's
Whoever said you could have too much of a good thing clearly didn't understand croissants or macarons, and certainly didn't understand you or your mom. We get you! Keep the good times coming with this super cute serving tray from kate spade!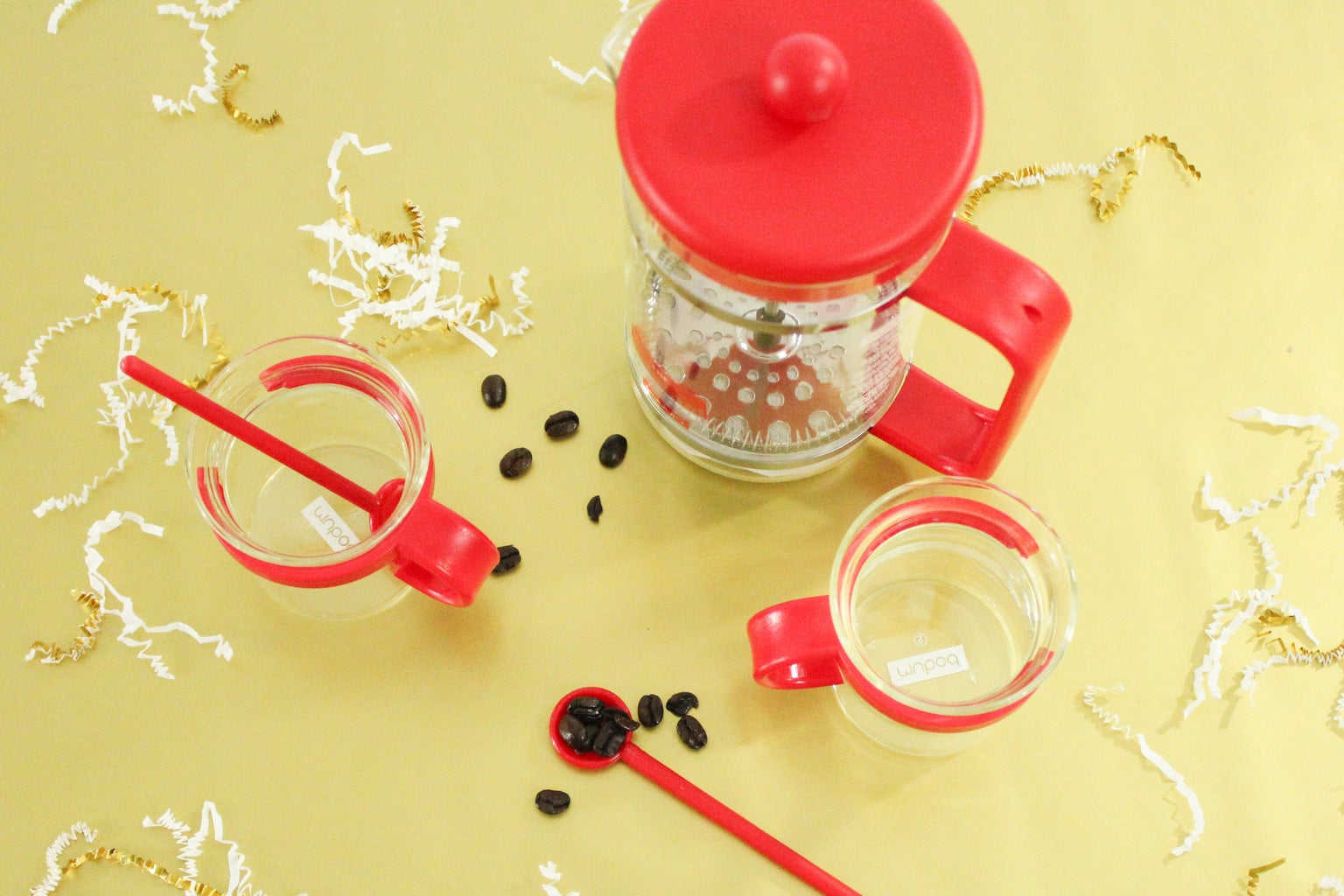 Bodum Bistro French Press 5 Piece Set, $44.99, available at Macy's
You know your mom deserves to indulge herself, so treat her to mornings with this fabulous French press. This stylish set comes complete with translucent glass mugs and stirring spoons, so she'll have everything she needs to enjoy those a.m. hours!
UNDER $100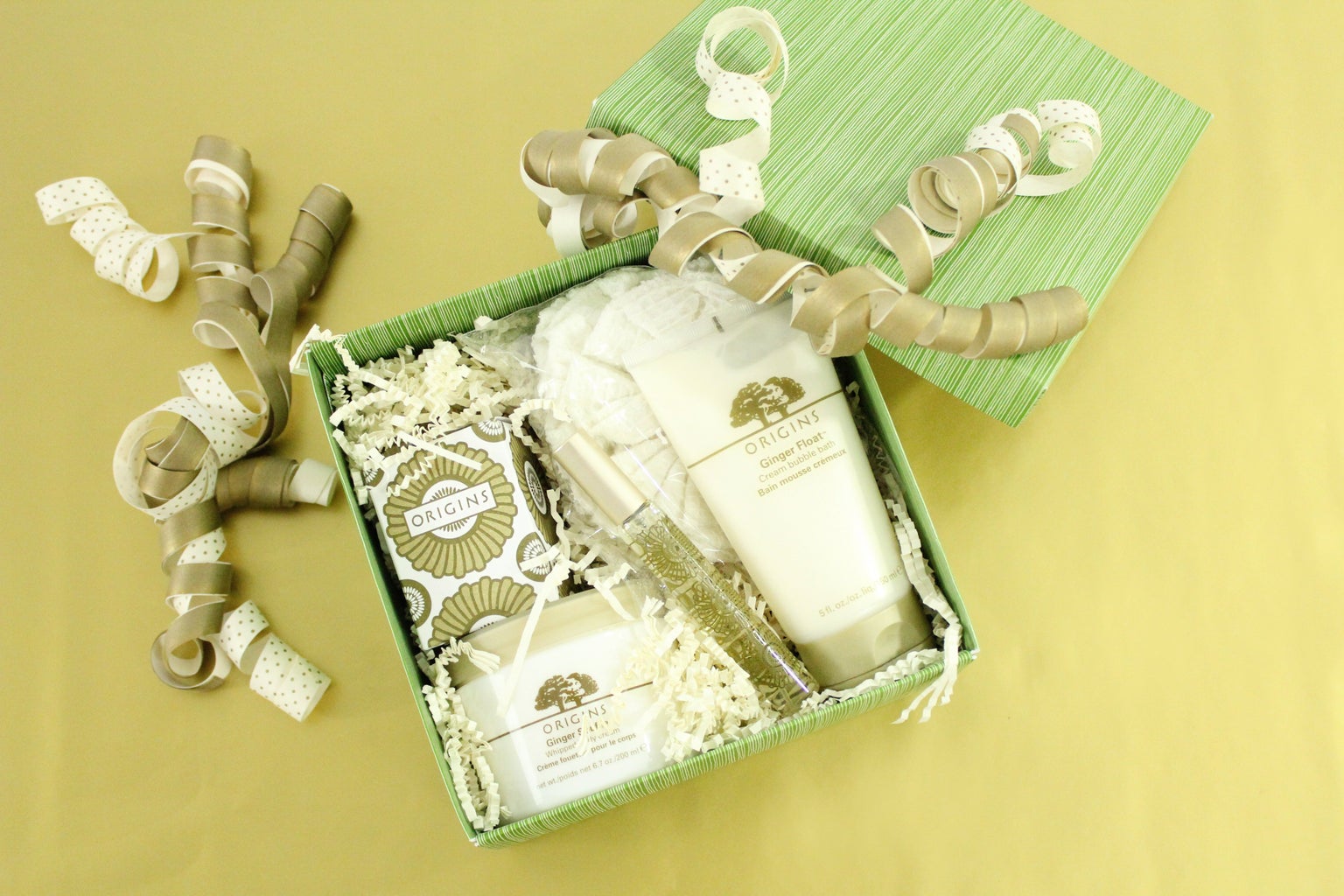 Origins Ginger Pleasures Value Set, $55, available at Macy's
Everyone deserves some rest and relaxation – Mom probably most of all! Treat her to bubble baths to end all bubble baths. This unbeatable Origins set includes not only bubble bath, but also whipped body cream, fragrance, a scented candle and more!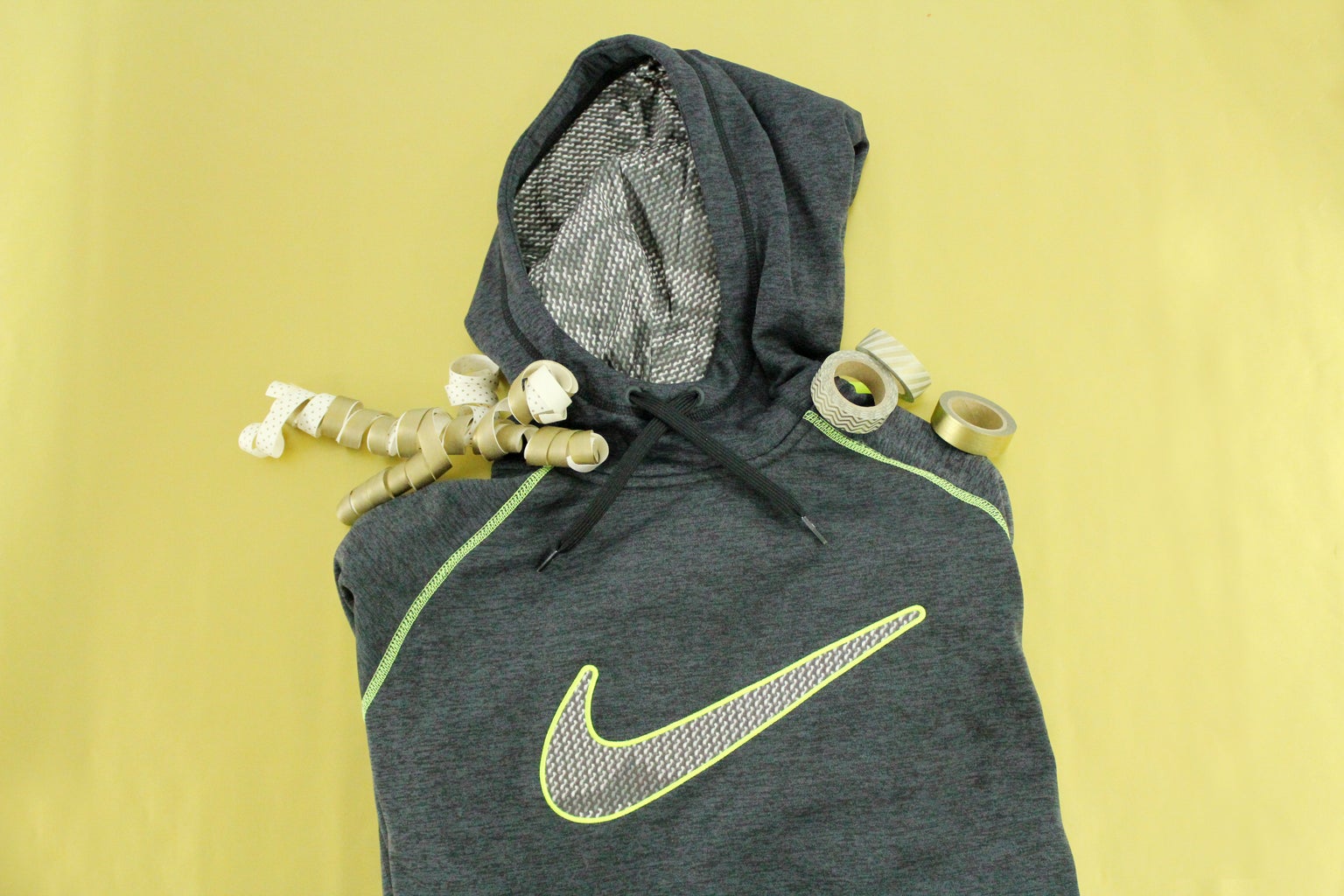 Nike All-Time Therma-FIT Pullover Hoodie in Black Heather/Volt, $55, available at Macy's
Every mom needs a little Nike in her life, so help yours get moving (and stay warm!) with this cute and cozy athletic pullover. Let that Therma-FIT technology work its magic in the winter weather!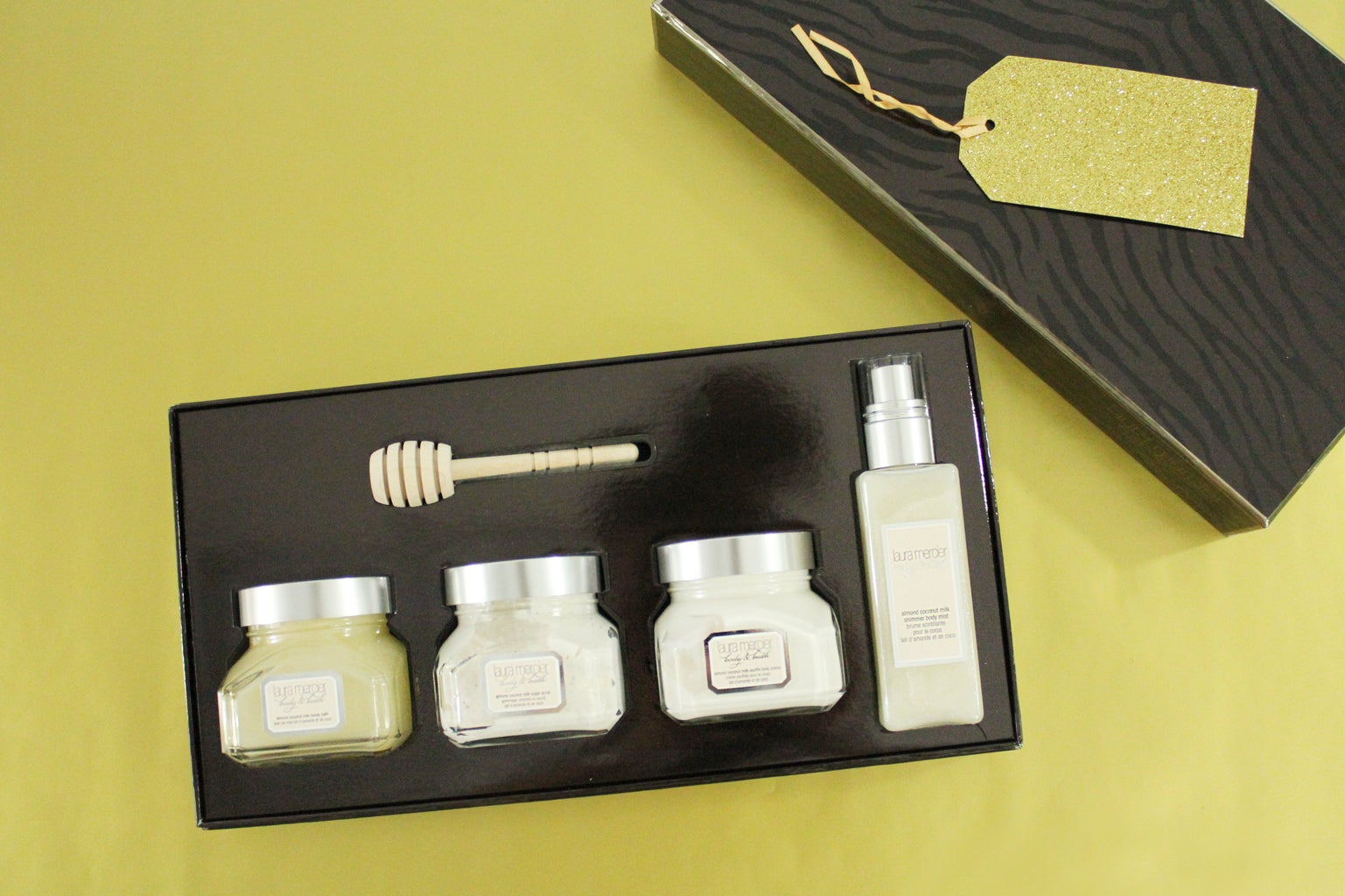 Laura Mercier Body & Bath Luxe Quartet – Almond Coconut Milk, $68, available at Macy's
Give your mom her healthiest glow yet with this luxurious beauty set from Laura Mercier. She's sure to adore the almond, coconut and vanilla notes of the Honey Bath, Soufflé Body Crème, Sugar Scrub and Body Mist, and trust us: her skin will love them even more!
Lacoste Smash Bath Robe in White, $95, available at Macy's
What's white, fluffy and wonderful for winter? Nope, not snow – this super soft Lacoste bathrobe is the next best thing, and it's a whole lot warmer! Let Mom enjoy some leisurely mornings all wrapped up in this cozy must-have.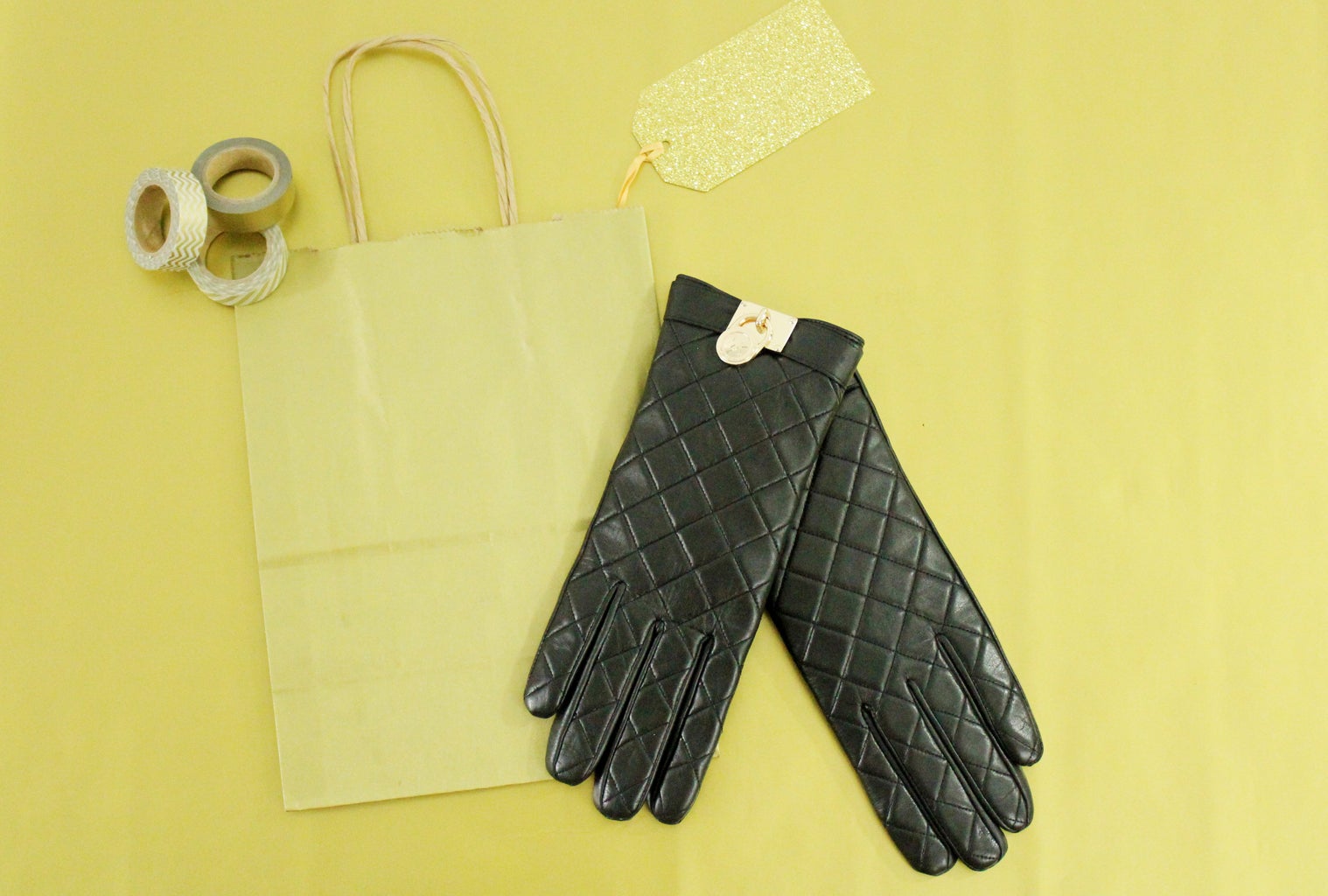 MICHAEL Michael Kors Quilted Leather Hamilton Lock Gloves in Black/Gold, $98, available at Macy's
Lock it up for winter weather with these sleek, stylish gloves. Between the quilted leather and Hamilton lock logos at the cuffs, there's no question that these are exactly what Mom needs to stay chic this season.
OVER $100
Nambe Set of 2 Tri-Corner Candlesticks, $135, available at Macy's
Want to really take Mom's breath away? Gift her these elegant candlesticks to transform any space. The sleek, unique curves of the metal make them an unforgettable gift!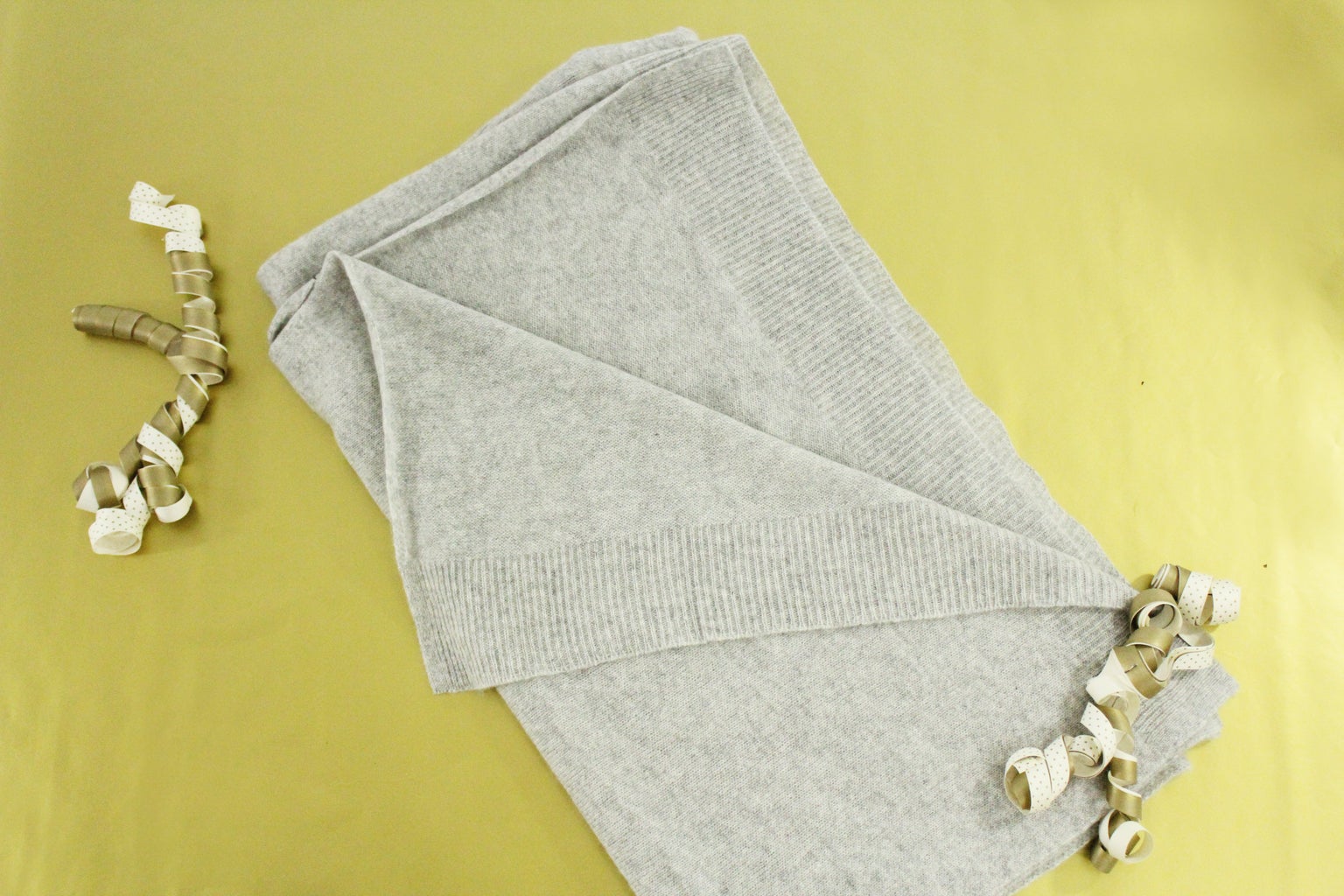 Charter Club Cashmere Wrap in Heather Crystal, $169, available at Macy's
Your mom knows there's nothing better than bundling up in cashmere, and you know what they say: Mother knows best! This warm, luxurious wrap is exactly what winter calls for!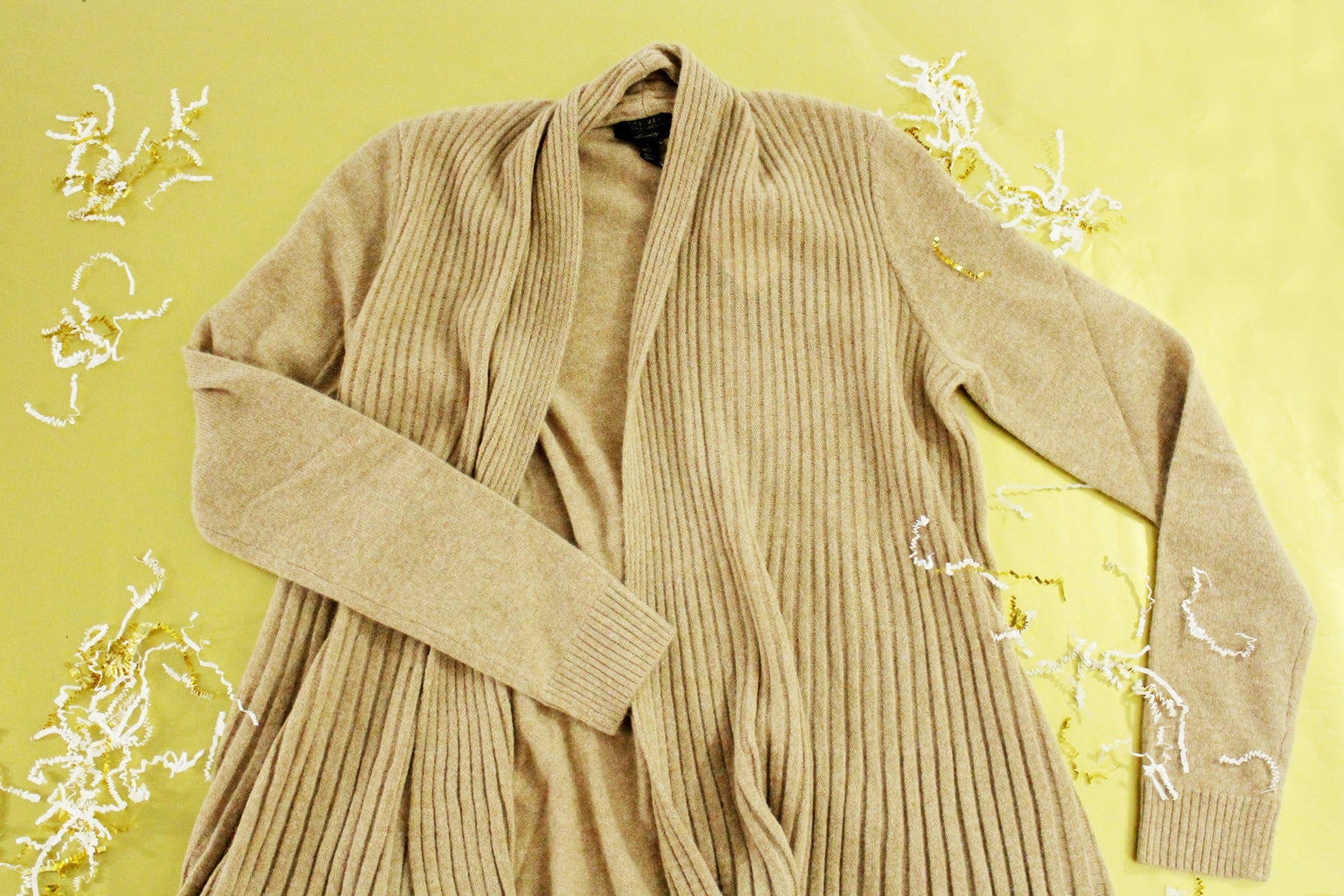 Charter Club Ribbed Cashmere Duster Cardigan in Heather Camel, $189, available at Macy's
Who says moms can't be stylish, too?! Give her a gift that's on-trend and totally flattering. Dress it up or dress it down, this camel cashmere cardigan is the high-quality style statement piece she'll wear over and over again.