Between anniversaries, holidays, birthdays, and other special relationship milestones, there may sometimes be a bit of pressure when picking out a gift for a boyfriend because you want it to be unique, creative, and personal.
But, no matter if your boyfriend is a bookworm, a self-proclaimed foodie, a style guru, or loves everything to do with sports, there's no need to stress this holiday season. This gift guide will make it easy to find the perfect present for your significant other and will provide inspiration for other unique ideas on what to give to the one you love. 
Between a grooming kit, to a new pair of sneakers, we've rounded up 47 cute holiday gifts on Amazon Prime for your boyfriend that he'll actually love, no matter what his interests are.
See below for the ultimate boyfriend gift guide!
For the Athletic Boyfriend
If your partner loves to work out, watch sports on TV, and exercise daily, then you should get his heart really beating this holiday season with these cheap but cute gifts!
Gifts under $15
Ultimate Flying Disc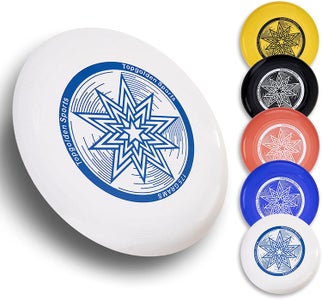 This frisbee might be cheap in cost, but it's not cheap in quality! It's made of durable, waterproof, and lightweight materials that ensure long times in the air. This disc is also easy to toss and catch, so even if you aren't a pro with the frisbee, you'll have so much fun throwing it around with your boyfriend.
The Mamba Mentality: How I Play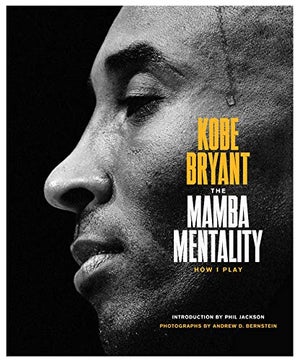 Kobe Bryant is an inspiration. And so, any athletic, sports-loving boyfriend will love reading, reflecting, and remembering this professional basketball star's life. This book was written by Kobe and is a recap of his life and career on the basketball court.
Cell Phone Running Armband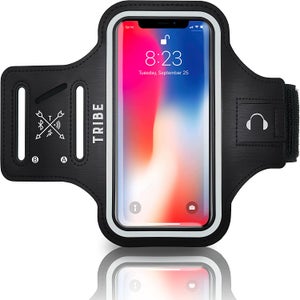 If your boyfriend has complained to you once or twice about how difficult it is to run with his phone and keys in his pockets, then this cheap running phone case is perfect for him! It will make his workout so much easier, and he'll be super grateful that you thought about him when buying this gift. It also comes in multiple colors, so you each can choose your own and match when going on runs together!
Gifts under $35
Professional Quality Emoji Golf Balls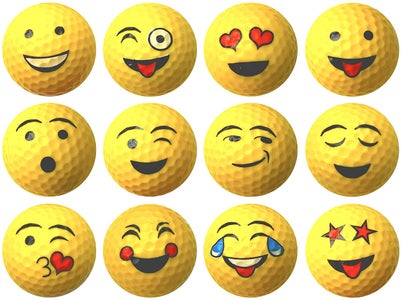 A picture might say a thousand words, but an emoji golf ball says more! This USGA-approved, 12-ball set of unique golf balls will show up easily no matter where it's hit on the green. And your boyfriend and his golf group will get a kick out of how funny these are when he pulls them out!
Table Tennis to-Go Ping Pong Set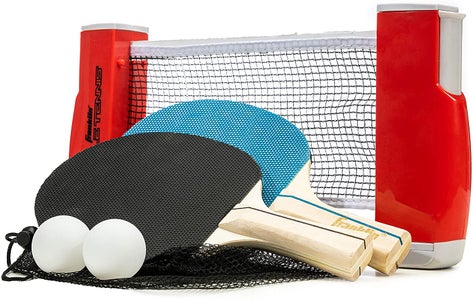 Does your significant other head to his friend's house to watch the big game every week? If so, then get him this ultimate travel ping pong set so he can challenge his friends anytime, anywhere. It packs up nicely in a drawstring mesh bag, so you can have it ready to go for instant fun.
Non-Slip Athletic Sneakers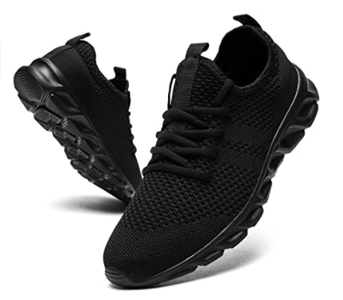 If your boyfriend's daily routine consists of heading to the gym or going for a run around campus, then it's time to treat him to a new, comfortable pair of sneakers that won't break the bank. These cheap, light, and breathable running shoes come in 5 different colors and make for a great gift for any athletic partner.
Gifts under $50
Kan Jam Original Disc Throwing Game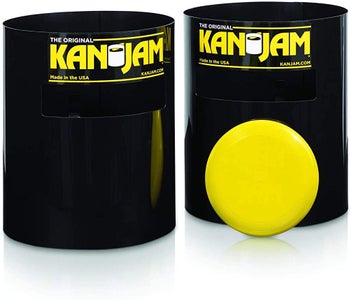 It's a classic outdoor game that everybody loves, so it's a sure thing that your boyfriend will love it too. It's easy to set up and store in a dorm, so you and your partner can play with each other as often as you want out on the quad without any sort of hassle!
Par Three Golf Putting Green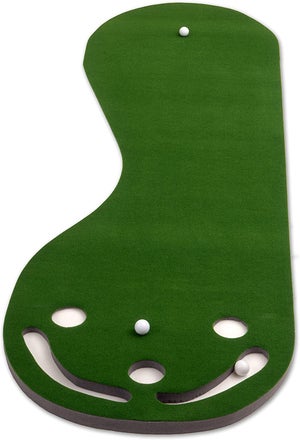 If your boyfriend is active, he probably likes to be active all the time, no matter if he's watching a movie, doing homework, or is on vacation. So, this 3 x 9 indoor practice putting green is perfect for his athletic and active lifestyle, and it's such a cute holiday gift.
Gifts under $100
Nike Duffle Bag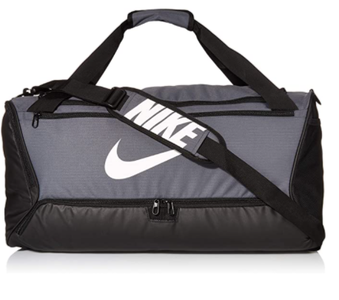 Does your BF head to the on-campus gym after he takes a test? If so, you should update his current gym bag with this stylish, black and white Nike Duffle Bag. It's spacious, has separate secured compartments for valuables like a wallet and keys, and also has an adjustable shoulder strap. Your boyfriend will be so grateful for this gym bag upgrade!
Fitbit Inspire 2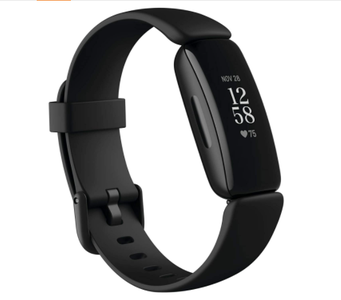 Take your boyfriend's love for exercise to the next level with this unique gift! This Fitbit Health Tracking Watch is a great price for all of the functions it offers, including sleep and step tracking, calorie tracking and so much more. So have him start the new year off fresh by tracking all the exercises he does!
For the Foodie Boyfriend
Does your S/O love to cook for you, try new recipes, and go out to dinner every week?! Then these are the perfect holiday gifts for your foodie boyfriend that he'll actually love.
Gifts under $15
Reusable Skewers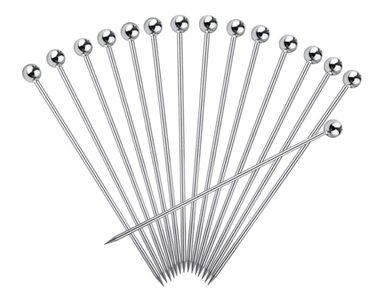 If your boyfriend loves to host so he can cook and make cocktails for his guests, then these reusable toothpicks are perfect for him. They're not only cheap, but they also can be used with appetizers, fancy drinks, charcuterie boards, and any other dish your boyfriend whips up. He'll love that you're helping him fuel his passion and get him to create even more!
Reusable Chopsticks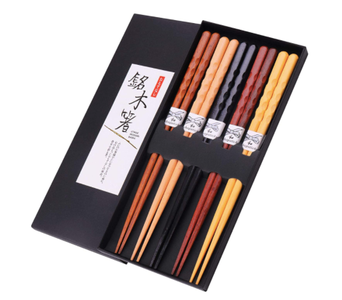 If he's a foodie, chances are he uses chopsticks pretty frequently. So, get him this unique Reusable Chopsticks gift set that has beautiful art on them and are dishwasher safe. They'll enhance your date night in the dorm room and will elevate your favorite take-out meals.
The Essential Guide to New & Old Classics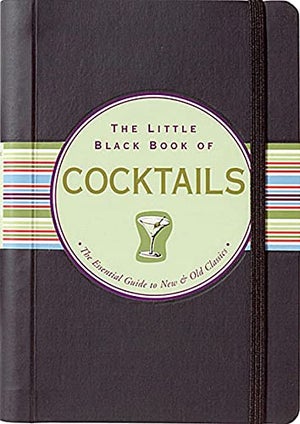 This affordable cocktail recipe book is sure to get your boyfriend to smile! He can make it his goal to learn all 150 recipes in the book before the next holiday season.
Stone Mortar and Pestle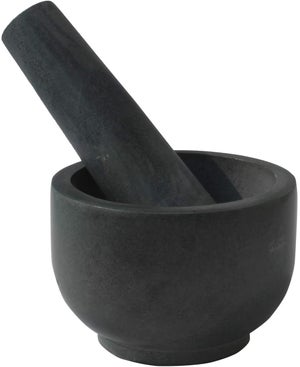 Help your boyfriend up his foodie game with this unique Stone Mortar and Pestle! He can use it to grind spices and mash herbs so his dishes for the holiday season are even tastier than normal! You'll also probably get bonus points for getting him such a trendy addition to his kitchen.
1000 Piece Whiskey Puzzle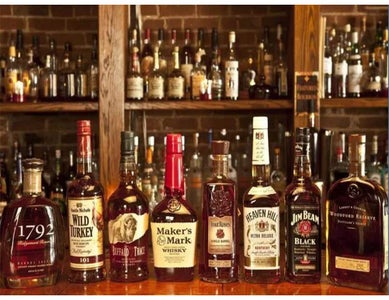 After a long night of cooking dinner for himself, your partner probably feels pretty tired. So, what's better than a gift to help him relax, but still enjoy his passion for food and drink?! This 1000 Piece Whiskey Puzzle will help him unwind and inspire thinking, and can be a fun activity for you to do together on a cold winter night!
Barbecue Rubs To Go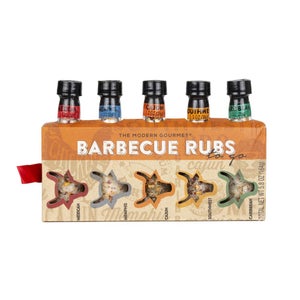 This unique and flavorful gift will really add some more spice to your boyfriend's life! The BBQ rubs seasoning will unlock subtle flavors in your dishes, and be a delicious addition to dinner. The flavors in this gift set include Cajun, Caribbean, Mexican, Southwest, and Memphis BBQ rub. Yum!
Gifts under $30
Indoor Garden Kit with Vegetable Seeds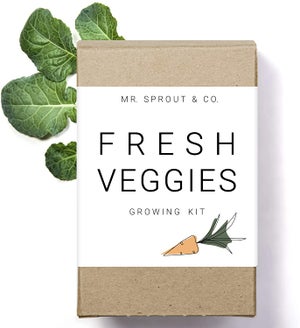 Has your significant other ever expressed wanting to grow his own vegetables to really up his foodie game? If so, then this indoor garden kit is perfect for him! It comes with five different seed varieties, including cherry tomatoes, broccoli, carrot, onion and zucchini – which is an awesome start to a delicious stew for a cozy dinner!
Burrito Blanket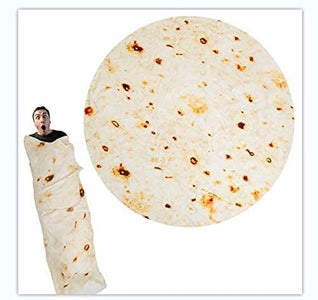 During those cold winter months in your drafty college dorms, it's easy to feel chilly. So, get this hilarious Burrito Throw Blanket to not only increase your boyfriend's comfort in his room but also truly satisfy his burrito-loving self!
Sandwich Maker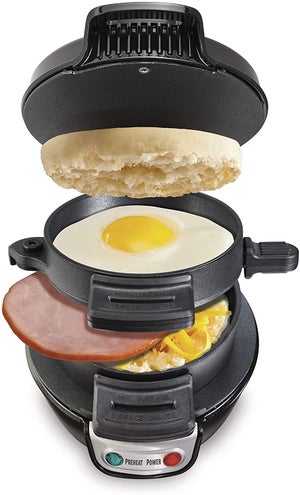 As a foodie, your BF probably loves to make elaborate meals with challenging recipes. But sometimes, after a long day in class, he might be tired and hungry and want to make a simple meal. So, that makes this small, cute and cheap Sandwich Maker an ideal holiday gift for him! This appliance makes your food in just a few minutes, so it's great for people on the go. Bonus points for it being dishwasher safe and a perfect size to store in a dorm!
Handheld Slicer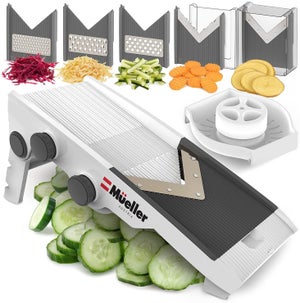 Even if your partner is a master at chopping up fruits and veggies, this handheld slicer will save him so much time in the kitchen when he's cooking! With three high-quality blades, it can cut fruit, vegetables, frozen meat, lunch meat and charcuterie meat.
Gifts under $50
Foodie Dice Inspiration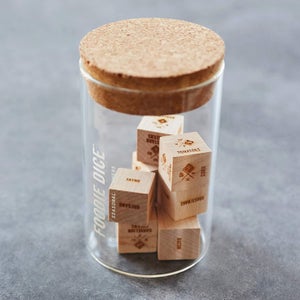 It's sometimes tough to brainstorm new recipes when you have a hundred other things on your mind, like homework, tests and class projects. So, help your food-loving boyfriend out by getting him these dice, which will really get his creative juices flowing! Included on the dice are protein, cooking method, grain/carb, herb, bonus ingredients and 4 seasonal veggie dice. These dice are also vegetarian & vegan-friendly, so you can choose which to use based on diet!
Chocolate Caramel and Crunch Grand Gift Basket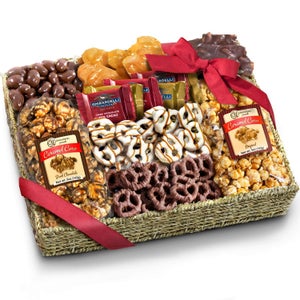 The best way to show your love is through food – and your foodie boyfriend will definitely agree with this when he sees this delicious gift! With handmade chocolates, caramel corn, nuts, pretzels, and more, this treat will have him drooling. The best part about this sweet present is that it's only $43 and can be delivered right to your door with an Amazon Prime Membership.
Large White Porcelain Bowls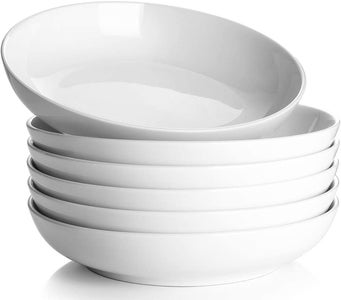 When moving onto campus for the first time, it's super common to get hand-me-down supplies from older siblings or kitchenware from your childhood home. So, why not improve and update your boyfriend's collection of supplies for the holiday season, and get him this affordable set of porcelain bowls?! This set of six is not only beautiful and perfect for pasta, cereal, and other dorm-friendly recipes, but it's also microwave and dishwasher-safe. Dorm dinners are officially elevated!
Stonewall Kitchen 4 Piece Dessert Topping Collection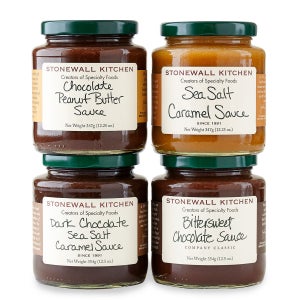 Does your partner have a sweet tooth? If so, then this 4 Piece Dessert Topping collection is a great gift to satisfy it! With a Bittersweet Chocolate Sauce, Chocolate Peanut Butter Sauce, Dark Chocolate Sea Salt Caramel Sauce, and Sea Salt Caramel Sauce included in the kit, there's an irresistible ice cream topping for every taste. Want to really make this present pop?! Get some additional dessert supplies, turn a movie on from Amazon Prime Video, and invite him over for a sweet night in!
Pour-Over Glass Coffeemaker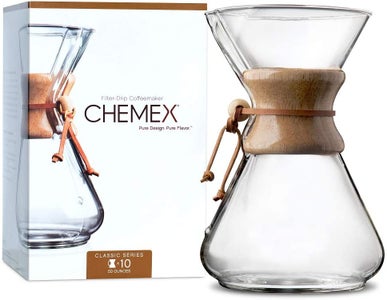 If your boyfriend is a coffee connoisseur as well as a content creator, then this Pour-Over Glass Coffeemaker is the perfect present. Help him take his coffee content to the next level with this aesthetically pleasing and classic tool!
Gifts under $100
Portable 6-Quart Slow Cooker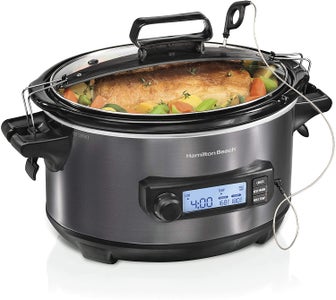 Expand your boyfriend's cooking options with this generous gift! A slow cooker is perfect for any food-loving person with a busy schedule. Date nights using the kitchen on your dorm floors will now be much easier. 
For the Stylish Boyfriend
If your boyfriend is interested in the hottest new trends, loves posting his OOTDs online, and takes great care of his skin, hair, and nails, then check out these affordable gifts that are perfect for a stylish S/O!
Gifts under $15
Slim Leather Wallet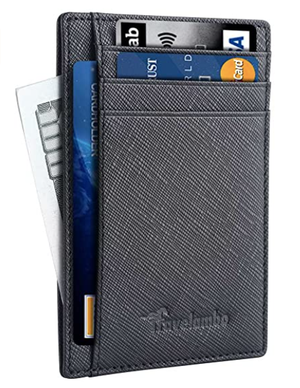 This super minimalist leather wallet is perfect for any trendy college student running from class to the mall. It fits everything from credit cards, to student IDs, to dining hall cards, and can easily slide into a pocket or backpack. It also comes in 20 different colors, so you can choose which you think your stylish boyfriend will love most!
Steve Madden Reversible Leather Belt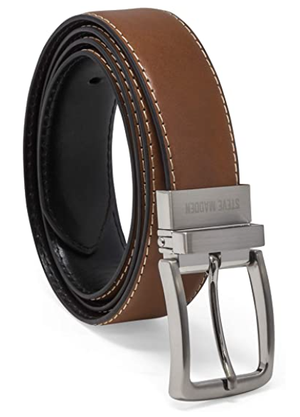 Every person interested in style knows that there's never such a thing as too many accessories. So, get your trendy boyfriend this casual, everyday belt so he can look his best no matter what his day has in store. This leather belt is made by Steve Madden, so it's great quality and super durable, and it will last for years. The best part about this belt has to either be how affordable it is, or that it's reversible and comes in different colors! Which one will your boyfriend like the most?!
Self-Care for Men Book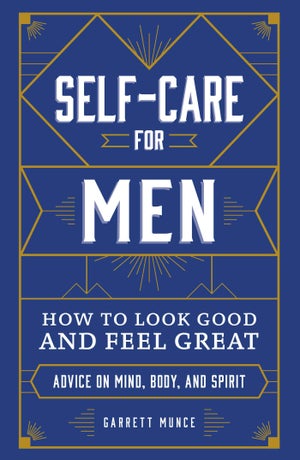 Whether your significant other has been into self-care for years or has recently taken an interest in it since dating you, this book is designed for modern men who want to look and feel better through self-care. This guide offers different techniques for things like stress relief, which is perfect for your trendy and stylish beau to get through the school year!
Gifts under $30
All-in-One 13-Piece Men's Grooming Kit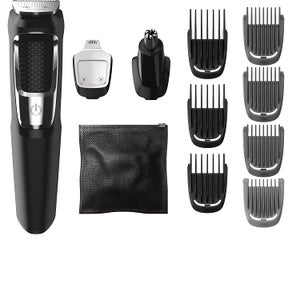 If your beau takes pride in his beard, then this grooming kit is the perfect gift! Not only does it come with beard trimmers for his facial hair, but it also comes with trimmers for his nose and ear hair to really keep him clean. Additionally, included is also a travel storage bag and a cleaning brush to keep him organized. You can't forget that each blade and guard are easy to detach, and rinse, and the blades are steel so they'll remain sharp throughout use.
Vintage Wide Brim Fedora Hat with Belt Buckle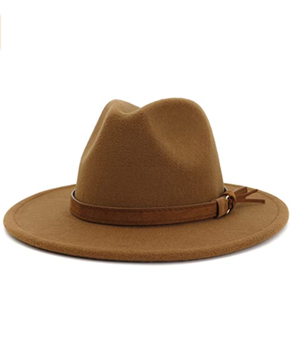 This fashionable fedora will fit in perfectly with your boyfriend's wardrobe. It's breathable, lightweight, and comfortable, and its classic design will never go out of style! It also comes in 30 colors and is unisex, so you can always match in the color of your choice!
Calvin Klein Dress Socks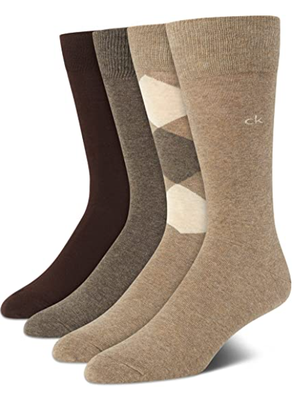 Remember as a kid when you were disappointed to get socks as a present? Well, those days are long gone – especially for your trendy boyfriend! These Calvin Klein dress socks have a bold design and are made of a cotton blend, so they're stylish, comfortable, and soft. This particular product also comes in a four-pack so your BF can wear them for every occasion!
Gifts under $50
Buffalo Leather Unisex Toiletry Bag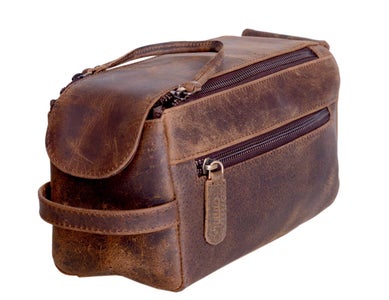 One thing all stylish people have in common is that they love to be stylish with everything — even their toiletry bag. So, give your BF an upgrade this holiday season with this classy gift, and a high-end way to store his toiletries. It's made from Buffalo Leather and is handcrafted to make for a rich look that your boyfriend will love. Want to really impress your partner with this present? Treat yourselves to a weekend away so he can use his new, trendy toiletry bag!
Dressing the Man: Mastering the Art of Permanent Fashion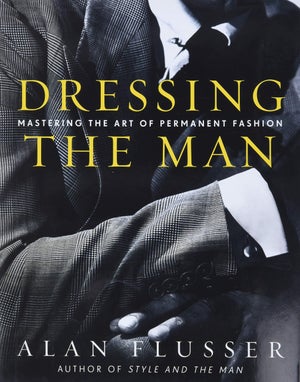 You know you're an adult when you suddenly love to have interesting books on your coffee table. So, get your adult boyfriend this hardcover book, "Dressing the Man," which is a guide for men on how to dress well and look stylish – which your trendy boy will love!
Carrera Sunglasses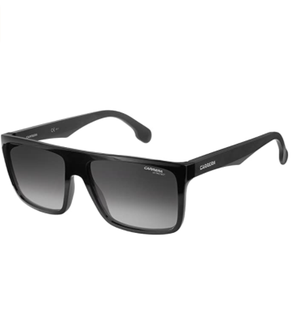 Sunglasses are a great way to express yourself and show your style without trying too hard, so treat your boyfriend to these designer sunglasses that he can wear every day while walking to class.
Weekender Leather Duffle Bag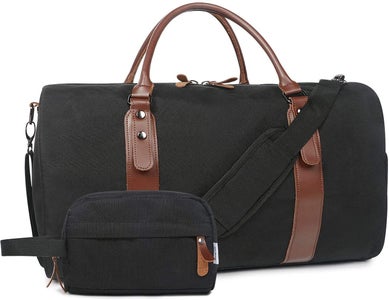 Whether your boyfriend travels home frequently to visit family, or simply heads across campus to spend the night at your place, this Weekender Leather Duffle Bag is literally the perfect overnight bag. It's large enough to fit four days of daily essentials but is small enough to carry on a flight. This present is not only perfect because your boyfriend will love the classy look, but it's also great timing so he can travel easily (and in style!) for the holidays.
For the Bookworm
Is your partner constantly reading up on a new subject, loves riddles, and is a total brainiac? Then you're definitely dating a bookworm! These ideas for your intellect will hopefully help your holiday shopping!
Gifts under $15
Audible Plus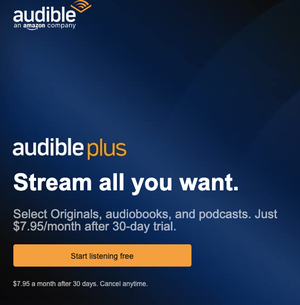 Really surprise and excite your boyfriend with an Audible membership, which is only $5.95 for the first 3-months with an Amazon Prime Student membership, now through 12/31. So, whether you want to treat him for the whole year, or just for the first 3-months, it's super affordable. And with this generous and creative gift, you and your beau can listen to audiobooks, podcasts and originals together. Pair it with some headphones to really make this present pop!
Audible, $5.95 for 3-months with a Prime Student Membership
The 125 Best Brain Teasers of All Time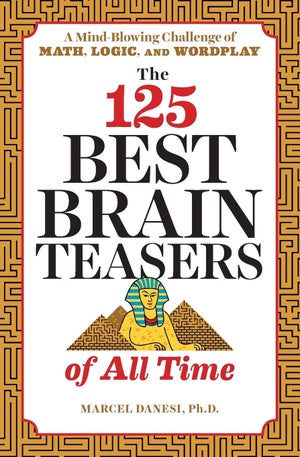 Are you and your boyfriend traveling together to visit family this holiday season? If so, then bring this book along with you for the ride, and have your boyfriend test his skills with these Brain Teasers! It has 125 of the most popular mind-benders that will entertain him and challenge him for hours. Now that long car ride is looking fun, right?!
Einstein Socks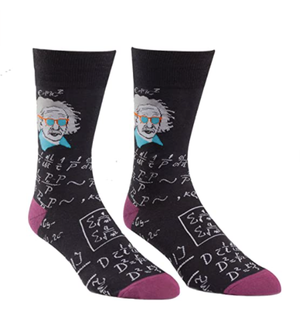 If your boyfriend's hero is Einstein, then these socks are the perfect, affordable gift to give. They're stylish, comfortable and stretchy, and have Einstein's face on them. What's not to love?!
Gifts under $30
Nobel: A Century of Prize Winners Coffee Table Book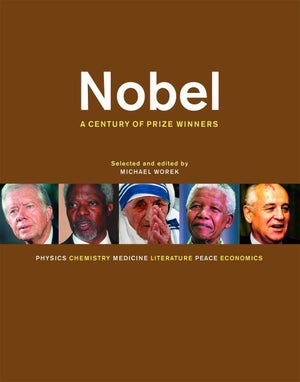 Inspire your significant other with this coffee table book focused on the past century of Nobel Prize Winners. Along with background about the history of the prize itself, the book also highlights the most famous winners with stories and illustrations. Your brainy boyfriend will be totally inspired and will love this book so much! He'll be so happy to add it to his collection!
3D Wooden Brain Teaser Set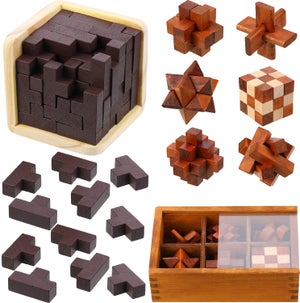 If your boyfriend is up to the challenge, get him this Wooden Brain Teaser Set! It's a great way to unwind after a long day of classes and will help improve focus and concentration. It also comes with seven different puzzles, so your S/O will definitely be entertained for a while!
Gifts under $50
3-Tier Bookcase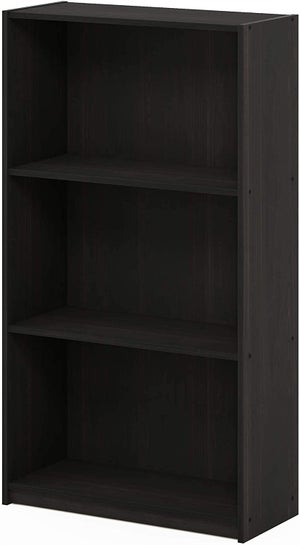 Does your partner basically have a library because of how many books he owns? If so, then help him organize and protect these special items with this cute 3-Tier Bookcase! It comes in 10 different colors and is small enough to fit in a dorm. Your boyfriend will be so thankful you're helping his library come to life!
Gifts under $100
Kindle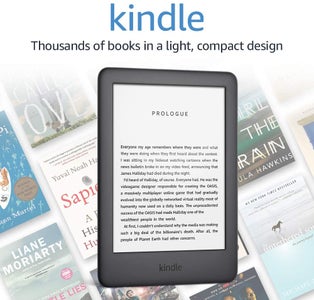 How tiring is it to carry around textbooks all day around campus?! Trade in those heavy books for this sleek, light-weight, and portable Kindle that can accompany your bookworm boyfriend anywhere he goes. This Kindle has a glare-free display that reads like real paper — even in direct sunlight — and when indoors, there's an adjustable brightness. The battery life also lasts weeks, so your boyfriend can read for hours without being interrupted by low energy. Plus, he can enjoy it with Audible, as this Kindle can pair with Bluetooth headphones or speakers, and can switch from reading to listening as he pleases.
---
Are you ready to skip the lines, order these unique gifts from Amazon, and cross "holiday shopping for my boyfriend" off your to-do list?!

Happy holidays, and happy shopping!
As an Amazon Associate, Her Campus earns from qualifying purchases.