Aubrey Jackson graduated from Claflin University in 2013, and she's been on a roll ever since! Not only does she have her own lifestyle and fashion blog titled So Southern Belle, but she also has two video series: Millennial Mindset and Hey Girl Hey, where women of all experiences come together and connect to learn from one another.  
Originally an army brat, Aubrey's turned her adventurous childhood into an influencing career, blogging about self-love, fashion, and travel from across the globe! With her camera always by her side, Aubrey's always ready to show you a hurricane, celebrity news, or any of life's biggest moments. So, what's the day-to-day life like for a travel blogger, one who documents her life on Instagram and TikTok and still gets it all done?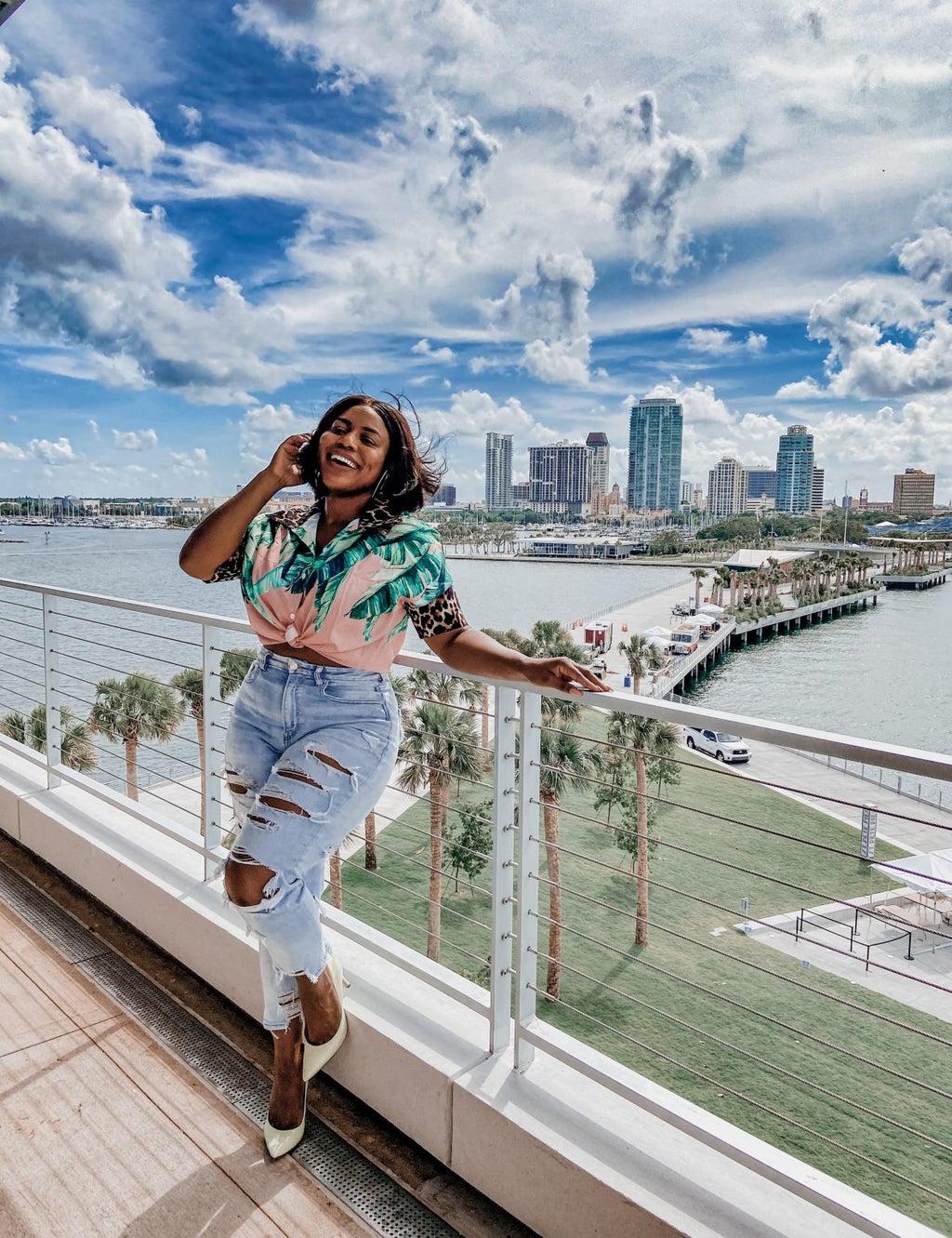 Her Campus: Tell us about your site/platform and why you launched it.
Aubrey Jackson: I'm a former TV news anchor, Florida-based lifestyle blogger and licensed realtor. I launched SoSouthernBelle.com as a fun creative outlet and over time, it's grown into such an amazing resource for others with an interest in fashion, entrepreneurship, self-care and travel! 
HC: What do you hope your followers get out of following you?
AJ: I hope that my followers learn when they see my content, whether [experiencing] a new perspective [or learning from] an infographic that I post, or a video. I come from a background of working in TV news before being a realtor, and I love creating content that makes people think or feel inspired. 
HC: What does your week currently entail? Is there such a thing as a typical day?
AJ: No such thing as a typical day. If I'm not rushing around doing things to create content for campaigns, then I'm running around working with clients, showing houses, etc. No day is the same, but that's what I love! 
HC: What are the best and worst parts about being an influencer? 
AJ: The best part of being an influencer is being able to align yourself with brands, companies, or campaigns that match what you are about, who you are, and what you stand for. It means so much to be able to share things that matter to you. 
HC: Is running your platforms your full time job or a side hustle, and why did you make that decision?
AJ: I would say running my platforms takes up a good percent of my time. I'm always working on my personal brand and now with real estate, I'm able to blend the worlds and offer more value to my audience, especially those who want to reach financial freedom through homeownership. 
HC: Which people (or books) have had the most influence on you, and why?
AJ: I love TikTok, and find myself on there for hours just checking out people's authentic content and engaging with others from all over the world. I would say a lot of the entrepreneurship accounts impact me the most. Whether they're sharing life hacks, tips, or dos and don'ts, I'm always eager to learn.  
HC: How has being an influencer affected your friendships and relationships?
AJ: I actually include my friends in some of my content creation! It's a lot of fun because my expressions on camera are real because I am hanging out with my girls – or my sisters even – and they get the chance to see and try new things! 
HC: What are your three favorite tools for content creation?
AJ: I love Canva – hands down –, Inshot for TikTok and reels videos and Face-tune for a little editing. 
HC: What does the future of influencing look like for you? What's next for you personally?
AJ: I focus on my local area as it relates to travel and lifestyle, because being in Florida is such a targeted tourist area, I enjoy being able to highlight all there is to see and do in town. But my big vision is to continue that content creation on a bigger scale, and be seen as an authority when it comes to travel – both domestic and abroad – and finding ways to purposely travel and make an impact everywhere you go. 
Behind the Feed is a weekly series showcasing a different member of the InfluenceHer Collective every week. Are you an influencer? Apply to join the IHC, and you could be featured in the future!