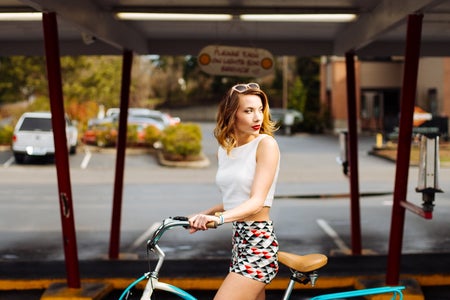 Breanna Coon / Her Campus
This Bike, Complete With a Wine Cooler & Charcuterie Board, Could Be Yours For Just $9
Wine and cheese are already a match made in heaven, but throw in a cute bike and you've got yourself all set for a perfect summer picnic! Canned wine spritzer brand MOVO is making this dream come to life with their MOVO Wine Cruiser.
This custom bike doubles as a wine bar, with a built-in fold-out charcuterie board and two coolers. Yes, you read that correctly – both an inner-cooler that holds four cans, and a back cooler as well. Picture it: a bike ride to a nearby park, a fold-out board with all of your farmer's market spoils (plus a utensil holder), and a cooler with your drink of choice? Hey now, hey now, this is what (Instagram) dreams are made of.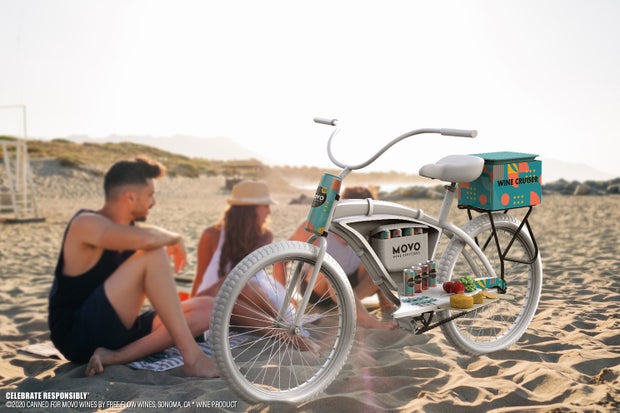 Courtesy of MOVO Wine The cruiser is very limited-edition, with just four bikes available for sale on Saturday, 7/25 at 12 p.m. EST. But get this: if you're one of the lucky four to make the purchase, it's only going to cost you $8.99 (the equivalent to a pack of MOVO spritzers). That's, not even $10 for a whole mobile picnic, but it means you have to move fast. 
Legal age drinkers nationwide can cruise to movowinecruiser.com to snag the hot summer accessory, which is honestly an absolute steal.