Adele Officiated A Wedding & Now I Want Her to Do Mine
Adele released her album 25 in 2015. Her vocal chords have continued to shake the world with songs like "Hello" ever since, but she's mostly been out of the spotlight to focus on her family. But what has the golden-throated goddess been up to for the past few years?
Oh, you know, just uniting people in the bonds of marriage.
The singer officiated the wedding of her friend Alan Carr, host of the BBC talk show Chatty Man, on April 2. She posted this photo on Instagram, immediately giving me wedding fever.
Look at the floral backdrop! Look at her makeup! Look at her cloak! If that's how the wedding officiant looked, imagine how amazing Carr and his husband looked together.
Adele and Carr met at the 2008 BRIT Awards and have been friends ever since. Carr told the Mirror that Adele planned the whole wedding, hosted it at her own home in Los Angeles and even sang songs for the couple's first dance.
"We've known her for ages and we told her we were getting married, and she went, 'Can I please plan the whole day for you?'"
Get yourself a best friend like Adele, right?
"She's a one-off, as we all know," Carr said. "She's just the best."
A multi-talented singer/songwriter/wedding planner/ BFF. What more could you possibly want?
Source: GIPHY
Look. I'm not 20 yet. I have almost no money in my bank account. But if eventually Adele wanted to do some pro bono wedding planning, she is more than welcome to hit me up.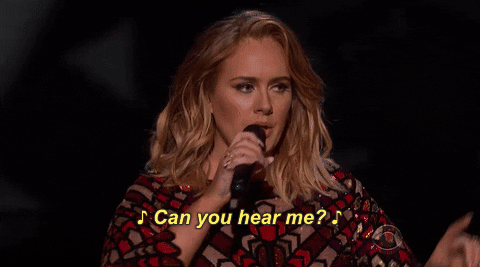 Source: GIPHY