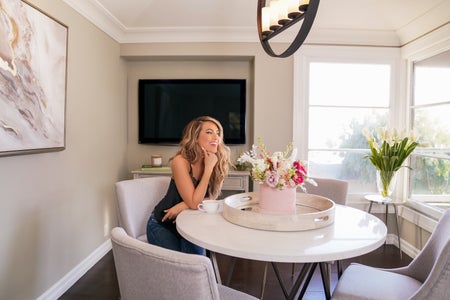 Photo by Lindy Lin for T.J. Maxx and Marshalls
'Selling Sunset' Star Chrishell Strause on How She Redecorated on a Budget, & How You Can, Too
With many of us still stuck in quarantine and the pandemic still raging, I'm sure we've all picked up an extra project (or two) to keep us busy. From finally cleaning out that spare room you've always labeled as "storage" (even though it's really a guest room) to reorganizing your closet and sorting through clothes, focusing on our living spaces is important now more than ever. 
Working, studying, taking meetings, working out and relaxing all in one space has definitely taught me the importance of a clean, aesthetically pleasing place. So, if you're looking to make a change to your living areas anytime soon, who better to get some well-needed knowledge than Selling Sunset's Chrishell Strause, right? 
Chrishell Strause, star of Netflix's hit reality real estate show, sat down with us to talk all things real estate and Selling Sunset. But most importantly, she dove all into how she revamped her LA home on a budget, using TJ Maxx and Marshalls (my personal favs).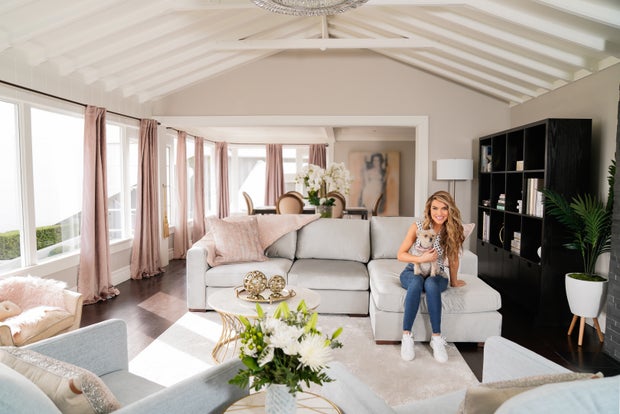 Photo by Lindy Lin for T.J. Maxx and Marshalls
Quarantine has given us all time to evaluate our spaces 
With all of us, including Strause, stuck inside our homes for the majority of the past year and foreseeable future, it's easy to see why making our spaces functional and attractive is a no-brainer. For those who were in a rush moving into their new homes and never had the time to decorate, Strause can relate. 
"Because of quarantine…  I realized that I never took the time to make this place my own. There were a lot of pieces that came with the house that I didn't pick for myself and even though they were nice, they didn't reflect my personality," she highlights. "So I think it was one of those things where, because I was spending so much time at home, I really wanted to love the space that I was in."
Feeling at home in your space can really make all the difference, whether it be in productivity levels or just your general mood. But how can we redesign our spaces now?
You can do it all from the comfort of your couch
Pre-pandemic, furniture specialists, designers and in-person shopping hauls were a large part of the decorating experience. All you need to design the rooms of your dreams is a tape measurer and WiFi— that's as convenient as it gets. Looking for retailers who have it all, too? Strause recommends TJ Maxx and Marshalls as "easy, go-to" stores that have amazing online selections and the convenience we're all looking for in this pandemic. 
"I realized with T.J. Maxx and Marshalls how easy it could be," Strause says. "I mean, the stuff was delivered to my door." 
The prices are quite literally unbeatable
"Where I'm from, I like a deal. It doesn't matter how successful I am. I like to be able to tell people 'you can do this, too!'" Strause adds. Both retailers are known for their high quality at surprisingly affordable prices which is good for those of us who have smaller budgets but large expectations. What's the point of redoing your space if you have to break the bank? 
The online sites for each store offer the lowest prices on items such as art pieces to tables and chairs and everything in between. With free shipping available on orders over $89, there are no add-ons when checking out, either.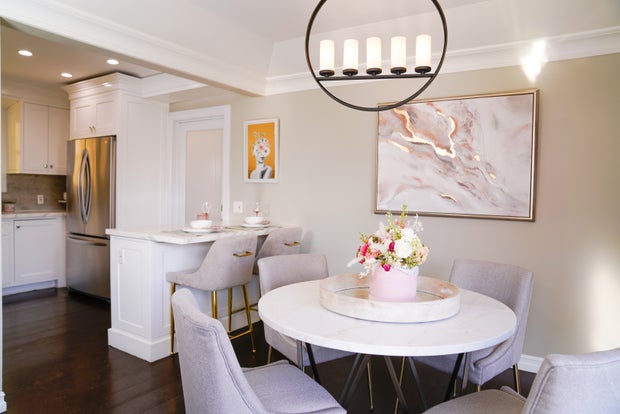 Photo by Lindy Lin for T.J. Maxx and Marshalls
Getting inspired can be a challenge for us all
Luckily, TJ Maxx and Marshalls has even this issue covered. Even Strause, who spends her time working with design stagers and interior designers 24/7, has trouble finding the right aesthetics and pieces for her spaces. "I'm not a great designer on my own — I don't really have that eye, but T.J. Maxx and Marshalls made it easy because of their services. You could tell, 'Okay, this complements this,'" she explains. "I think people assume I'm good at designing just because of what I do, but no." 
For many, social media like Pinterest and Instagram are the go-to for inspiration of all sorts, including Strause. "I like to look at different Instagram accounts or just even go online. Some of the things I have here are from the T.J. Maxx and Marshalls websites, because it's easy to see the pictures and copy some of that. I honestly mimic a lot and that's why I liked it," she says. "It felt really easy, and like something even I could do." 
Whether you have previous designing experience or are a newbie, Chrishell Strause's revamp of her LA home serves as an example that it doesn't take too much effort to start loving your space (TJ Maxx and Marshalls is doing the work for you). You don't even have to leave your house — how much more convenient can it get?