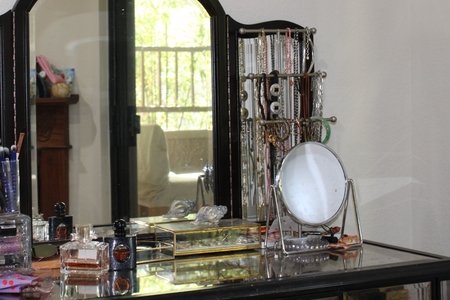 Apartment Knick Knacks I'm Obsessed With
Soon it's going to be time to get new decorations and novelties for your apartment. You'll scroll through what seem like endless pages of content of mediocre content just to find one or two cute finds. Needless to say, it's exhausting. So here's a freebie, nine apartment must haves that will make it look chic. 
It would be a faux pas to not own one. This blanket won't only keep you warm at night but can effortly spice up your living room when you have guests over. My color preference: Beige.

Plastic storage containers are a thing of the past. This tiered tray is the perfect way to store your daily beauty products and perfumes. It'll give your makeup setup the chicness it deserves.

Let's be honest, pineapples are the best thing to happen since avocados. This stylish throw pillow is the perfect accent for anybody's living room. It'll send tropical vibes even in the winter, when you are curled up on your couch drinking hot cocoa.

This Organizer will at least help you make it look like you've got your morning-routine all together…. erm right? Keep all of your daily jewelry and accessories organized and on hand so you don't have to sort through the depths of your jewelry box to find your go-to earrings.

Take a stab at your green thumb and give these earthy glass containers a go. Because they are attached to the wall you don't have to worry about them taking up too much counter space or accidentally knocking them over when your cooking.

An actual life saver and college essential. Instead of having to scour your apartment looking for outlets to charge your headphones, tablet and phone at the same time, you can connect them all in one place.

Nothing says Bad and Boujee like mirrored gold. This tray set is perfect for showing off your souvenirs from your recent travels or serving your guests the perfect cup of coffee. And because its gold colored with glass, it'll match just about any color scheme.

This modern jewelry holder just might steal the spotlight from your jewels with its gold finish and intricate design. This setup allow you to see and easily grab your necklaces and bracelets.

Decompress with the warm lighting these candles provide. The perfect neutral color to match any contemporary theme. You'll be able to get cozy in bed while reading your favorite book.
Start prepping for your new apartment now! You don't have to wait for a new year to re-vamp your flat.