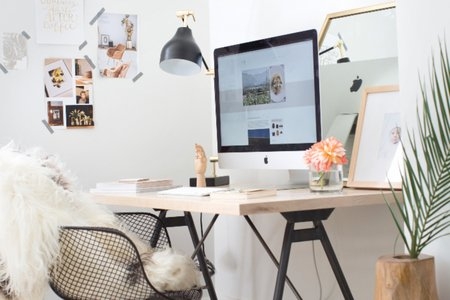 5 Ways to Style the Desk of Your Instagram Dreams
If you're anything like me, you can spend hours on Pinterest scrolling through home decor. From dreamy walk-in closets to grand exteriors with gorgeous landscaping, something about imagining myself in these homes always sends me into a Pinterest vortex. One of my weaknesses when it comes to home decor is desk styling.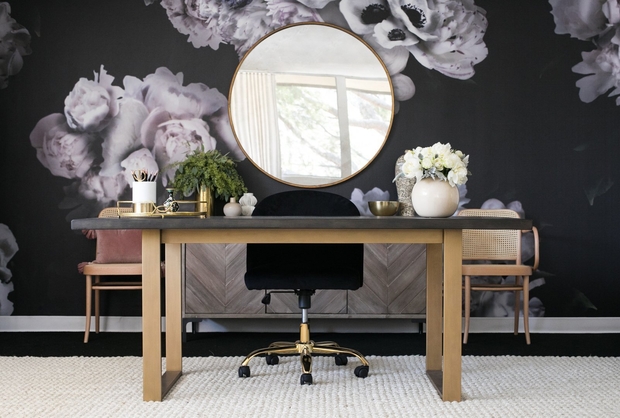 While the perfectly styled desks we see on Pinterest may seem out of reach, they're actually much more attainable than you'd think. We chatted with Becky Leu, a Decorist Elite Designer, about how to style a desk. Read below and incorporate some of her desk styling tips into your own home:
1.

Start with the needs - then focus on style

If you don't know where to start in creating the desk space of your dreams, start by defining what your needs are and how the space will be used. Leu recomends asking yourself "What do you need to accomplish at your desk? What items will support that? Then, how do we dress it up to be your style so you can stay inspired and motivated while you work?". Once you have determined what you want out of your desk, you can focus on style. "Start by defining your own style by surfing Pinterest or similar sites. Once you know the look you want, it's a lot easier to start applying it to your own space".

There is no one desk formula that will work for every person out there. "Each job is going to have its own set of needs for optimum efficiency throughout the day," Leu explains. "For example, a graphic designer might need a space designated for their laptop and lots of surface area for drawing up new ideas. They might just need a fun piece of art and a small potted plant to make their space inspiring. On the other hand, a law student who has stacks of papers, binders, textbooks and flashcards surrounding them at their work space might be in dire need of a quality organization system so they have ample access to all of their documents and reading materials without any piles getting in the way or distracting them. There are endless ways to make hardcore organization look stylish!"

3.

Be judicious with color

The key to a stylish desk is a consistent color scheme. "Try to limit your color palette to one metal and three or less colors (white and black included!) to both limit distraction and create a purposeful look," Leu says.

Pinterest doesn't have to be your only source of inspiration when it comes to designing your desk space. "Retailers who sell office furniture like CB2 and Target typically have really fun inspiration in the rooms that they stage their products in! Pinterest is also a tried and true favorite source for inspiration," Leu says. Try venturing out to different stores and pull inspiration from your favorites.

"The way you style your desk can determine how well you perform in work or school," Leu explains. Your desk is your own personal space where all of your work will be produced. "The statement 'dress for the job you want, not the job that you have' also applies to your environment - spend your time in spaces that encourage you to do you best". If you curate a desk space that motivates and inspires you, that energy will reflect in your work.
Whether you're in need of some serious organization or just want a fun way to brighten up your space, starting with your desk will ensure optimal performance in school and the workplace. Isn't that what every college student needs after all?