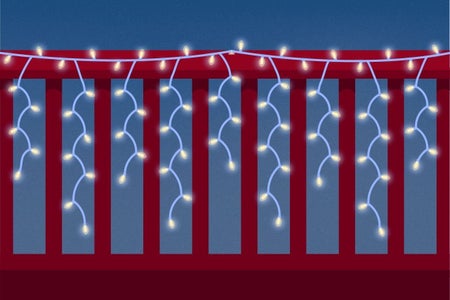 3 Holiday Decorating Hacks To Try RN
This is a sponsored feature. All opinions are 100% our own.
It's officially my favorite time of the year, holiday decorating time! It's a fantastic excuse to pick up a few new items to add to my ever-growing collection of mini wreaths and monogrammed stockings. And this year, I was on the lookout for new ways to hang my decorations without damaging my walls and endangering my chance of getting my full apartment security deposit back in a few months. All thanks to Command Brand Products, here are three holiday decorating techniques I'm going to use every year going forward.
1.

No fireplace? No problem!

If your dorm or apartment doesn't have a fireplace (don't worry, mine doesn't either) you can DIY your own holiday mantle. Use Command White Medium Designer Hooks to create a stylish set-up with personalized stockings and holiday-themed wall decals. 

2.

Make your wreaths look totally magical.

If you're more of a wreath gal, use Command Clear Medium Hooks to hang a few. These hooks are the best because they hold strong but are virtually invisible. So your mix and match wreaths, or colored wreaths if you're feeling extra festive, will look like they're floating on your walls.

3.

Light up your outdoor space.

If you have a terrace or backyard, I'm jealous. So please, for all of us who don't, add some festive string lights to your windows, balcony or deck. These Command Outdoor Light Clips were made for this and will give you a super polished and professional holiday decor look.