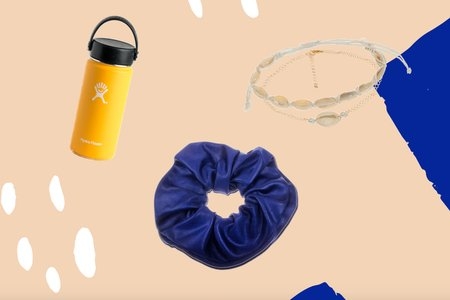 The VSCO Girl Trend Explained, If You Still Don't Know What That Means
I didn't realize people were actually on VSCO anymore, but apparently the app is just as popular as ever. However at this moment in time, it's not the aesthetic photo feeds that matter — it's the VSCO girl that's gaining traction. Part aesthetic, part meme, VSCO girls has been blowing up all over social media. The aesthetic is relatively straightforward: Pura Vida puka shell necklaces, scrunchies, oversized graphic T-shirts from Urban Outfitters or Brandy Melville, Mario Badescu Facial Spray, Hydro Flasks, reusable straws, checkered Vans, Birkenstocks, and Fjallraven bags.
Specific products aside, the overall beachy, down-to-earth vibe is basically what every girl looked like at summer camp when I was a preteen. The effortless look of the VSCO girl seems to be the natural evolution from the "no-makeup makeup" Glossier girl, someone who is effortlessly put together and down-to-earth, yet still maintains a cohesive aesthetic.
Despite the fact that the VSCO girl is really just an amalgamation of current trends, people are still perplexed. So, I began to wonder: Why is everyone still so confused about her? What are the social implications of this trend? And why is the VSCO girl getting so much negative attention?
What qualifies you as a VSCO girl
While the VSCO girl has, as the name suggests, supposedly originated from the photo editing app, I don't think I've actually seen a VSCO girl on the platform. I've seen more references of VSCO girls on YouTube and TikTok. So many YouTubers have made VSCO girl transformation videos, including OG beauty queen Bethany Mota. But many of the teen influencers who have been compared to VSCO girls (think Hannah Meloche or Emma Chamberlain) don't fully fit the VSCO girl vibe.
Emma is famous for her quirky attitude, but her Instagram feed is more edgy and editorial than the beachy vibe of a VSCO girl (and I've seen Emma drink out of a Phil'z Coffee cup far more often than out of a Hydro Flask).
Too, the VSCO girl dialect, "sksks and I oop –" didn't actually originate with the predominately white preteen girls of the photo editing platform; these phrases came from black and LGBTQ Twitter communities. "Sksksk" is variation of keyboard smash used on stan Twitter, usually associated with gay men. "And I oop—" originates from Jasmine Masters, a black drag queen. It's remarkable how social media has led to the visibility, celebration, and a sense of shared identity of marginalized individuals through slang. That is, until wealthy, white girls co-opt this slang as their own. 
With all that in mind, I'm basically convinced that there is no such thing as a VSCO girl in real life. Like the manic pixie dream girl, she doesn't actually exist as a real person. While that might be too hot of a take for some to handle, it's clear that the VSCO girl is nevertheless sending contradictory cultural messages.
What kind of cultural impact does the VSCO girl have?
One progressive thing about VSCO girls is that they make traditionally non-sexy items trendy. A puka shell necklace? I don't think I've seen one of those since the early 2000s. Oversized T-shirts? I've got a ton laying around in my pajama drawer. Unlike many images of women in the media, VSCO girls aren't hypersexualized, meaning they likely have a more positive influence on the young girls who follow them.  
While the undone, casual look of the VSCO girl presents a more realistic way of how girls dress themselves, looking effortless actually costs a lot. Fjallraven bags, Hydro Flasks, and Birkenstocks are on the pricey side for what they are, and according to commenters on Sierra Schultzzie's VSCO girl transformation video, knockoffs don't cut it. While the VSCO app may be free, not everyone can be a VSCO girl if they don't have the funds to buy an overpriced water bottle. The idealization of the VSCO girl perpetuates elitism in the beauty and fashion industries, but in a way that's less obvious than designer handbags and expensive makeup.
It's also ironic that the whole vibe of the VSCO girl is "natural beauty," yet their very brand is based on photo filters that serve to blur or de-emphasize any imperfections with different lighting, contrast, and saturation. Filters ultimately contribute to social media serving as a "highlight reel" that presents a more perfect reality, fostering insecurity in other followers.
Another positive of the VSCO girl trend is that they've brought sustainability into the mainstream by popularizing reusable straws. But that's about where their activism ends, which might limit people's perceptions of what they have to do in order to be eco-friendly. VSCO girls popularize that sustainability is cool rather than necessary, while TikToks about VSCO girls have turned reusable straws into a meme rather than an actual solution.
There's also that weird dynamic between this population being portrayed as quirky, yet the very specific set of items that one needs to be a "VSCO girl" can make the whole aesthetic look homogeneous. And, according to memes, each VSCO girl has basically the same personality.
While this specific trend is new, the reception to it is something we've seen time and time again: preteen and teen girls are shamed for the things they like, and are brushed off as  "basic."
This tweet sums up pretty well why VSCO girls seem to be at the butt of every joke as of late:
I thought I didn't get what a VSCO girl was but it turns out it's just the new way to reflexively dismiss the things teen girls do and like so I do get it!

— Jenny Jaffe (@jennyjaffe) October 15, 2019
While I love a good pair of Birks, the entire VSCO girl aesthetic isn't my style. But for those who do enjoy the specific items that make up the VSCO girl trend, there shouldn't be any shame in being basic.