Speak Now-obsessed Swifties, it's finally your time to rise. Whether you're already planning out your Speak Now-inspired friendship bracelets, dousing yourself in Wonderstruck or Wonderstruck: Enchanted perfume, or mentally preparing yourself for the six new Vault songs, it's clear that we're officially in another Taylor Swift summer. 
While Swifties (including myself) are eagerly awaiting our favorite songs in a brand new re-recording, this means that new Swifties will find themselves looking up past theories and who specific songs are written about. Two of my favorite songs off of the album, "Dear John" and "The Story of Us," are widely speculated to have taken inspiration from a certain ex of Swift's. Now, as your residential walking Taylor Swift encyclopedia, let me tell the story of Swift and John Mayer and their entire relationship timeline.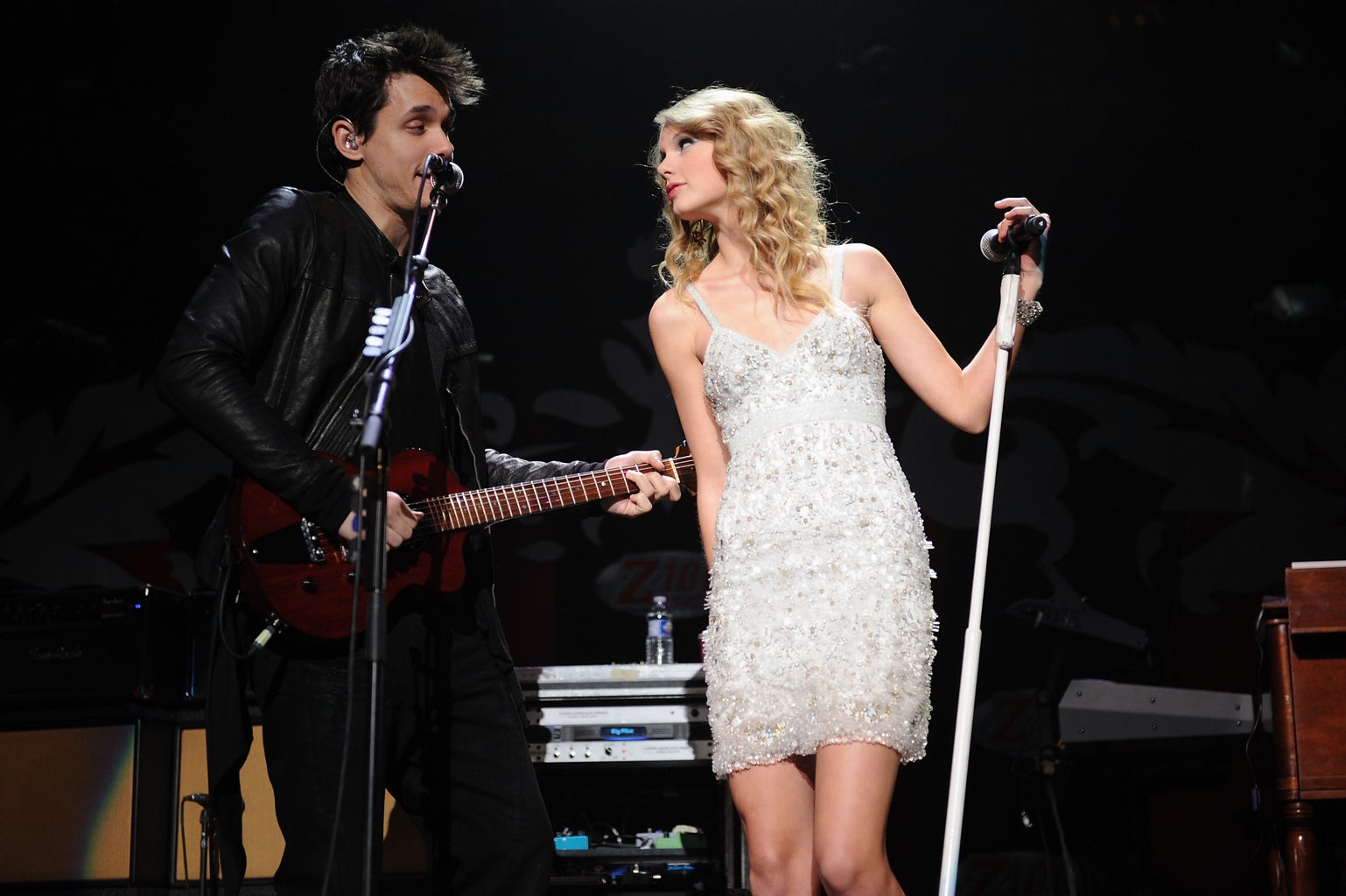 March 2009: Swift and Mayer's story begins. 
Would you believe me if I said that the story began on Twitter? In March 2009, Mayer first tweeted his interest in collaborating with Swift on a song titled "Half Of My Heart," and declared that he wanted to sing it with Swift. Mayer also compared Swift to Stevie Nicks, saying that she'd make a perfect match for his song. Months later, Swift commented on Mayer's tweets and expressed her excitement because she had been a huge fan. 
May 22, 2009: Mayer and Swift perform together at the Fearless Tour. 
During the Fearless era, Swift often would bring out special guests to perform on her sold-out tour. At the Los Angeles stop, Swift brought out Mayer to perform "Your Body Is a Wonderland" and duetted with him on "White Horse," which proved to be a hit amongst Swifties. 
November 2009: "Half of My Heart" is released.
Mayer's tweet clearly worked to secure a collaboration between the two singers. On Mayer's fourth studio album, Battle Studies, "Half Of My Heart" became the third single, with Swift singing as a featured vocalist. The song debuted on the Billboard Hot 100 at No. 25. 
December 2009: Swift and Mayer perform together at the Z100 Jingle Ball. 
During the Z100 Jingle Ball in New York City, Swift and Mayer performed "Half of My Heart" for the first time at Madison Square Garden. The two were rumored to be an "item" by close sources to the pair, leaving fans questioning if the duo were in fact together. 
January 2010: Swift and Mayer are spotted together in Nashville. 
In preparation for CMT's Crossroads, Swift and Mayer were seen eating dinner together with a group of friends. Mayer was set to perform with Keith Urban, and Swift attended the recording. 
June 17, 2010: Swift gets inducted into The Songwriters Hall of Fame. 
In the months leading up to June 2010, it became rumored that Swift and Mayer had gone their separate ways and split after the CMT Crossroads performance. However, Mayer presented Swift with the Hal David Starlight Award and praised Swift's songwriting abilities, saying, "You could put her in a time machine in any era and she would have a hit record," regarding to Swift's lyrical penmanship. 
Oct. 25, 2010: Speak Now is released, and "Dear John" sparks speculation.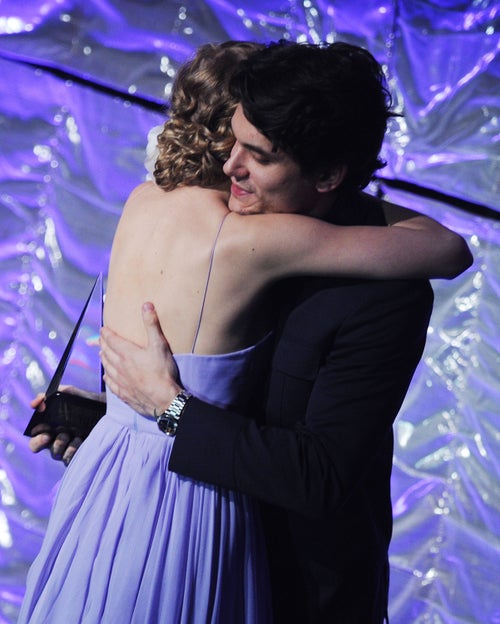 When Swift's third studio album, Speak Now, was released, many fans immediately caught onto one song. "Dear John" was track five on the album (Swift has a tendency to give her most lyrically powerful the track five position), and the title raised many questions. The term "Dear John" represents a breakup letter written by a woman, confessing why she is ending the relationship with her significant other. The lyrics also appeared to be written about Mayer, with many references in the song pointing out how young Swift was when she met Mayer. Swift was only 19 years old when rumors began about her and Mayer, who at the time, was 32 years old. 
"Don't you think I was too young to be messed with / The girl in the dress cried the whole way home / Dear John, I see it all now, it was wrong / Don't you think 19's too young to be played by your dark, twisted games?" she sang.
Swift did comment on the song, saying that it was "a tough one to write and putting it on the album was pushing send," signaling the definite end of the relationship. 
Oct. 25, 2010: Another Swift song is rumored to be about Mayer. 
Track seven of Speak Now, "The Story of Us," is another song that fans speculate may have been written about Mayer. The song follows Swift in a crowded room, seeing her ex in the crowd, and the two of them acting like everything is alright. Swift explained that the song was written about an actual event that occurred, and the song began at an award ceremony. Swift told USA Today in 2010 that after the event, she told her mother that she felt like she was "standing alone in a crowded room," sparking the inspiration for the song. 
To further confirm that "The Story of Us" was written about Mayer, Swift placed the words "CMT Awards" as the hidden message in the album booklet. At this event, Swift and Mayer sat in the same aisle, neither one speaking to each other the entire time. 
June 2012: Mayer finally comments on "Dear John." 
It took almost a year and a half for Mayer to respond to the song. Mayer told Rolling Stone that the song "made him feel terrible" and that he "didn't deserve" the message in the lyrics. Mayer also explained that to him, it was "a very lousy thing for [Swift] to do," and proceeded to call Swift's past songwriting about her former relationships "cheap." 
I don't know if it's just me, but that statement comes across as pretty hypocritical considering many of Mayer's songs were written about his past relationships with other famous women. Swift responded to what Mayer said, explaining that his accusations were "presumptuous" and that she never "disclose[s] who my songs are about."
June 2013: Mayer responds to "Dear John," in a way. 
A year later, Mayer responded again to "Dear John" but this time through his own music. The song, "Paper Doll," referenced many things that Swift had talked about in her fourth studio album, Red. "Paper Doll" references a red scarf (like the one mentioned in Swift's "All Too Well," though that one is widely believed to be about Jake Gyllenhaal), the number 22, and even responds to a "Dear John" lyric with, "Someone's gonna paint you another sky," paralleling the "You paint me a blue sky and go back and turn it to rain" line in "Dear John."
In 2019, Mayer came out and explained that "Paper Doll" was not written about the person that many thought it was written about on an Instagram livestream, and that "the person that they thought it was about brought a certain amount of a superficial pop culture back and forth about it," causing fans to question if that statement was true.
Oct. 21, 2023: SWIFT WRITES ABOUT HER AND MAYER'S RELATIONSHIP on Midnights.
Nearly 13 years after Swift put out Speak Now, her 10th studio album, Midnights was released. This included the 3 a.m, edition, with extra songs that fans eagerly dissected. One song in particular, "Would've, Could've, Should've," left fans putting puzzle pieces together. 
The song follows Swift remembering her past regrets in an age-gap relationship, and many callbacks to "Dear John" can be heard. Swift references the age she was when she wrote "Dear John" with the line, "I damn sure never would've danced with the devil at 19 / Now that I'm grown, I'm scared of ghosts / Memories feel like weapons," which could be seen as a response to the original "Dear John" song. 
When Swift released "Would've, Could've, Should've," she was 32, the same age that Mayer was when they were rumored to be dating. Swift also references the loss of her youth in the relationship, saying, "Give me back my girlhood, it was mine first" during the emotional bridge. 
June 24, 2023: Swift performs "Dear John" on The Eras Tour — with a warning. 
At Swift's Minneapolis stop during the Eras Tour, Swift mentioned being excited about the Speak Now (Taylor's Version) re-recording coming out during the surprise songs segment of the concert. Swift also came out to say that she wasn't releasing the album so that fans should "feel the need to defend her on the internet against someone [I] might've written a song about 14 billion years ago," and that she warned the Minneapolis fans that she was only playing it because she was "proud of it as a song." Swift then performed "Dear John" as the second surprise song, leaving me — and millions of Swifties — crying. 
Whether you're a new Swiftie or have been here for a while, one thing is clear — we will need 13 business days to process Speak Now (Taylor's Version).