Have you, like me, ever fully scripted a podcast series (or a number of) that you knew, realistically, you'd never record? Have you dreamed up merch ideas based on your pre-written zingers that had you cackling to yourself on the long bus ride home, or imagined the guest stars you'd have on once you reached the top of the charts?
Well, those dreams may not feel so far off anymore – at least not for current students in the US or UK – thanks to Spotify. To discover and empower the emerging voices that are going to continue to shape the podcast world, the company is launching Next Wave, a program that currently enrolled college students can sign up for whether they've got a podcast up and running already or have, up until now, just been daydreaming about one.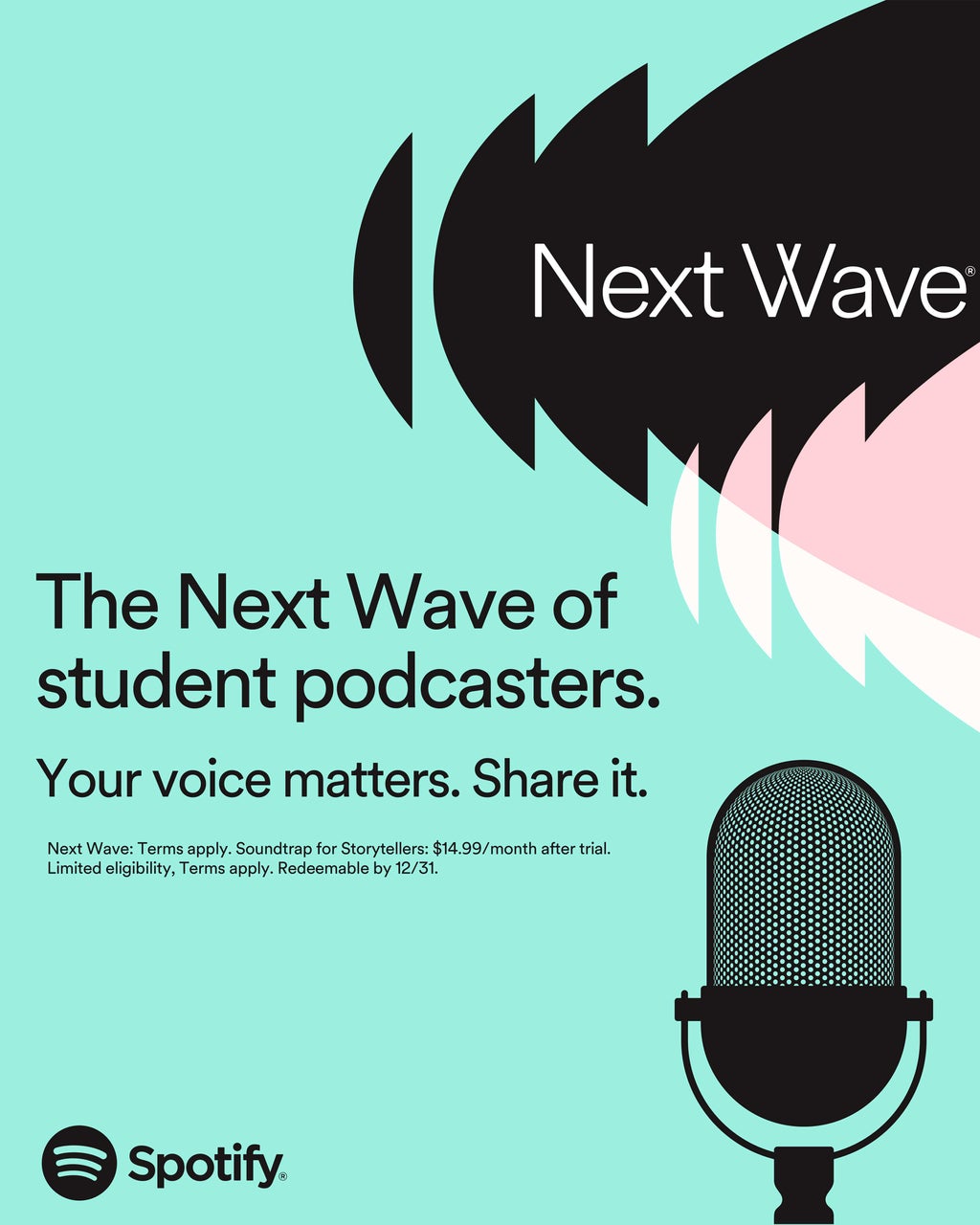 For those who sign up through November 27, 2020, Spotify will provide access to a virtual podcast webinar hosted in the UK by JaackMaate and in the US by Jack and Nick from Snacks Daily, in addition to a free three-month trial of Soundtrap for Storytellers, an online podcasting studio.
It's literally never been a better time for you to get recording! From true crime to celebrity interviews to self-help to storytelling, podcasting has become a massively popular source of education and entertainment. In fact, according to Spotify's annual global Culture Next Trends Report, 68% of Gen Z and millennials said that podcasts help fuel their self-discovery. 
If you want to be a part of that self-discovery, now's the time. Whether your podcast falls under Lifestyle & Comedy, Journalism, Entertainment/Sports & Gaming, or Wild Card (everything else), Spotify can't wait to connect you with the resources you need to help amplify your voice.
If you're unsure where to begin, Anchor is a free platform that'll allow you to record your first episode right on your phone, then easily upload it to Spotify. Once you've got your first episode, submit it to Next Wave and get working! It's that easy.